Last night when Sciarrino and I were running errands I found some of the same very soft fabric that Bj had put in the inside of his Baby Hawk baby carrier. He loves this stuff called minkee, it's very soft and, I found out, super expensive. I've seen off brand stuff but Bj had this same chocolate color put on the inside of the baby carrier, so I really wanted to use it for something for him. Well I had a 40% off coupon at Craft Warehouse and so I was able to get a bit of it, along with some cute flannel to make up this little blanket: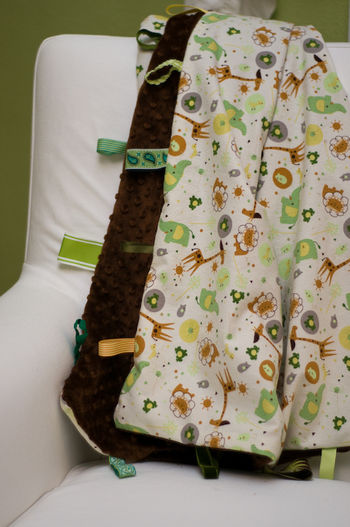 Hard to photograph, but it's a ribbon tab blanket (how to on Ribbon Jar right here).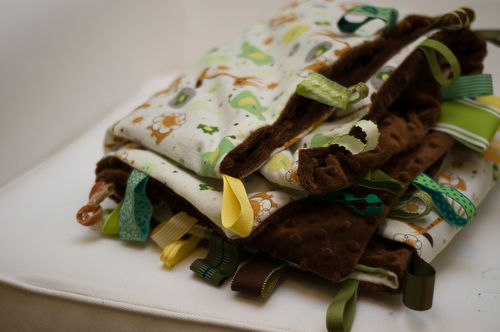 Such a quick and easy project. I made one for Tracy's baby and ever since Bj has been wondering why I don't make one for our baby, so I did. And I did this in maybe an hour tonight. I gave it to Bj as a "baby and papa play blanket" for him to have in his new fun area downstairs (video game/guitar center in part of the basement lower level).
Bj meanwhile has immersed himself in a new book The Essential Kitchen: Sushi. Bj's parents know that we've been spending all our money on the baby and remodel so they sweetly gave us some cold hard cash for Christmas to spend on ourselves (I have yet to decide what I'm going to get). Bj got this cookbook, and new sushi knife that he is happy to show anyone who comes over.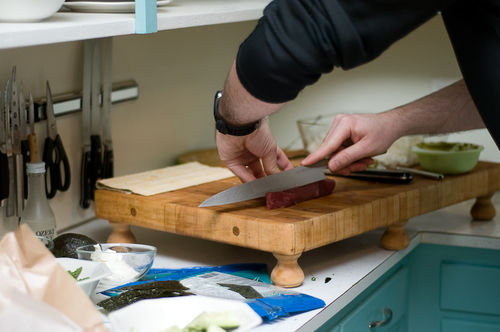 After reading up yesterday he spent this afternoon running around finding specialty ingredients to make a Japanese dinner (Taro aren't you proud?). Mmm we like.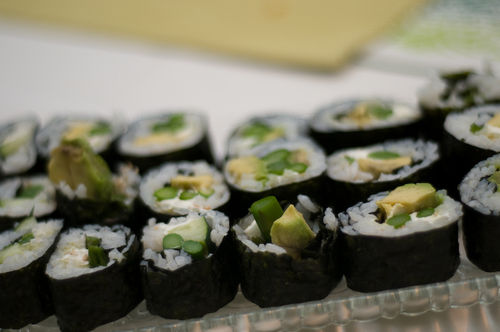 Sciarrino's favorite was an avocado roll with miso paste: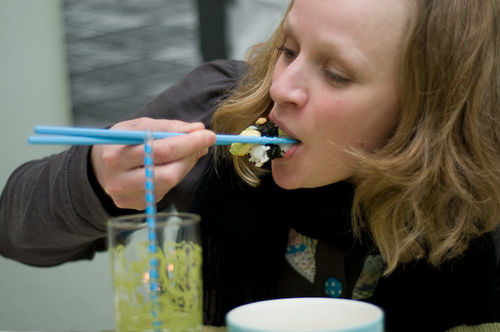 I liked the plain cucumber and the asparagus and cream cheese. Bj was quite proud of his first attempts: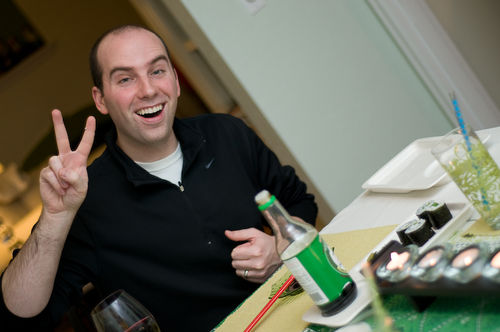 And so was I. Now if only we had some mochi balls…