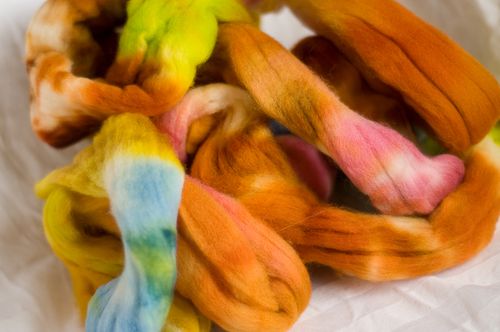 (Just a pretty picture of my newest roving from Hello Yarn's fiber club)
I'm going ahead with the swap, but I've changed it up a bit. Instead of having to break up 8 of your bumps of fiber I am going to have everyone send me a four ounce (I'm open to 8 ounces also) amount of fiber (dyed) and five dollars. I'll split up the rovings and make up scrap packs with at least 8 different kinds/colors of fiber. The five dollars is so that I can send back out the fiber priority mail with delivery confirmation. I think it will work better, and be easier for everyone to do it this way.
I am working on a Ravelry group. I got permission to use this awesome photo: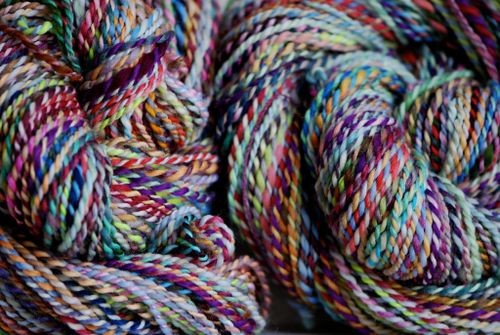 from Treadle to the Metal's photostream. She got her scrappies from Funky Carolina. I need to make up a banner and badge for the Ravelry group from this. Also I need to have at least three people ready to sign up when I make the group up (hopefully tonight). If you would like to participate please leave a comment with your user name, or email me. Or you can track me down on Ravelry, I'm squeekie23. I also need a good group name, the only thing I've come up with so far is scrappy fiber swap or swap for scraps, but I'm sure someone can do better.
I had some questions about the swap, like what if you don't have a big stash. That's no problem now that I've changed the format a bit, you only need 4 ounces of fiber. I'm going to put together a list of awesome etsy sellers and other places online to get hand-dyed fiber. What if you're not a spinner? Dianne wanted to know if I had any resources to make little felt balls (like this). I thought I did, but I am still searching for a good tutorial (I'm pretty sure it's way easy like rolling it in your palms after getting it wet with hot water or something). *I was sort of right – here's a little picture tutorial. Does anyone have a good link to help with this? Well if you do want to do felting crafts instead of spinning you are also welcome to join in the fun. I found this cool looking book: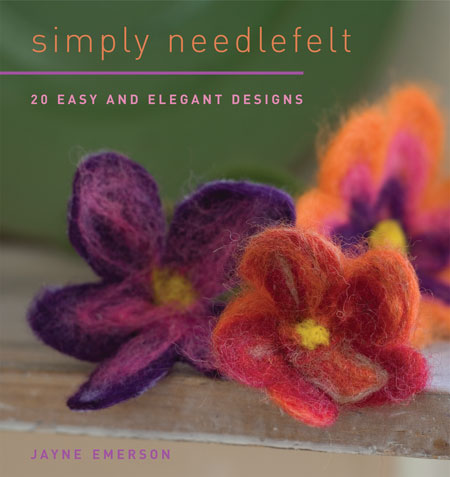 Simply Needlefelt. I haven't read it, but don't those flowers look amazing? You can see more samples of the projects on the publisher's site. The key thing if  you want to do these types of projects is that your fiber must NOT BE SUPERWASH. If it is superwash it will not felt like this.
So other questions? Ideas? I'd like to move this mostly over to Ravelry so I have to have three takers, and you don't have to commit to the swap, just joining the group page. Anyone?
Also feel free to leave questions, I'll either answer them here or in another post.
*Edited: the group is started here it is! Swap for Scraps Group!