I am this far on my little quilt (goal size around 50" square – but we'll see):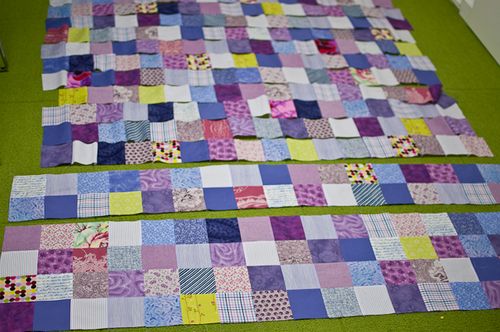 And I loaded all my photos onto a little thumb drive so I'm sitting upstairs on Bj's laptop with all those little wifi bars filled in happily surfing away. Ah life is good. Today a teeny tiny little bit of one of Tutu's teeth started poking through, and she seemed much better. We got out of the house, ran some errands, and even had her fall asleep in the car. So I tried the car seat on the shopping cart trick in Jo-Ann's, have you seen people doing this? I always have a sling, baby hawk, or the stroller. But she was ASLEEP and so I balanced the carseat where the baby sits in a shopping cart and it actually fit in there pretty good. I had to go out to get more thread (and to preserve some of my sanity):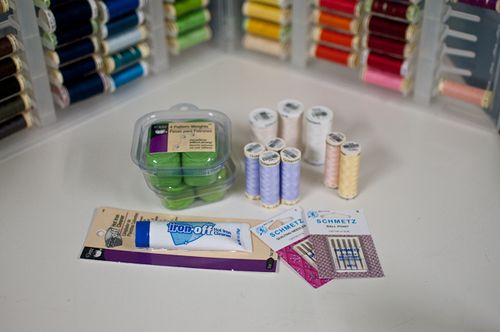 Some little treats for mama. I had coupons for everything (love that), so I stocked up on some stuff. Needles, iron-off (interfacing….), pattern weights and thread. I always want to take my thread case in to the store to get what I'm missing, but feel weird doing it. I'm thinking with the light purple that I'm going to quilt the thing in straight lines. I still haven't found a backing fabric, Bj said no florals, and that was what I was leaning towards. He mentioned that florals reminded him of grandmas (not you I'm sure Nana and Grandma). I don't think he's taken a good look around the house lately… I did find this beautiful fabric: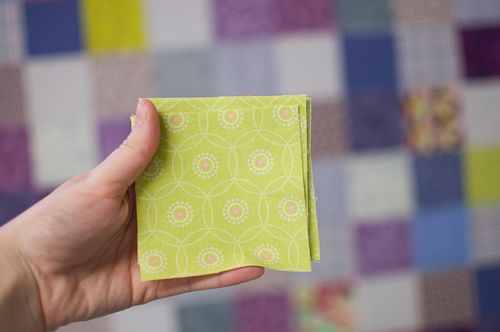 That I'm going to bind it with. My lovely local shop only had a fat quarter when I got it, but they were nice enough to tell me what it was and I found eight yards of it on clearance (It's a Joel Dewberry print called Sunburst in green from his Aviary line – I am going to be on the look out for all the other colorways of this, yum!). I sort of had a panic when the shop keeper told me that fabric turns over every four months or so. So I also picked up some of my other favorite prints because hey, guess what? It takes a lot of fabric to back a quilt. Not as much to piece it when you start with fabrics you've gleaned from your husband's stash. Wait what? Bj has a fabric stash? Yes he does, he just doesn't know it.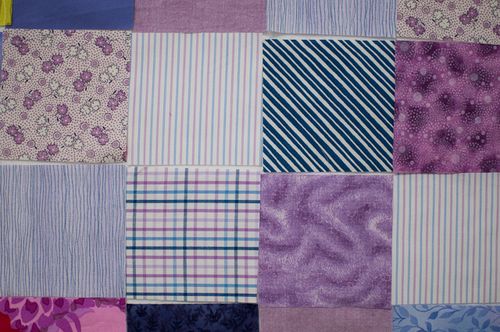 The white/baby blue/pinkish stripe and the plaid were my inspiration for the quilt – and also used to be Bj's clothes. Sure I'll take that bag to Goodwill for you honey. I have my eye on a few things that are not even close to being on the way out the door either, I hope they don't get ruined in wash. Just kidding, I can wait it out, I've got a nice little stash of them to work with now, and some of the fabric really is lovely. It's gotten me thinking about using other alternative fabrics. I'm obsessed with sheet sets right now. From what I've gathered from middle of the night iPhone googling you can use sheets, but a 200 thread count or less is best. If it is hard to pierce a safety pin through the fabric the weave might be too tight to quilt. I have my eye on this organic set from Pottery Barn, this one from Pottery Barn Kids, and a king size duvet cover from the Company Store (to practice my free motion quilting along the shapes). I have taken the time to figure out what the price per yard equivalent is. I took 36 x 44 (the normal width of quilting cotton) to get 1,584 square inches per yard. Then I figured out how many square inches and thus yards were in sheets and sheet sets. I wrote it on the back of my quilter's reference card I keep in my wallet. So for example a twin flat sheet yields four yards. If it's $20 then the fabric is about five dollars a yard. If anyone wants all the math I've done I'll happily post it. 
So yes life seems to be much better. And now that I am back to writing it out look how much I got done, whoo hoo. I can't thank you enough for all the wonderful comments. I always love reading comments, but find them particularly wonderful when I am having a rough day. Lots of love to you all!