It seems my days have been very full, in ways I like and in ways I'd rather not have to deal with (horribly upset teething Tutu – but thanks for the tips, they are helping!). I have been getting an every so tiny bit of crafting in. I snapped this picture with my iPhone before pulling off the pieces to stack and put together: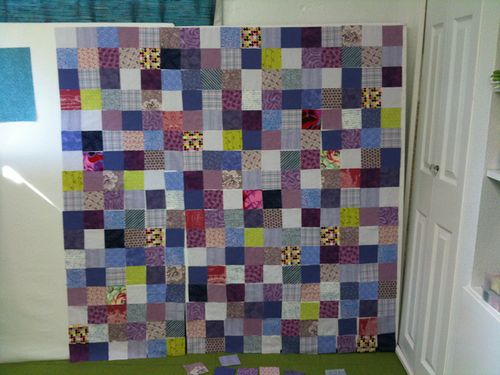 I have better pictures of it coming together, but I thought what happened next was more representative of how I feel about many things in life right now.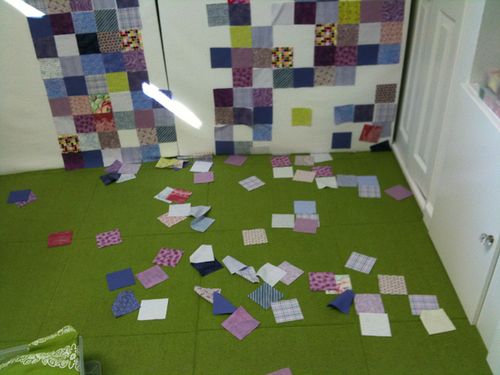 I bumped the board. And all that work of deciding what goes where and putting them just so was scattered about on the floor. I don't have a lot of time to do much of anything craft wise. So I sighed and got out the phone to reference and put them all back up again. Then Tutu started crying so I balanced her on one hip while stacking the rows.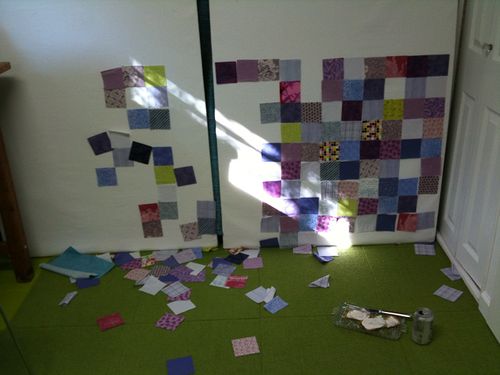 And I bumped the board again. I just wanted to finish ONE THING. I feel that I can't do that ever and it's driving me nutso! I have yarn spun and plied that is one my wheel because I have no time to get it off (this is a process that takes 15 minutes tops). So I took a deep breath, took sobbing little Tuesday upstairs and told Bj, "I need 15 minuets, I need it, PLEASE." He took Tuesday, I figured out the pattern (again), got the rest of the blocks stacked and ready to piece and feel much better. I have seriously got to get it together! My mom thinks it's her fault I feel that I have to get so much done. She called today to apologize after explaining that I must have gotten it from her. She was throwing a neighborhood girls night out party (such a cool idea to meet all the neighbors!) but at the same time felt she had to finish a blanket, run to the store, etc. Of course the difference is that she did it all… 
Maybe I just need to get back to the blogging every day to feel better, because I do get things done, but life seems to be moving so fast I can't focus on any one very long. The problem is the !#$@#% wifi won't connect well to my computer, and now not to my phone. And I realize this is terribly spoiled of me, but I've gotten used to surfing the web and uploading things super fast. I do not like the whole, go make a cup of tea while a page loads thing, at all. I think maybe that is the Universe telling me to slow down, take a breath and look around. Which I plan to do for the rest of the week. Hopefully I'll be able to upload and tell you all about it.