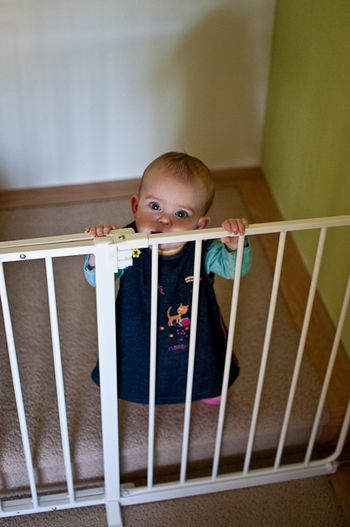 Okay I totally staged that photo, but had to get one of Tuesday and the gates. Bj put three of them up last week and we're waiting on an extension for the one in the basement to partition off half of it. It doesn't really matter right now for miss super slow mover, but she is just so on the verge of being everywhere I can tell. She is also no the verge of getting teeth. I know I said that before but this time, whoa they are so close! I have been trying to get her relief so basically she's been my super special buddy all day – either because I'm holding her or nursing her, hence the lack of computer/crafting/blogging time. I think my mom told me about teething biscuits so I had Bj pick them up today when he ran errands. This is the first "food" Tuesday has held to eat (we feed her with a spoon usually). Oh the mess.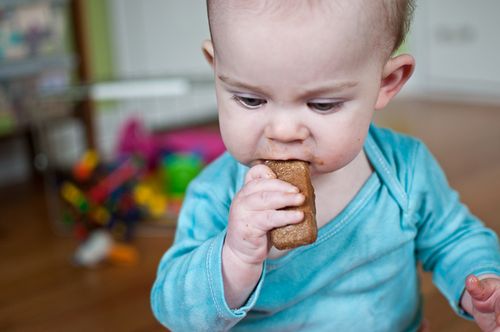 I do think she likes it though. And she is working it on her gums; making a fist with one hand while she rubs the biscuit as hard as she can on her soon to be teeth.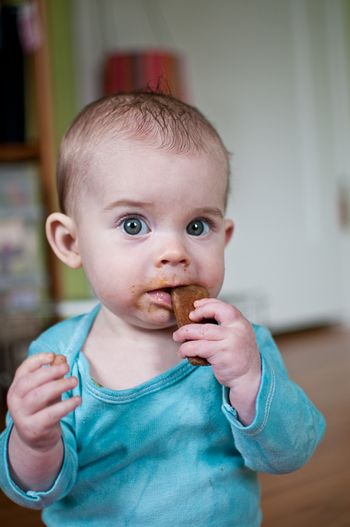 After this one little experiment the biscuits are for high chair use only! And I need to make the little clothes I got the supplies for to keep near it to clean her up. I actually need to do a lot of things, but I am really having trouble trying to figure out how, so sorry about the quietness on the blog front as of late. I expect we will be back to being super fabulous just as soon as those little buggers peek their way through the gums.