I'm struggling to find it. My poor little Tuesday had sort of a rough day and it was all my fault. It started off with a bath gone wrong and she inhaled a bunch of water, even though I literally had my hands on her – man babies are slippery. Then later she sneezed up this: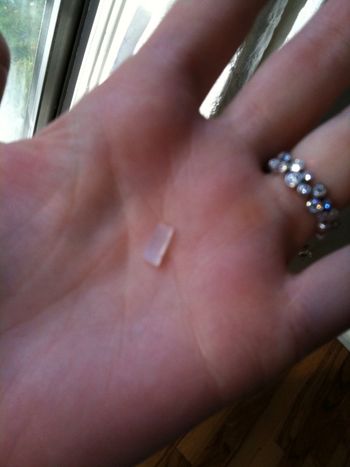 A piece of plastic from a spool of ribbon. Oh my god the horror when she did this. She was just cruising around playing in the basement like always. I'm constantly talking to her, going over to her and checking on her, but some how she snapped a piece off of a roll (I let her play with the empties – no more!). The thing is I just finished cleaning up the basement: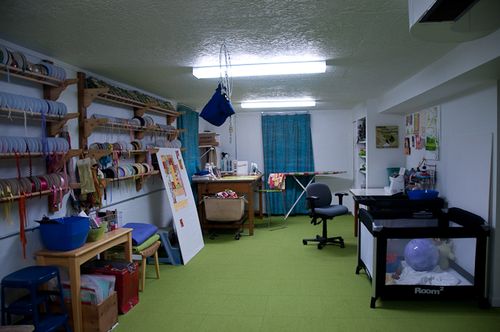 Looking one way, and the other: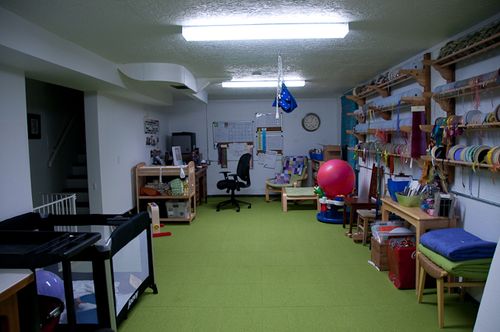 Well, okay from these pictures it does look a little busy, but really I didn't think there was anything she could reach that would hurt her. The hard part is I have no trouble filling orders and packing things up, in fact Tuesday loves to crawl after the little cart I push around. But when it comes to doing serious work on the computer that's were we have a problem. I have to focus to get something done, and I can't get more than maybe 20 minutes at a time, and that's if Tuesday feels like being in the exersaucer, playpen, or Merry Muscles. She still doesn't nap, well maybe averages an hour every week or so. Otherwise her resting times are hour long nursing sessions (at least one a day). I don't mind those, it's actually a nice break for me and I can knit or something. But I can't move and I can't be on the computer. I feel like I have all these ideas in my head and am so slow in implementing them. And while I don't mind doing this late at night: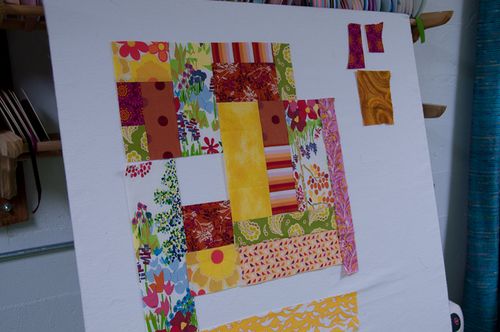 I really don't do my best computer work at night, it makes me so tired! Why is that, when I can stay up and sew for two hours with out realizing it? I think one reason I'm feeling a little overwhelmed is that Tuesday is so inquisitive. I don't, or rather won't ignore her to work. But she is still too young to set up with a project. I'm just not sure what to do. I know I need to put locks on the cabinets for a start (kitchen and bath at least). Thoughts? Ideas?