Just a heads up for those of you who don't get my newsletter.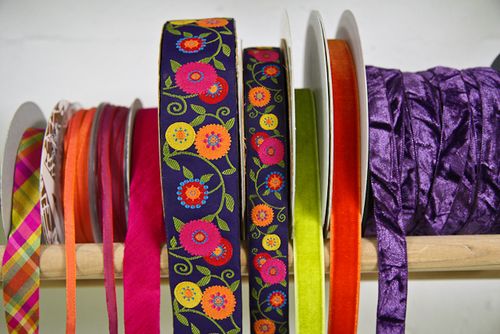 I'm having a big sale over at the Ribbon Jar from now until Monday, November 30th. From now until Monday, November 30th, not only are we offering FREE SHIPPING on orders over $50 (domestic only, and yes this includes our heavy jars – use coupon code 50free), but we have many other specials as well. All of our favorites are on sale: Double Faced Satin 20% off, Ric-Rac 20%, Organdy 20%,Herringbone/Twill 20%, Velvet 10%, and Silk 15% – no coupons needed. But that's not all. Spend $75 and get an additional 10% off your whole order. Use coupon code gobble. 
Okay I totally cut and pasted that from my newsletter (and took the picture from my mom, mmm I love that new crushed velvet). I am super tired today, because I stayed up late working on it, but also because our fire alarm (which is now hard wired, so it goes off in three places) went off at 3:30 in the morning, and we have no idea why. Like Bj said, "Maybe the sleep gods are against us."