Today we got a little bit of a later start, which was fine by me. Sciarrino, Tutu and I did some jewelry shopping in the lobby of our hotel. I will take pictures of it when I get home, it is all so cool. I was happy to find a neat souvenir that was locally made. We went over to Taro and Hanea's room to have my favorite breakfast. It's a mixed rice made with chicken, onion, carrot and ketchup with an omelet type of egg laid on top and then more ketchup, yummy! He also made bacon, Taro is the best! Sciarrino, Tuesday and I met up with an old crew friend mid-day in Macy's (I don't know if this is just on the island, but they were having 25% off everything!) where I finally found a flattering swimsuit. And it's a two piece. I need to lay out on the beach tomorrow and use it! We walked around for a while chatting and catching up, and getting a bite to eat at a local favorite: Duke's. The dinning room was open to the outdoors so birds came hopping over to troll around under Tuesday's highchair. Once she realized this she was like, "quick mom, save me!!!" We walked about a mile and a half to the aquarium, where I flipped Tuesday around in the stroller so I could push her up to the glass to see the fishes.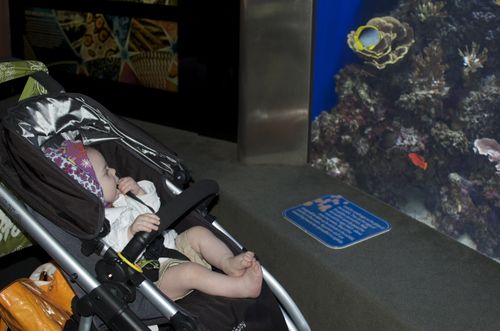 She really liked them. Fish!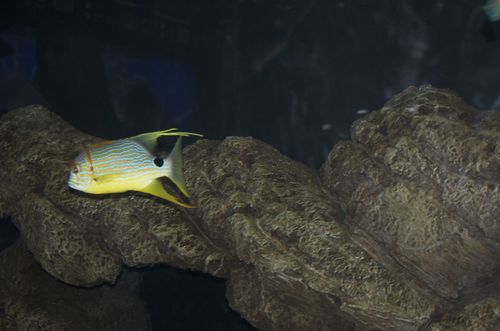 I love all the colors of the fish, so spectacular. I also love how Tuesday uses the bar to pull herself up and get a better look: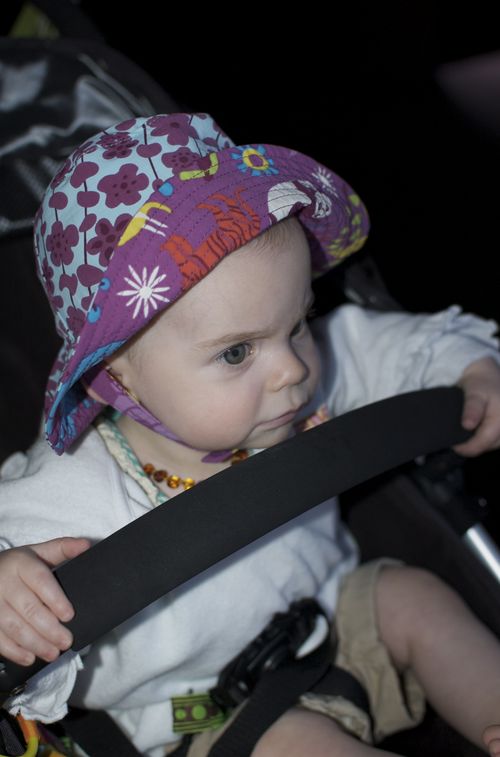 After the indoor exhibit you go outside for a little bit. By this time Tuesday was getting a little tired so I put her in the Moby I'm borrowing from Donna and made her put on her sunglasses. Though she wasn't too happy about that she did manage to give Roz and Sciarrino a little smile: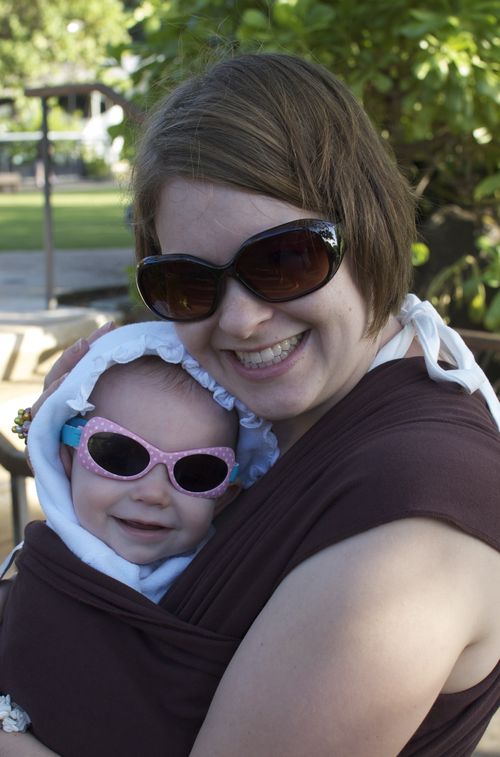 Oh you can kind of see my new ring in this picture. 
We walked back to the hotel to regroup and then headed out. Tuesday was so so close to asleep when we left our room but woke back up at the sight of everyone on the strip. By the time we had walked around for a bit she was starting to get super tired. I know a lost cause when I see one so I put her in the baby hawk and trekked the mile back to the hotel. She went down easily into the play pen – yeah! Of course she is still fully dressed, shoes and all. So I'm going to have to deal with that when she does wake up, but at least she is getting some rest now. With all the site seeing and shopping today I think I walked at least five miles, and over half of that in flip flops! Tomorrow I am determined to get in some swimming; either at the beach or the pool. I did go up to the pool this morning and and sat on a lounger to feed Tuesday, it was lovely. Hope you all are well, Bj tells me it is very cold at home. On the elevator a couple was lamenting about going home to minus 25 degree weather, now that is cold!