You do not know how many times people have said to me, "How old is he?" or "He's so cute!" Even when I have Tuesday dressed in dresses. To this I say, whatever. It doesn't really bother me at all, and depending on my mood I just go with it. Mainly because I am so not into the pink or the hair bow for hairless children. That last one is a big one for me. I do not get the frilly hairbow on the naked baby girl head. In fact I've made my position on this so well known that not one person has given us one.. until now.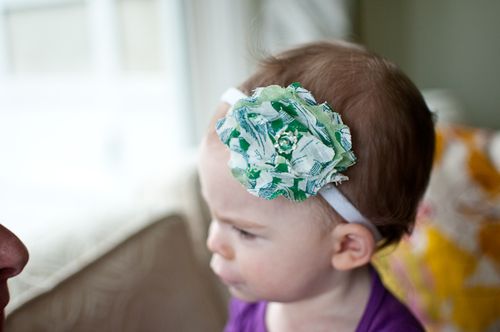 My friend Tracy told me about a member of her church who made these, "cute headband hairbow things out of vintage hankies." It sounded intriguing but wasn't about to go find out more, because I don't like hairbows, right?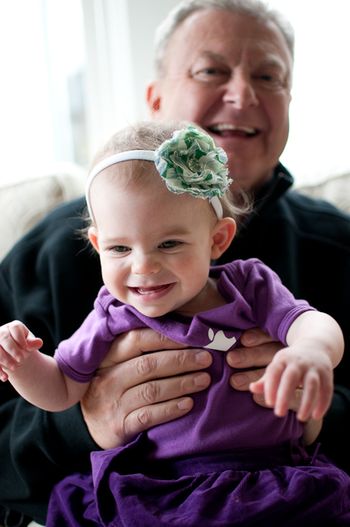 WRONG! Tracy got me Tuesday this adorable headband for her birthday and I am so gaga over it that I actually pack it in my diaper bag so that when I take off her hat it goes on. Pathetic, I know. 🙂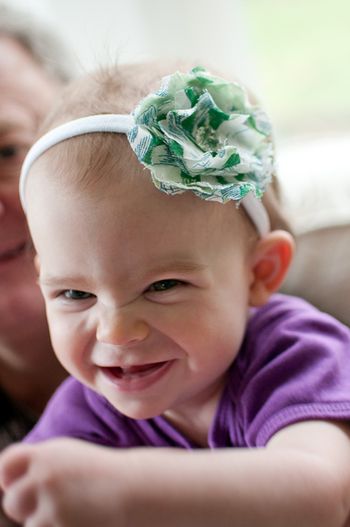 Want to know the best part? You can get one too! She sells on etsy and the price is a whole FIVE DOLLARS, and shipping a whole ONE DOLLAR. I am tempted to tell her she needs to raise the price… after I go stock up of course.