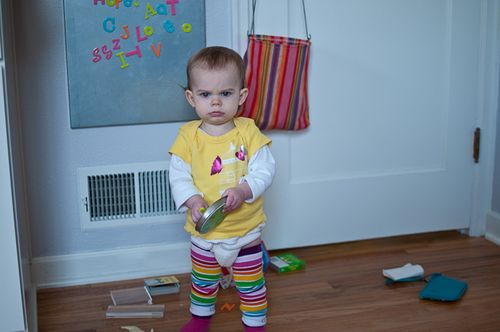 You are making this very serious scowling face that we are not such fans of… but it is usually followed by laughter so maybe it's just toddler humor we don't understand?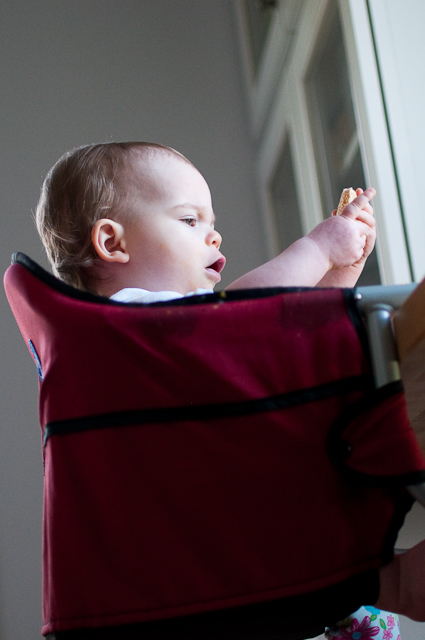 You are very talkative. Babbling day (and night). Speaking of night: you usually only nurse once a night now, but you might get up a few more times for a quick cuddle. When you want to play in the middle of the night we decided you have to do that alone. You are not always a fan of this and will protest for a few minutes. If you could speak I think you would be saying, "I don't care if it's four AM get back in here and play with me now!" You slept for eight hours IN A ROW. That's right a solid eight hours. Ask me how I slept? Not so great, but I'm working on it. Your independence is going to take some getting used to.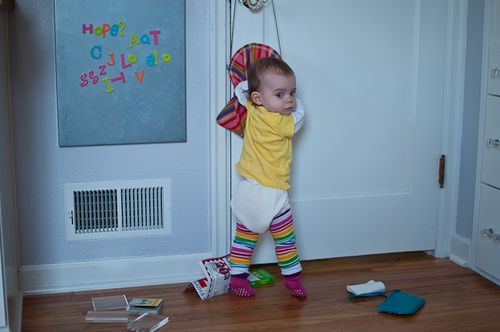 You love to pick things up, move them and put them somewhere else. What types of things? Paper, acrylic blocks, your little purses, coupons, books, magnets, socks (I just found some in the tub – I've been with you all day when did you do that little lady?), fabric and did I mention socks? Speaking of socks you know what those are. When I ask you to bring me a pair you do and I usually wear what ever you bring me so I don't match so well these days. You know what lots of things are: me, your dad, grandma, nana, grandpa, ducks, dogs, cats, breakfast, milky, shoes, hat, cereal, GOLDFISH CRACKERS,  paper, bowl, cup, crayon, William, Aunt Sciarrino, Lee Lee, Pinky, blanket, diaper bag… Actually this could be a really long list. Not only do you know these things you know where they are and will get them (if possible) if asked. I find this amazing.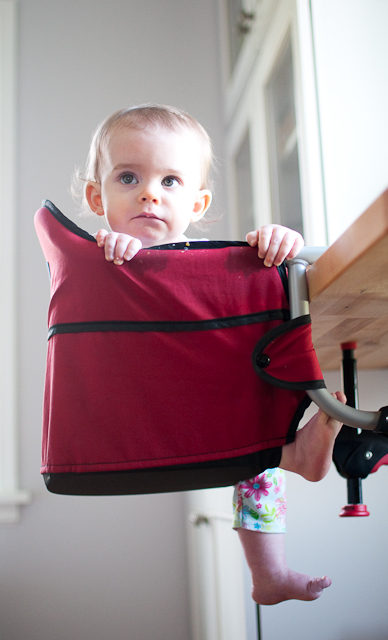 You have eyes like mine – they seem to change colors, green, maybe brown, a little grey? Your hair and mine is the exact same color as well. I know because you like to pull mine over your face while you nurse. And I take your hand and tell you "nice" as I pat it softly. And you always giggle, even though you don't stop nursing.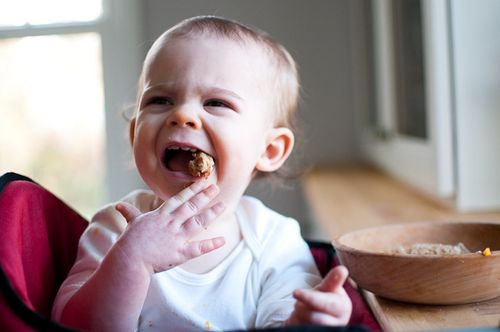 You have some crazy good expressions. I love it when people come over to your carriage to coo at you and you give them a "stink eye" or a "what the heck are you looking at," a couple of your large repritiour of faces. Basically you are awesome and I love you so much. I can't believe you are 14 months old, like really I CAN NOT BELIEVE IT.