Oh my goodness, I did it! I finished my album for the Week in the Life project (April 19th-25th) and I could not be happier. Bj has already spent time pouring over it and also deemed it a success, yeah! What a snapshot of our lives. Here are almost all the pages (a few have cute naked picture of Tuesday that I didn't want to share). I added the products below the pages, but a lot are repeats, so if you don't see something look back at the beginning.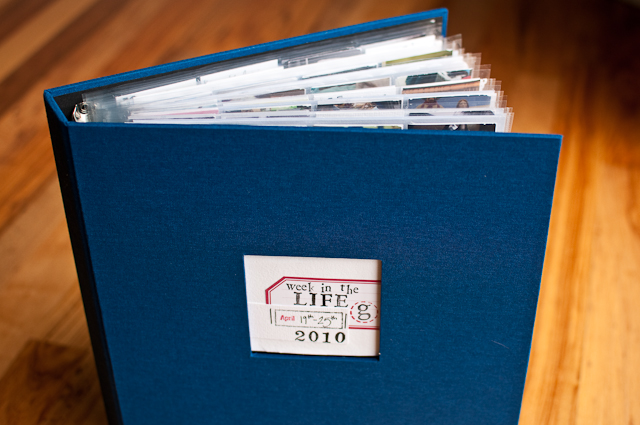 Kolo album I had in my stash, using included page protectors and slide film page protectors (also in my stash from art school days).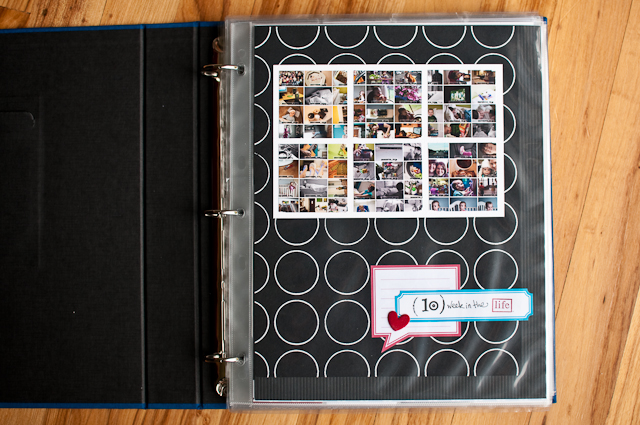 Intro page has paper from my (now gone) spring fling kit, a doodlebug velvet brad, labels from Two Girlz Stuff, stamps are magnetic poetry, 7 gypsies, and PSX.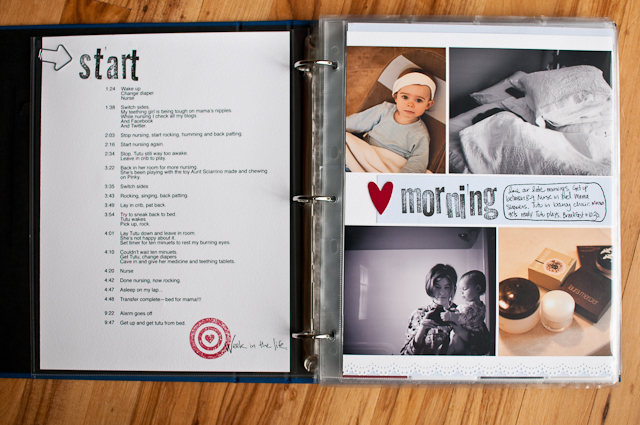 I have two types of pages. The white pages are general routine pages and the light blue/slide pages are the actual day pages. Kikkerland paperclip, Savvy Stamps heart target, medium folk heart punch and velvet flocked paper (I also used the small and large in this album, as well as some other heart punch from my friend Sarah, I think it was a Stampin Up?), Gothic Lower (lrg) stamps by Postmodern Design (used through out), Martha doily punch.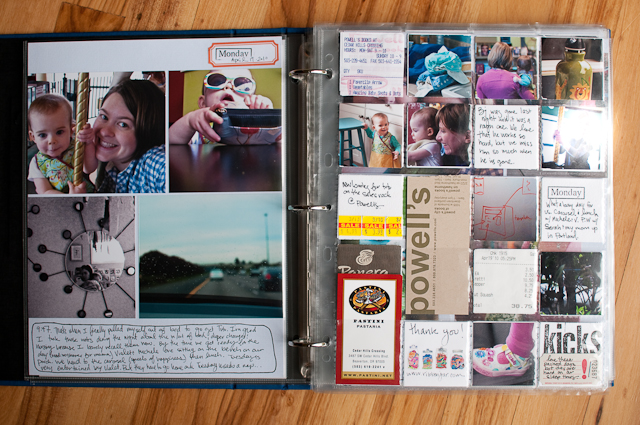 I have blurred some things out, only the quick and easy way in lightroom by over/under exposing. 🙂 Jenni Bowlin ticket.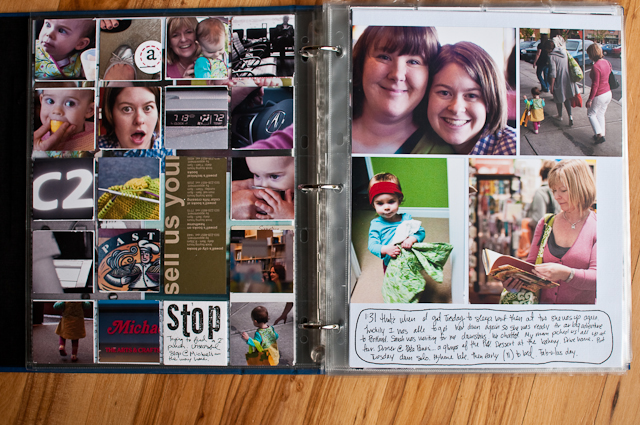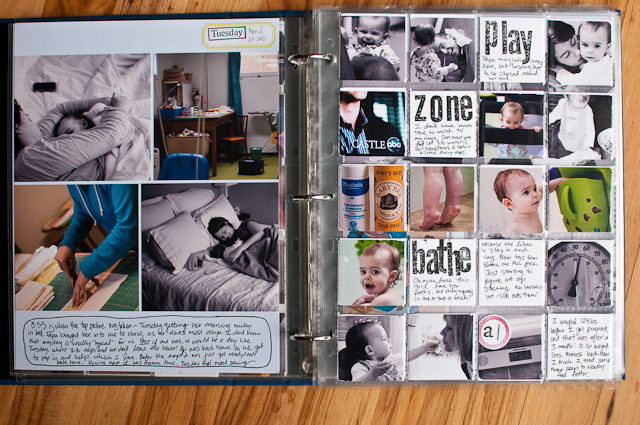 Technique Tuesday and Hero Arts stamps, Making Memories staple.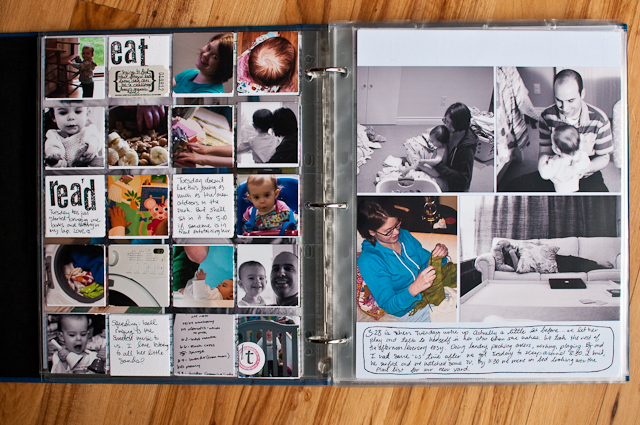 The missing pages here are about getting clean (baths/showers) and the nap.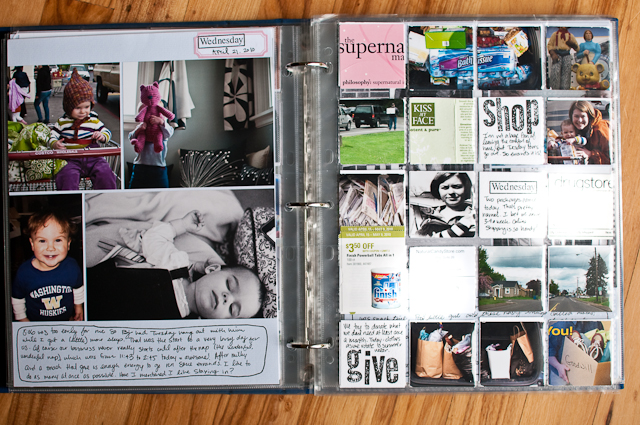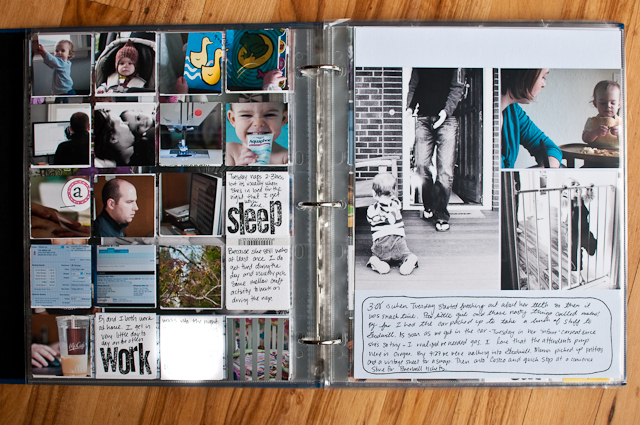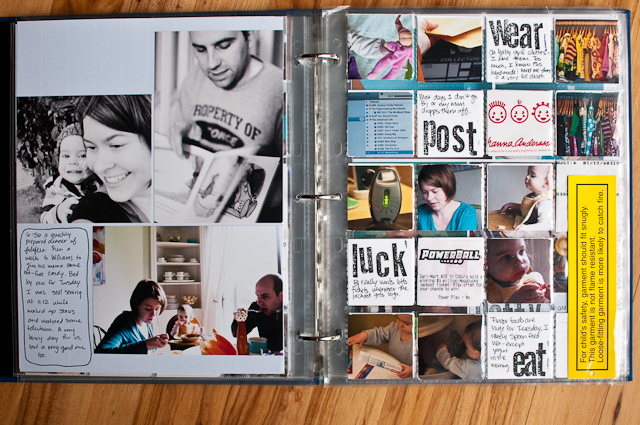 Missing pages are the other side of this slide page (talking about how in Oregon we don't have to pump our own gas, among other things) and a routine page about the potty/diapers/elimination communication.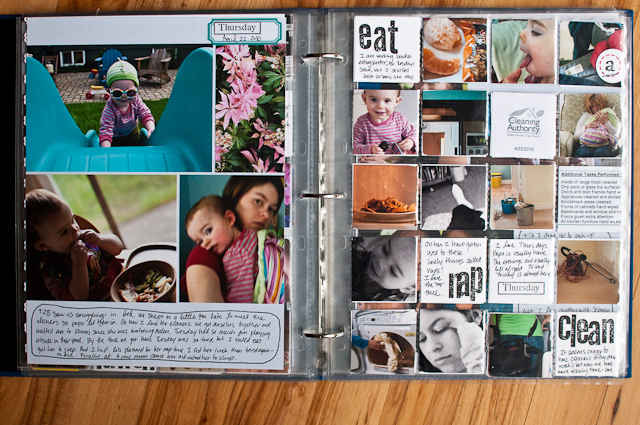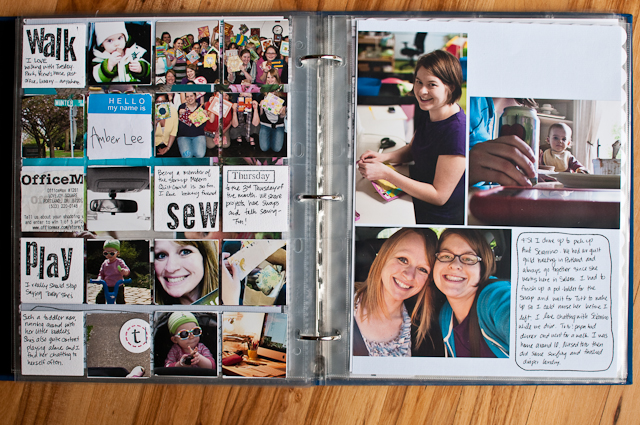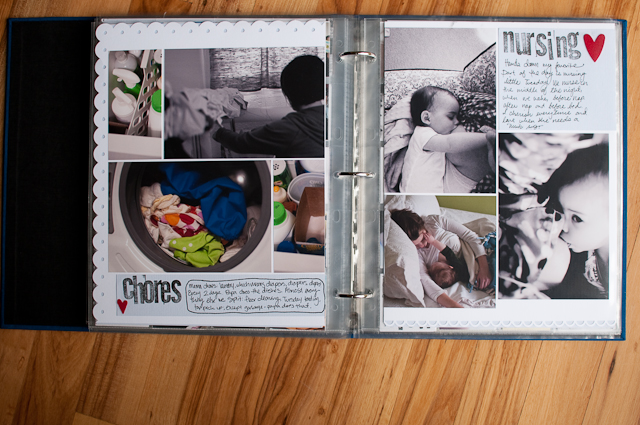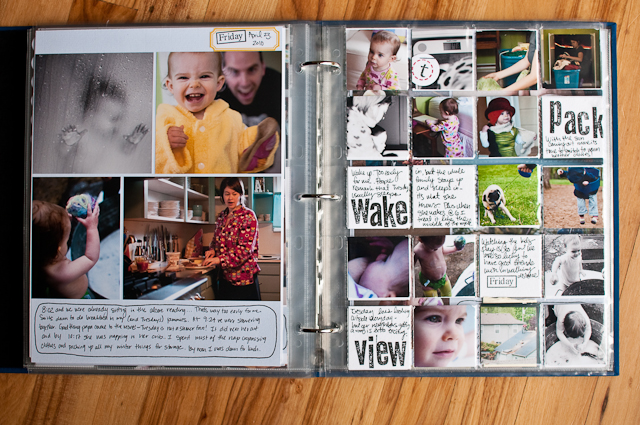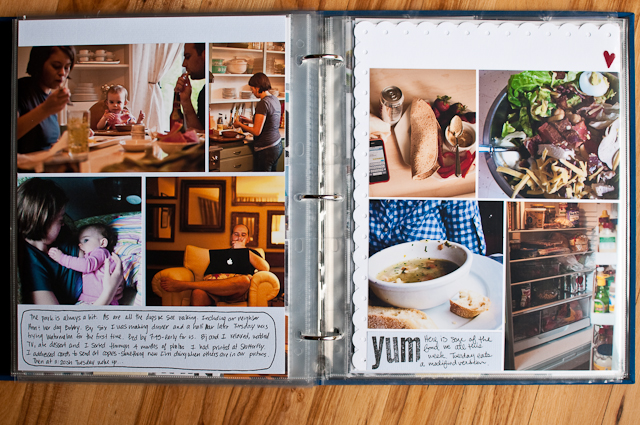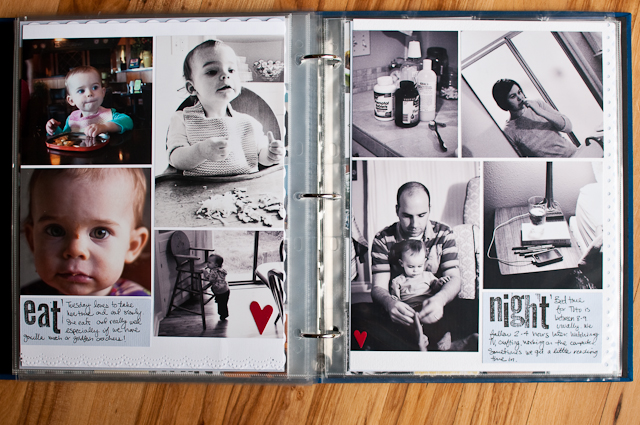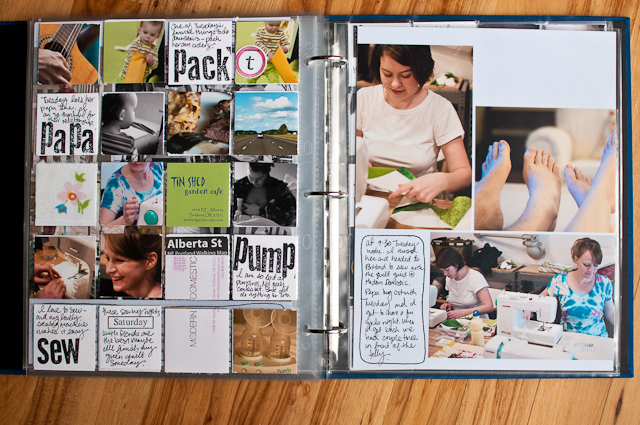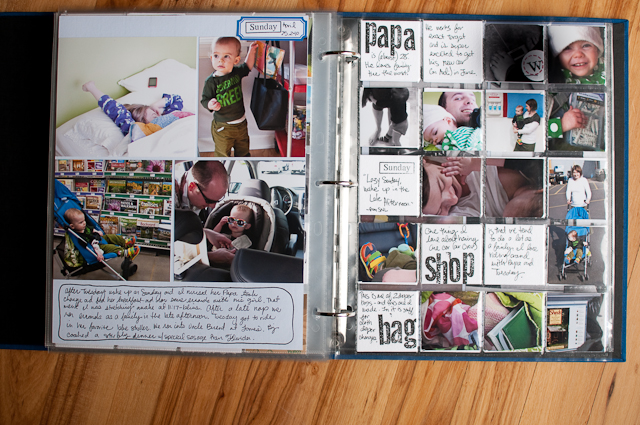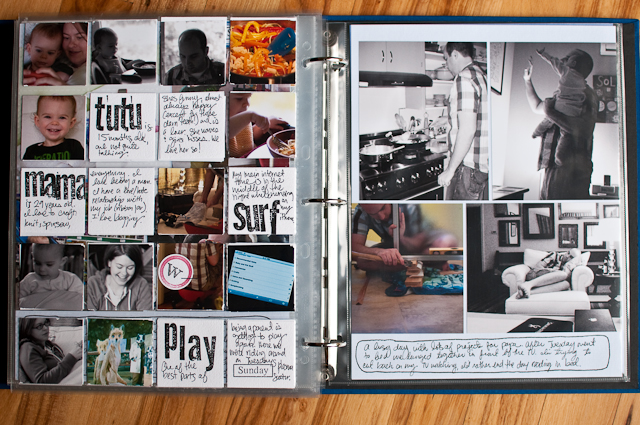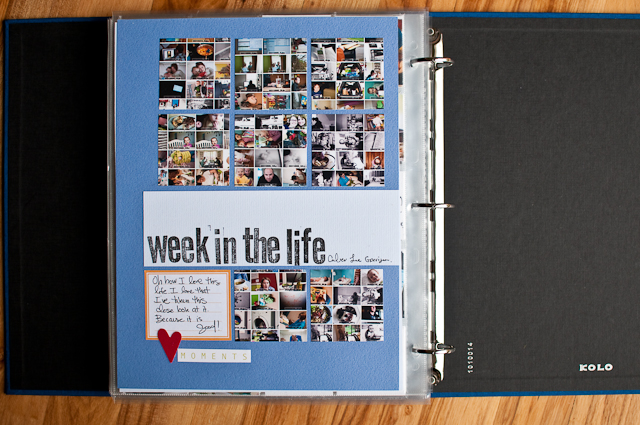 Piece of KI Memories paper.
There you have it. Pretty minimal in terms of embellishment. But in my opinion it has to be with 294 photos! I just used a heart on each of the routine pages and the initial circles on the slide pages.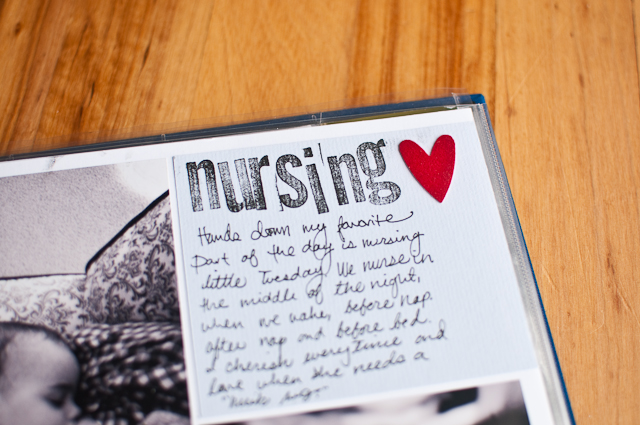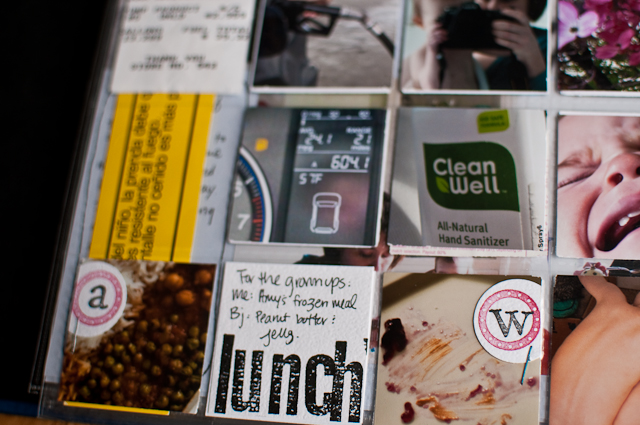 And I just can't thank Ali enough for the inspiration!