Thanks to everyone for entering the giveaway! I counted up the number of entries for each giveaway and let random.org choose the winners.


Giveaway #1, the photo shoot and $300 credit to Life in Color Photography goes to Jen!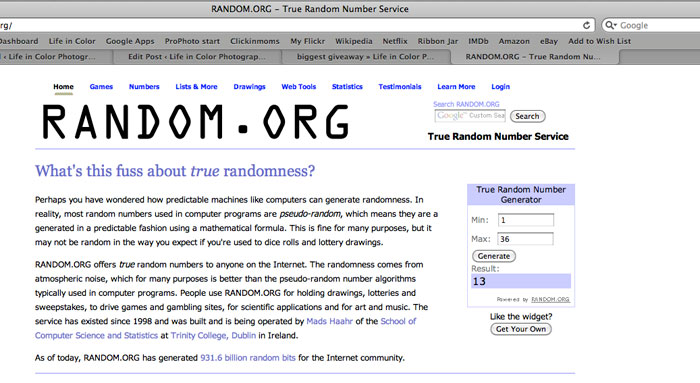 Giveaway #2, the first ever Life in Color scrapbook kit (hehehe) goes to Marin!
If I haven't heard from these two lovely ladies in a week I'll redraw.
And now something of interest to everyone (I hope!). Some of my most recent layouts. A few weekends ago Sarah and I had a craft day and I'm just now getting these up because they had a few little details I wanted to finish.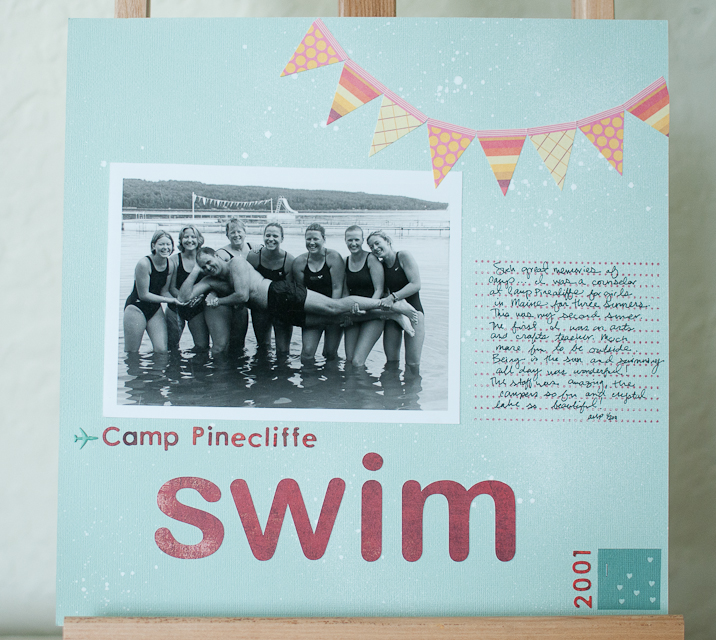 Ah camp, how I loved thee. Carefree summer days, no connection to the outside world, just fun and sun. I took this photo out of a frame a while ago and never did anything with it. It's an odd size since it was printed right in the darkroom at camp, the white boarder is on the photo.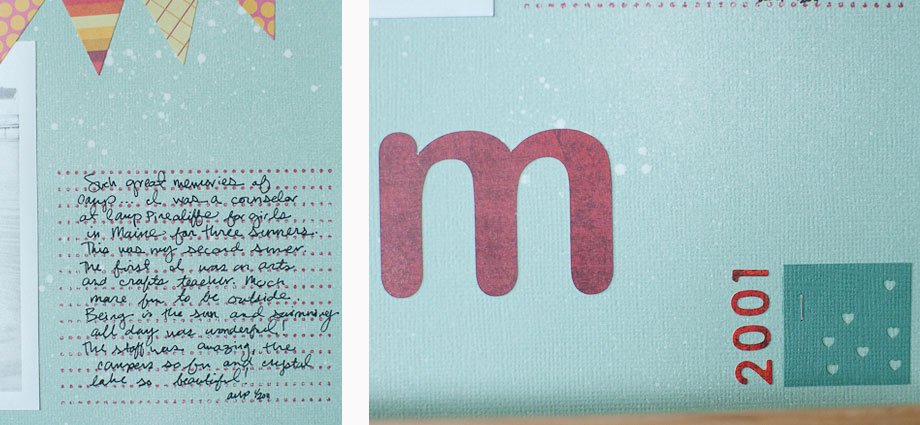 Most of this stuff is from a recent Studio Calico kit. The heart embellishment is punched with a new little punch I got at our awesome old school office supply place called Cooke's. It's Fiskers, but I haven't seen it online.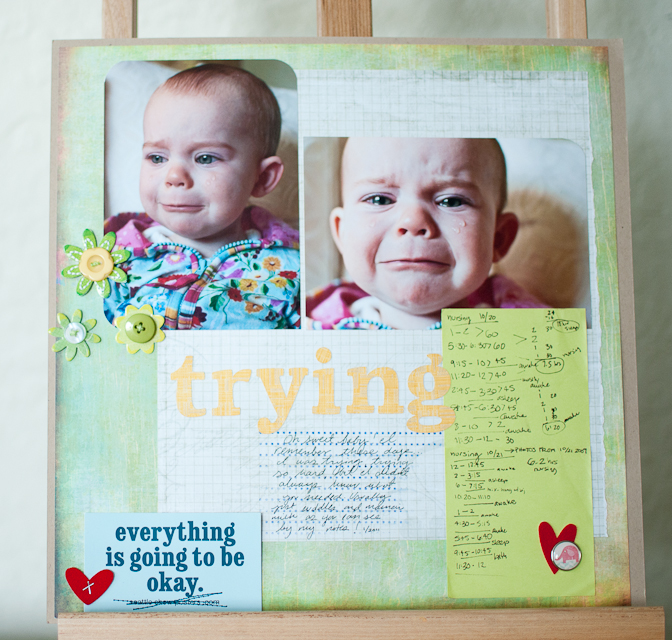 I almost didn't want to scrap these pictures of Tuesday upset, since she is always so smiley. But I found these two post-its with my handwriting from when I was nursing Tuesday pretty much non-stop and she wasn't sleeping. When I went to find a photo from those days these were there. I thought it went perfect with the story I wanted to tell. That I was trying so hard to get everything right.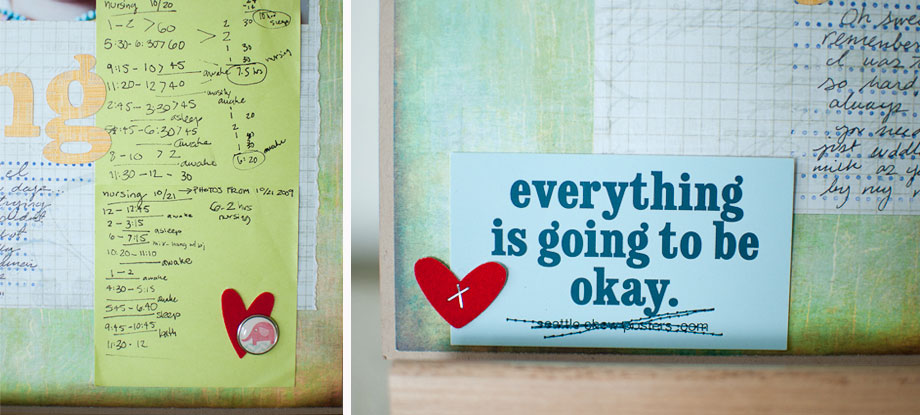 "everything is going to be okay." Is a business card. I sort of blacked out the web address of the company with thread.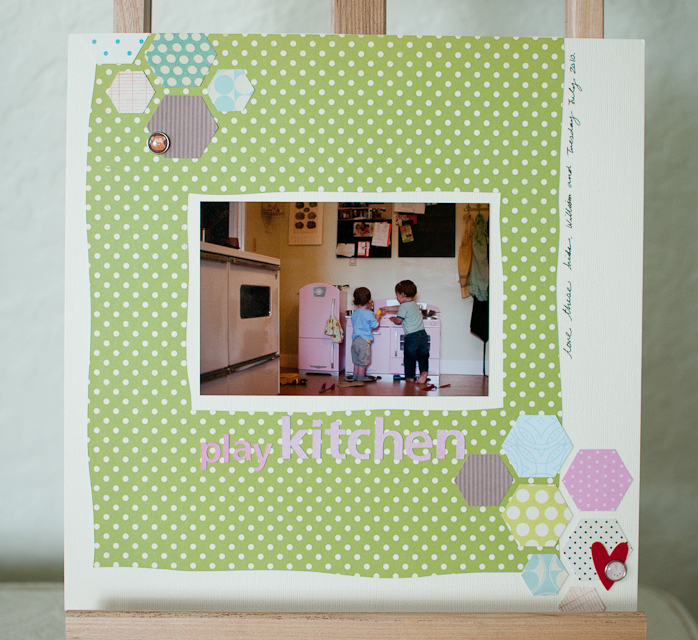 I had this one done with out a title for a while and finally decided it needed a little something. This really isn't my style at all, wavy lines and an inset photo. But I was feeling inspired by the organic line Sciarrino came up with and used a little fingertip knife to make the edges wobbly.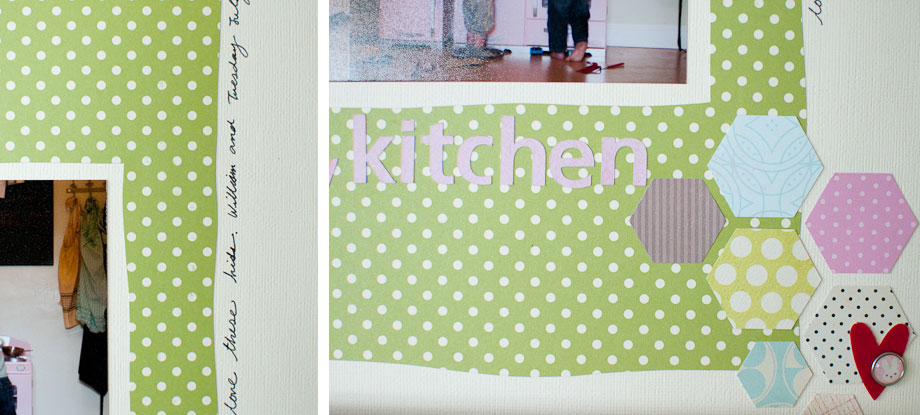 Sarah had borrowed this hex punch from a friend and had a whole little jar of hex's she'd punched. I love that she shares stuff like that with me. Oh I should mention all my titles are from the Silhouette (oh no I went to get that link and saw it can cut fabric now. Kill me, that is too awesome). I think if you get one just to do titles with you'd be happy. I know I am, the thing is genius! Please don't send me to any more font sites because I'm addicted!
I have a new big order of prints to file away, and I want to scrapbook right now. But the basement beckons…