Minus showing my plans for traveling with Project Life up to Alaska I haven't really posted that much about it. I feel like there is such wonderful inspiration out there all ready! Plus I don't want to feel like I'm holding myself back on journaling or photos because they'll be public. I know I can blur out bits (and have below), but it's easier just to do what I want, honestly. I did want to share a few of my pages. I'm finished up through March 11th. I'll share more next week.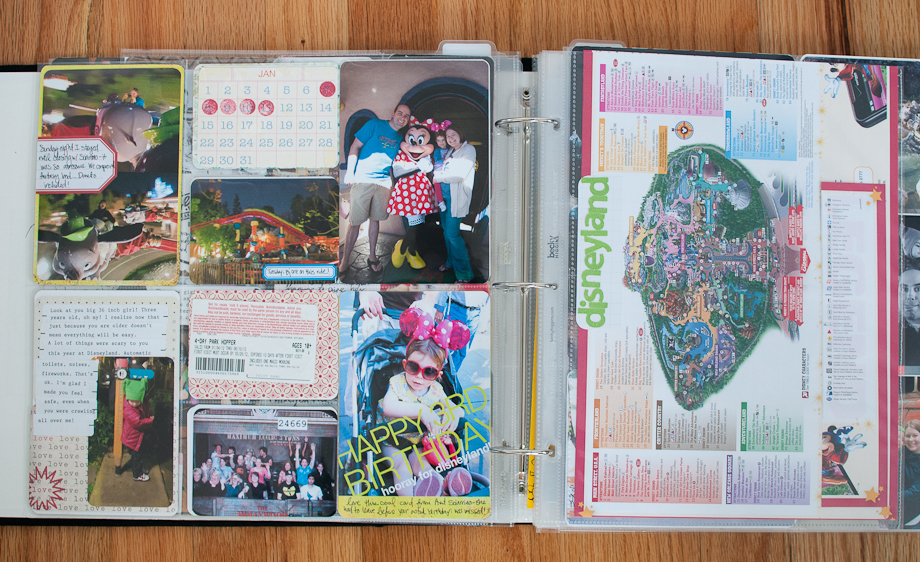 Disneyland. Because the time we spent in Disneyland bridged two weeks I felt it was easier to do a spread pre-Disney, Disney, and post Disney (two weeks, into three spreads). And Disneyland also included the map insert (cut down 12×12 protector), a 12×12 with a dozen more disney pics, and a big storage envelope (besides trip stuff, this also holds cards from Tuesday's birthday, which fell during this time). Because it's all clearly Disney I don't think it's hard to read the "spread" as one. But usually if I do an insert I make sure it is not quite 12″ wide, so it fits in-between the pages.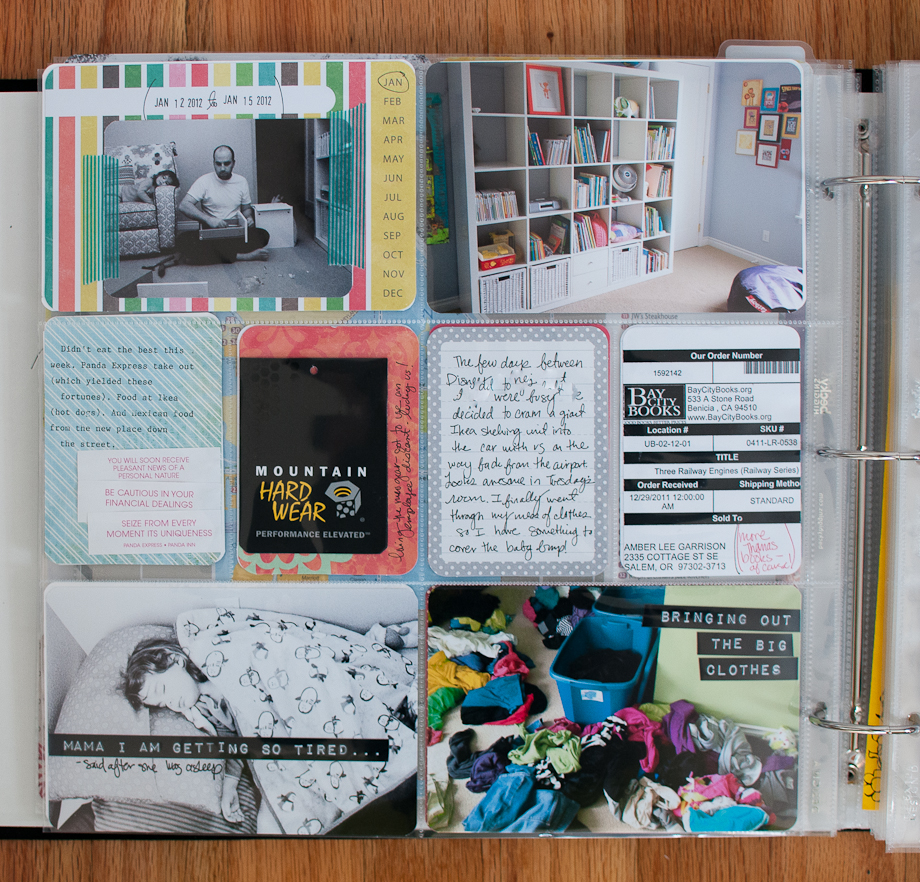 A random week in January. I love my (knock off) Dymo as much as ever. One thing I love about this project is including photos I would never have scrapped or saved (uh, messy clothes photo, I'm talking about you).


I took a similar approach to our Alaska trip, in terms of keeping it separate as I did for Disneyland. So this is pre-trip, with a little photo above on the date card to show it was the week we left (I actually did this layout and the next while on the trip, with the supplies I brought and prints from Costco, picked up in Alaska).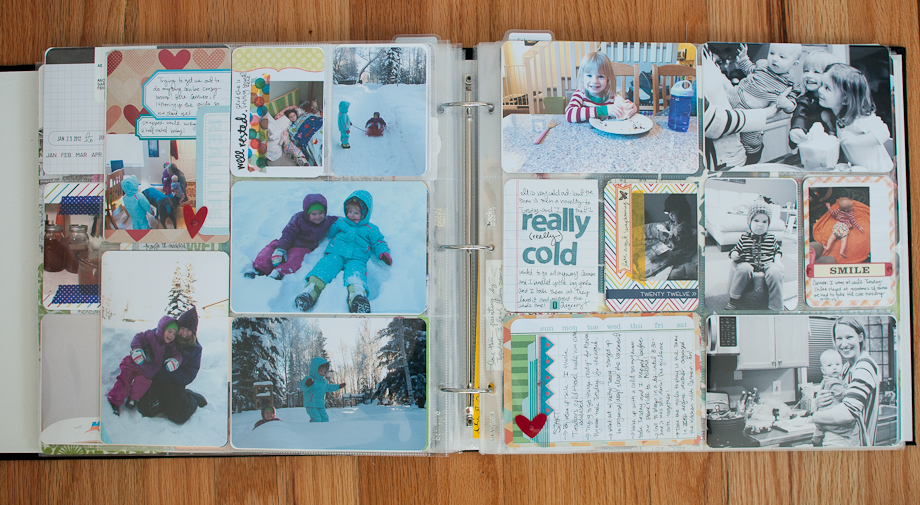 One thing I'm really having trouble doing is editing down the amount of pictures I put in each week. I think this is because I'm realizing how little I am scrapping anything besides my Project Life, and I don't want these gems forgotten.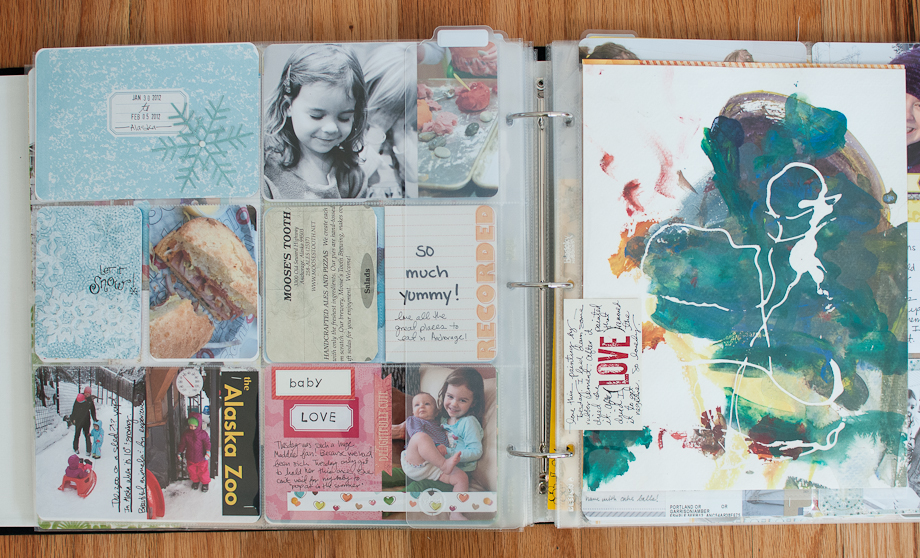 I love putting in Tuesday's artwork, notes and random scribbles. I think it is in such great context with photos of her sweet little three year old self. I stapled the "love" card to the actual page protector incase I ever do want to take that artwork out, it remains undamaged this way). The tab you see is one of these. I like having them in there to break up the book a bit (and keep me organized, I'm sure I'll use at least two Binders at this point, I'm up to 23 protectors total already!.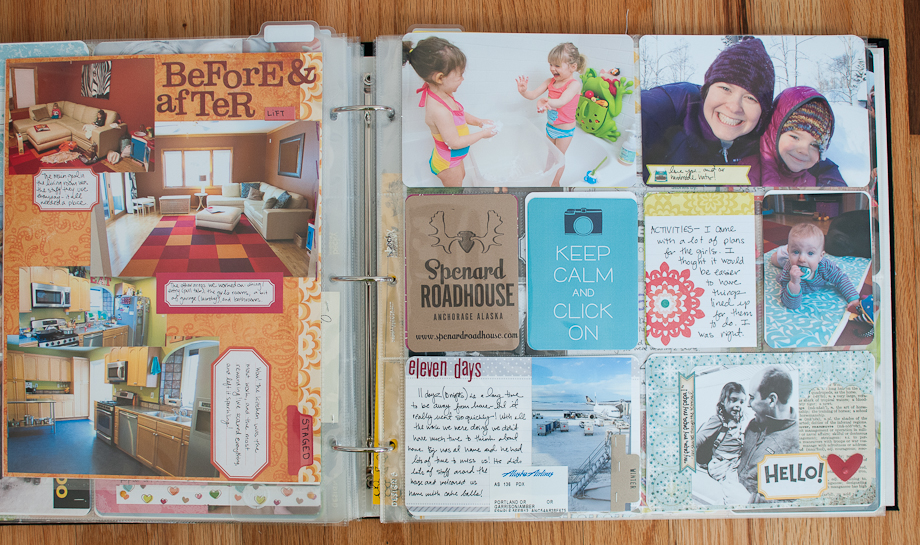 The back of that artwork was this mini layout. I had to cut and resize all the photos I wanted on there, and it was still crammed. I've only done little layouts a few times in the book, but it works great for time specific things. If I'm feeling all mushy about something I'll probably just do a regular layout for one of our regular scrapbooks.
Tempted to keep sharing, but I feel this is really picture heavy as is. Any questions? I can go over how I've found the process to work best for me in my next Project Life post if you like. I love this project, and Bj loves it too. He told me it was, "better than those pages with, 'that's cute over there' and stuff." (I think he means overly embellished). Love that he loves to look through it!