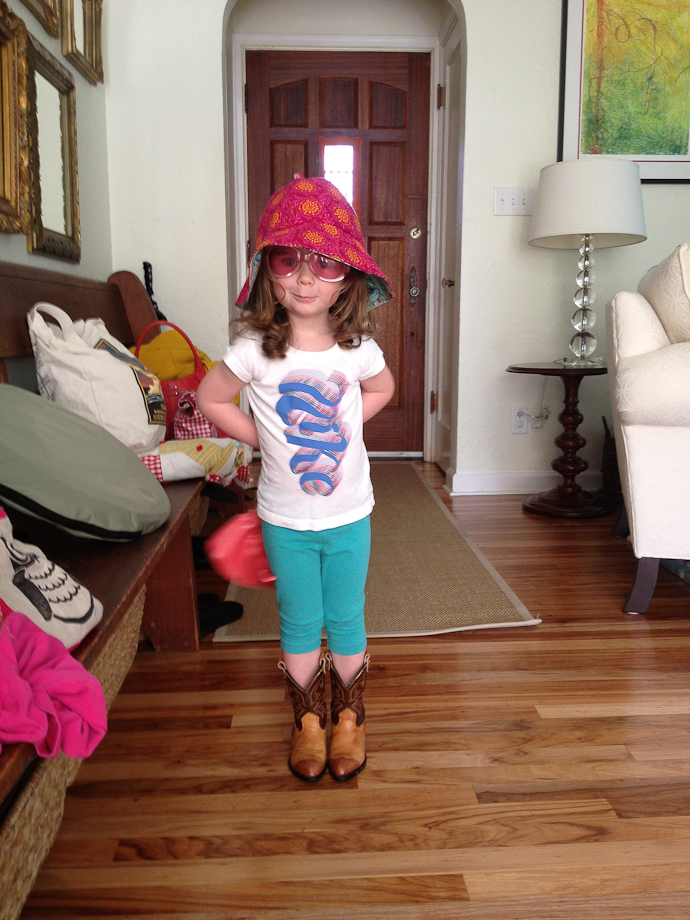 (she dresses herself but we picked the crazy name)
A recent conversation between Tuesday and a new friend.
friend: "Is your name really Tuesday?"
Tuesday: "Yes."
friend: "But your name is really Tuesday, like Tuesday?"
Tuesday: "Yes, it is."
friend has a puzzled look and kind of laughs
Tuesday: "What is your name?"
friend "Alex."
Tuesday, "well, why?"

I was so glad I got to hear this conversation. Certainly the new friend was not being mean, more curious and they were chatting amicably, but I thought it a pretty good retort. I wonder what Tuesday will think of her name. I always liked my name. I do think it's annoying that the younger generation of Ambers seem to be stereotyped to be trashy/uneducated (well, I guess it's not such a stereotype, as I read in this article and a book by Malcolm Gladwell – can't remember which one). And having the exact same name as my college freshman roommate was a weird.
We don't have any names picked out for new baby, I just don't get that "this is it!" feeling and I want to see what little baby will be like (and if it's a boy or girl, I'm so excited to find out!). Plus I think I must be extra picky or paranoid or something. I suppose I have a while, but I'm betting we go without naming for a while, like with Tuesday. It was just easier that way.
Have you named anyone? How did you pick it?