Oh man. Have you seen those so funny "nailed it!" posts on craft fail? With Pinterest I go into every project with a lot of inspiration and quite a bit of expectation too. So when I decided to whip up a couple of easy chocolate covered bananas I thought, no problem! How hard could they be?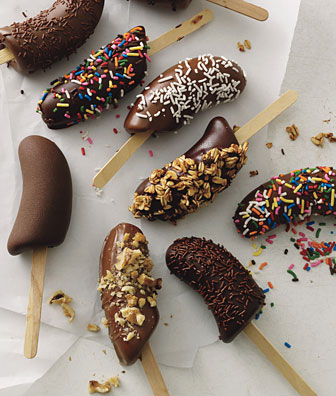 (source: epicurious)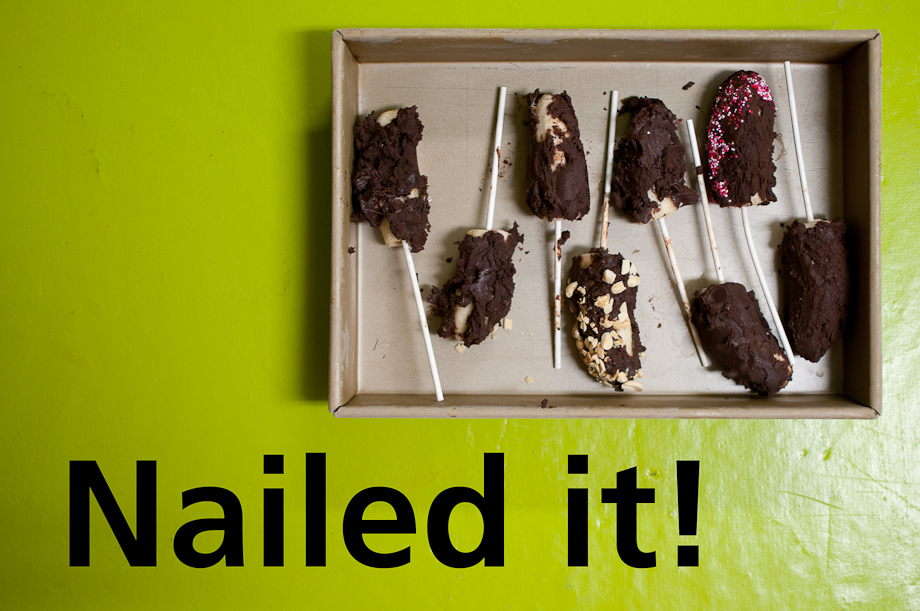 Oh my goodness this was so hilarious. Tuesday and I went about prepping. Her sweetly smashing peanuts and testing sprinkles while I slowly and carefully melted chocolate and butter in my double boiler. And then it all started to go wrong. The chocolate started "seizing" and I quickly added cream, which made it into a kind of fudge. After attempting to dip the frozen banana halves I decided to just grab handfuls of the chocolate and try to smoosh it onto the bananas. I gave a few to Tuesday to try and decorate but everything was happening too fast. I had to stop and write down what Tuesday was saying while she watched me perplexed.
"You're just cooking with your big belly."
"I think you should let papa do this part."
"Mama, you don't need to bake. You can just relax."
and my favorite
"Why is that poop on the floor?"
Holy cow it was funny. I did put them back into the freezer and try one during rest time. I'm not going to lie, I think the only reason I finished it was because I was craving the banana chocolate combo and couldn't let the idea go. It was bad. Not as bad as Magic Mike (but that's another story). So in case you've ever thought all my projects turn out great over here you can rest assured that is not the case. I can not bake, and apparently candy making is out of my future too. Have you had a crazy craft fail? Embrace the hilarity and tell us about it!