Or, why I haven't been posting so frequently. See I've been sick with this lousy cough/throat combo thing for ten days now, and it's really starting to drain me. I finally went to the doctor today (and can not wait to get the bill for my three minuet visit, yes!) and got an inhaler prescribed. I've never snorted/smoked/inhaled anything before so I was quite nervous about it. Even though I am not coughing right now because of the singulair ("I can go where I wanna go and be where I wanna be") I still don't like the whole idea/experience of using it. It feels weird. I also have to take Mucinex, which really grosses me out because of their nasty little mucus people commercials. Anyways I got on to post because I wanted to share some fun stuff. I did manage to get to the beach with Sciarrino, yes coughing the whole time. We went to a bunch a thrift stores, a few antique stores, a yarn shop, and some fabric shops. My finds:


Love this pillow, in fact, I got a set. Usually older white things = yucky, but these looks so so awesome!!!! I squealed when I realized there were two. But look at the picture more closely and you will see something else cool. My mom painted my room while I was away for the day! Two shades of purple, it's yummy, and so NOT peach, and for that I am thankful. 🙂 I can't wait to make up a new quilt for my bed. All greens and white I think. One more set of finds: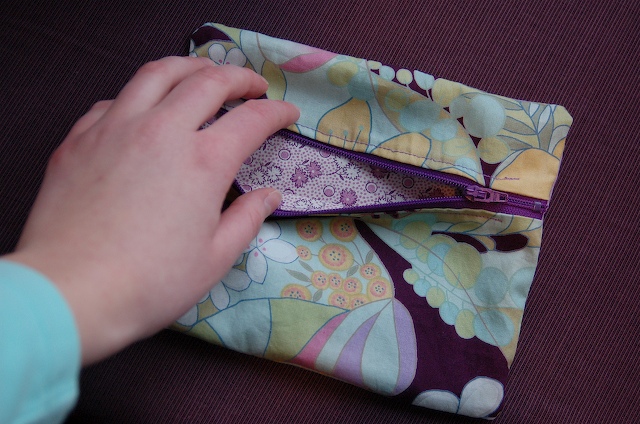 This is actually my second one. The measurements of the tutorial didn't suit me perfectly. I was looking more for one like Sara made me for the backtack swap. I like that the fabric comes right to the edge of the zipper on hers. So I just changed the dimensions a bit. But Sara, how is yours so perfect? Seriously, it's amazing. I'm still in love with that gift months later. Anyway I did that last night after spending most of the day at an icky auction. My mom and I are hooked on Cash in the Attic, and so we thought we go find our own treasures at an auction in town. Well it was a huge warehouse of a place, filled to the gills with stuff. I mean, so much stuff (and I was too scared to take a picture, it was quite a rough group). In fact, you only got to see some items at the beginning, then more were revealed as things were bought and pulled away. My brother got a neon beer sign and two chairs, but I lost on the only thing I wanted, an old piano stool I thought would be good with my spinning wheel. Well don't freak out but I have indeed decided to take up another hobby. I've rented a wheel and my first lesson is tomorrow!