Okay it's no secret that I love my car. My baby's been around the block and had a big day today, check it: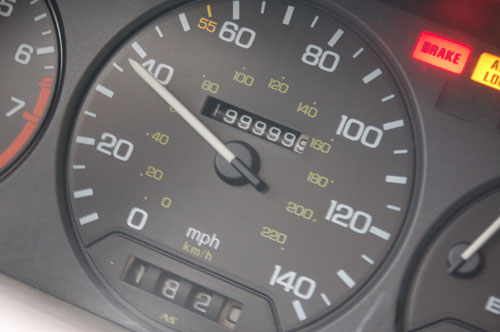 and….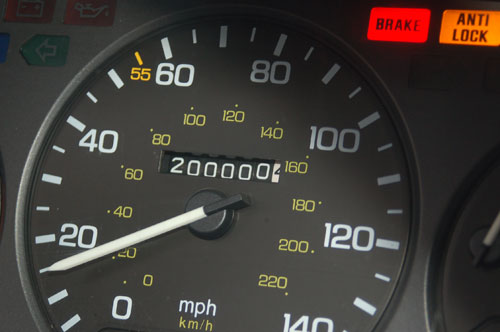 I was a little excited and the rollover pictures are a little shaky. I feel good that the car has lasted this long, it needs to hold out a little longer, until they make like hybrid Mustangs or something sweet like that. So how did I get here? Well Bj and I drove up to Seattle last night. He works up here during the week, and usually flies and stays up here alone. My mom said she would help with the Ribbon Jar for the week so I could come with. We pulled in the parking lot of the hotel with only three miles left to the rollover. Now, this matters to you because I had a little contest. Remember? A Sarah won, by guessing the 5th, mom you lost by only 2 days! I'm going to email you Sarah, and I've been collecting goodies!!!
So the rollover happened while I was riding with Bj to Microsoft. Before he could talk about the project it was code named "Deep Forest" and I can see why. Big beautiful trees line all the roads and flank the buildings. I'm hoping to go for a walk along some of the many paths I saw today, tomorrow if I'm able. I'll take pictures if I do. So our hotel is in a great location – a block away from the Weaving Works. I managed to only get two little things I needed and no yarn yet, but don't expect that to last! They have some awesome stuff. Here is one of my cool finds:


For only five bucks it holds together the sock knitting needles during travel. This is the first batch of sock yarn I dyed, my "oops" but it's turning out pretty good. I'm using the free Tropicana pattern from MagKnits. Just got to the heal and I'm going to try and do short row heals – wish me luck! I'm off to a private spinning and dying lesson this afternoon that I am so excited about. More later!