Let's see… So having the floors sanded was like the best idea ever, thank you Brent.



Does that lighten the place up or what?!!? Man I am loving it. So professional work, ya it pretty much rocks. But I watch a lot of HGTV so I should be good right? I mean I come from a long line of builders and that should make me tough, but I think this house it kicking my ass.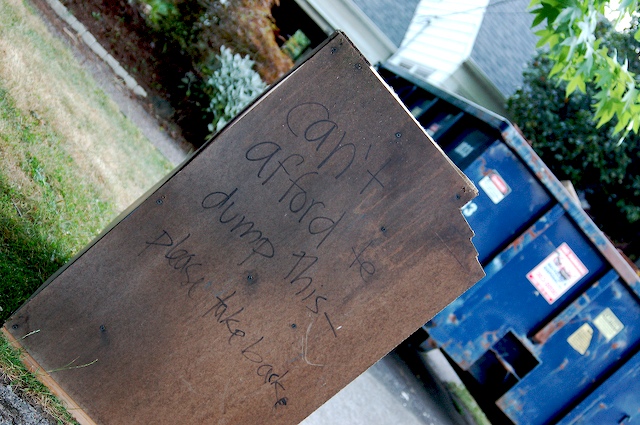 They better come back and get that. Not that I'm holding my breath or anything, but a girl can hope. So tomorrow the dumpster goes away I was going to have it come back because I couldn't fit everything, but at 262.00 a dump I'm going to call it good. It cost 251.50 just for delivery, 4 days rental, and final dump. I'm telling you these numbers not to scare you off though, I do think getting one was the right idea. I just think people shouldn't go around dumping their crap in other people's containers, it's not free man! Brent's going to help me load the rest in a truck this weekend. I did get talked into keeping the deck just for this summer, even though this is the view from one of my basement windows: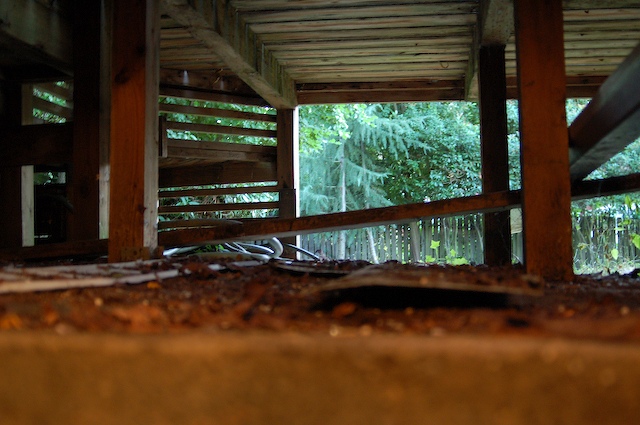 I know decks are nice, blah, blah, blah, but I want a patio and I want people to stop telling me I should love the deck. It does not fit the house at all, I do not like it. But I will keep it for this summer so the helpers can sit back there and drink beer on it (seriously that was the reason I was given today that finally changed my mind). So speaking of the basement I'm going to give you a before/during picture. If you look back on the

The only thing staying from this view is the sink. I am going to have a new dryer vent cut into the concrete wall (luckily my dad knows a guy with a diamond blade circular saw), and the washer and dryer will sit to the right of the sink. All the windows in the basement are going to be replaced. I am going to be ultra anal about the the whole downstairs because this is going to be the Ribbon Jar set up. Other to do on this wall it chip up the concrete slab (we think it was for the old water heater, not sure though), and re-route a little plumbing. Now turning right around and looking through the sink we have this montage:


It's all wonky because of the photomerge, but you get the idea. To the right of the stairs is going to be my only personal area down here (besides laundry). It's going to be a storage area, I just have to, you know, jack the house up and replace a termite eaten beam. Dad says he can do this all himself, should be interesting. I have an inspection Monday to see if the little bugs are alive. I hope they are long dead and that a whole stair replacement won't be necessary, not that the stairs are anything special… That window on the right is the one under the deck. The left side wall doesn't have any windows, that's the front of my house.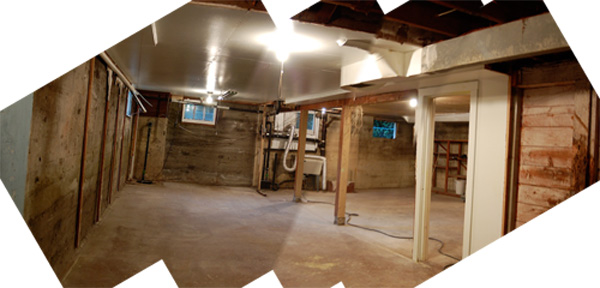 You may notice that there is a pipe (annoyingly) running down the wall and over to the whole pipe/sink sector of the basement. This has got to go, as it stops the windows from opening fully. And as my mom keeps saying, I need egress people, egress! I am having new electrical ran down the beams in the middle, and some on the side (not sure how that's going to work). Then I'll frame in the beams and fix all those wholes in the ceiling. If you walk straight forward and turn ninety degrees right you get this view: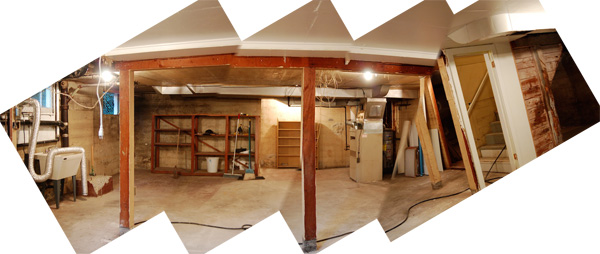 Not sure exactly what is going on over there, against that far wall. Probably back up jar storage. I think I'll have a huge packing table in the middle of the room. Obviously I've decided against putting a renter down here, the bathroom was going to be too expensive and I think I can easily use all the space for Ribbon Jar. Before any ribbon even gets to think about going down here it's going to have to be so clean you could lick every inch of it. I'm getting dehumidifiers (even though it's really dry right now), and painting the walls with a special paint. The floors are going to be painted as well. And all of this nastiness taken care of: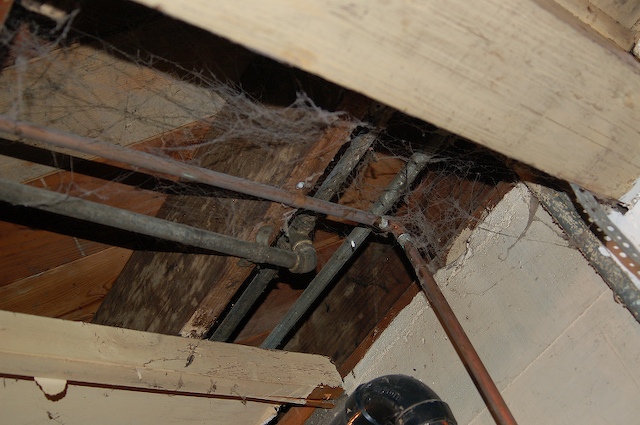 A few cool finds in the basement: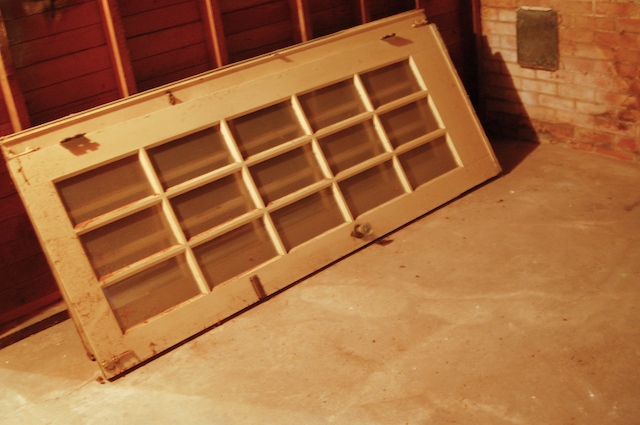 The french doors that go from my dining room to the backyard. They were replaced by a slider, but thankfully someone had the presence to keep them. I hope to put these in next summer when I rip out the deck and do a nice country garden theme back there. And this weird thing: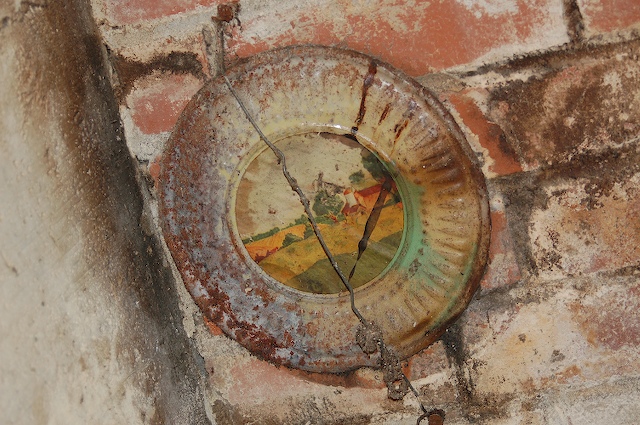 It looks like a paper plate, but it's metal. And it has this country scene painted on it. I took the loop tool to the picture in Aperture and it's really pretty neat. I should look to see what's back there, but truth be told I'm a little scared.
So that post was probably way too picture heavy. I'm on cable internet here so it loads okay for me. Is it a problem for a lot of people when I do this, or do you like seeing all the pictures. Let me know pretty please.