It's been a busy couple of days, and I haven't had time to blog because we've had visitors, so when I wasn't working on the house or doing Ribbon Jar stuff I was hanging out with them. The visitors were Maria and Soren from Denmark. Maria is the sister of an exchange student we had my senior year of high school, Susanne. She was placed in the same grade as me and we spent the whole fall together. She had joined cross country as an after school activity and one day complained that her knee was hurting her. My mom took her to get it check out and when the x-rays came back it wasn't what we expected at all, it was a tumor. Her dad was here with in a week and they flew back to Denmark together to get treatment. Luckily it was successful and the that summer after graduation Brent, mom and I went to visit her and her family. We had a great time and loved all her relations. Fast forward four years and Susanne came back to the states and visited with us again. Bj and I took her and her boyfriend, Anders to Crater Lake and it was a trip I'll never forget. Talking about high school, and how we'd changed, and what good things we all wanted to do. Plenty of goofing off and laughing around the campfire.

This Saturday when Maria pulled up in the driveway I couldn't believe it. She has the same voice, and ease of character as Susanne. I loved talking to her and Soren they were just wonderful. That's one of the reasons I wore myself so thin, you just never know when you are going to see someone again or what's going to happen. We took them everywhere Susanne went, to our high school, her favorite restaurants (she got her family hooked on Mexican food when she got home so we had to take them to the place that started it all), and all around town. Sunday they went on a hike with Mom, Bill and Brent while I worked on the house and then that night we went to the drive in with Kathy. We were up way to late, and we can't seem to piece together what happened in Pirates of the Caribbean, but it was the best night. I think the best thing was the three of us riding back to Kathy's on the back roads laying down in the bed of the pick up truck covered in blankets just looking up at the stars as we drove along at three in the morning. It was magical.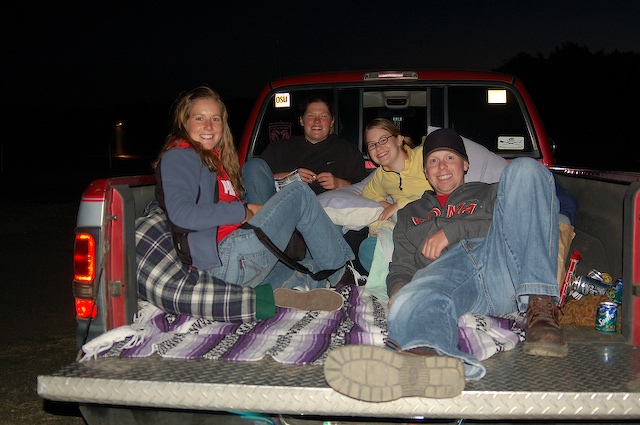 This morning they drove off for Crater Lake and will continue on re-tracing Susanne and Anders trip south. I wish them all the best and hope to see them again soon. Oh, and the scrapbook? Well Maria asked to see my road trip book and while looking through it she said to Soren that I did beautiful books like this all the time, like the one I had sent of Susanne. I asked her about it and she said they loved it, that Denmark has nothing like our scrapbooking at all. I told her just wait, it will come.