Yesterday was my birthday and thanks to my wonderful family and friends I had a terrific day! My mom and I ran a bunch of errands in the morning, we got the whole basement primed, and partly painted, and then it was time for the real birthday fun. I came back to my mom's house and Bj was waiting for me with some awesome roses: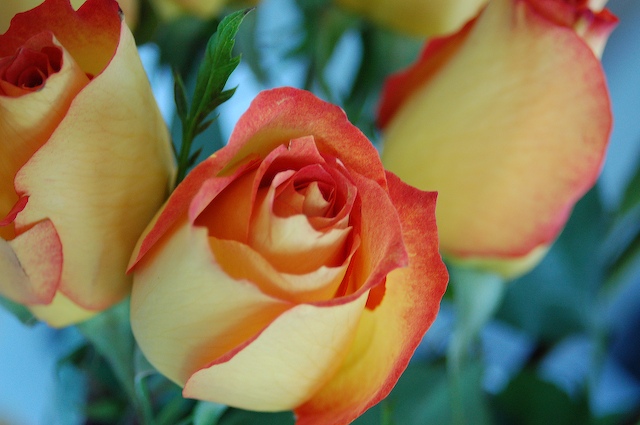 Sciarrino came upstairs just as I was reading an awesome comment on my blog (thanks Nancy you are so sweet! That made my day extra perfect!) and showed me this: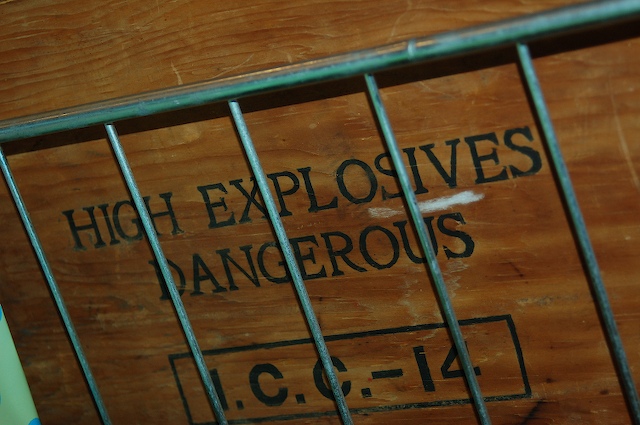 Ack! I was freaking out, so ultra cool. She went to the Gervis city wide garage sale a few weeks ago and said she got, "a few cool things." Lier! She got tons of cool stuff and goodies for me!! My mom was downstairs cooking my birthday dinner: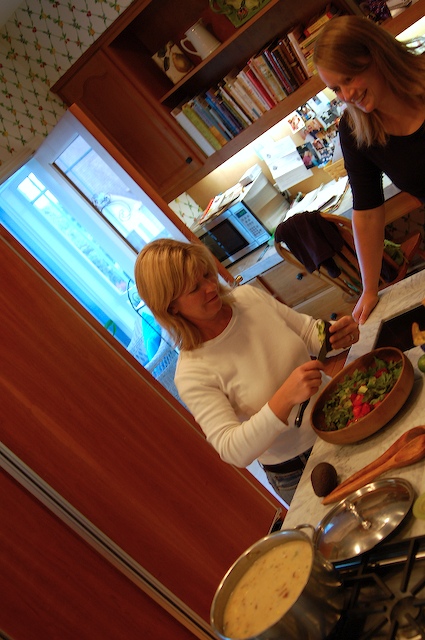 Super yum. Potato corn chowder, you say it's not a meal, I say, I don't care, it's my birthday! And I love it! After dinner I got to open my presents, and they rocked! My mom got me a new friend, her name is Luna: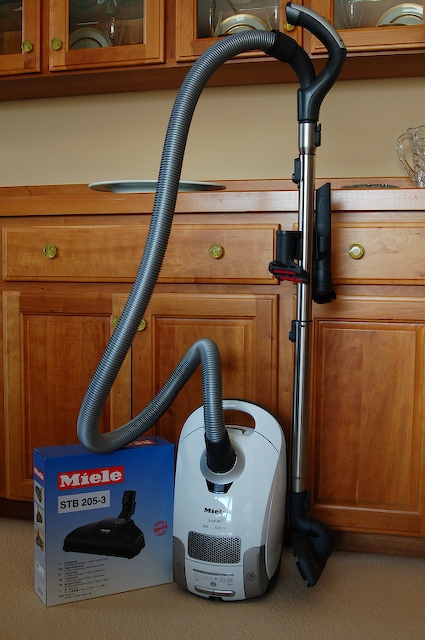 ohhh isn't she pretty.  Then we realized that the special hardwood floor attachment came with the vacuum so I got to take one back and get the rug attachment, so I have five attachments now, watch out dust here I come!!! I got a sweet art game book from Bill, we might have a quiz later, and I'll see where you rate on art history. Bj's mom got me a little clutch, and the winner of the super cool present award went to Sciarrino.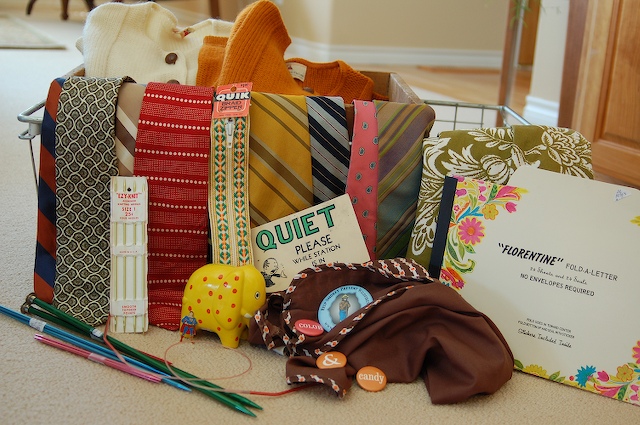 She has been collecting this stuff for me since…. EASTER!!! And it's proof that she knows me just about as well as I know myself. Check the awesome basket (awesome and huge!), the cool wooden box I showed earlier, both were full of more gifts. Two cool vintage wool sweaters, a collection of ties (those pillows will happen people), aluminum knitting needles, even a set of size 1 in pea green (swoon), an old brown apron for the collection, cool buttons, vintage fold and seal stationary, awesome table cloth, little elephant bank, super long brocade zipper (ohh I think I see a hand knit coming on), and the topper, a small 1940s superman pin. Sciarrino we all bow down to your coolness. Plus I should let her do a guest thrifting spot on the blog to show you all the other cool stuff she's been finding this summer. And as if that wasn't enough her and Bj schemed on this ice cream cake: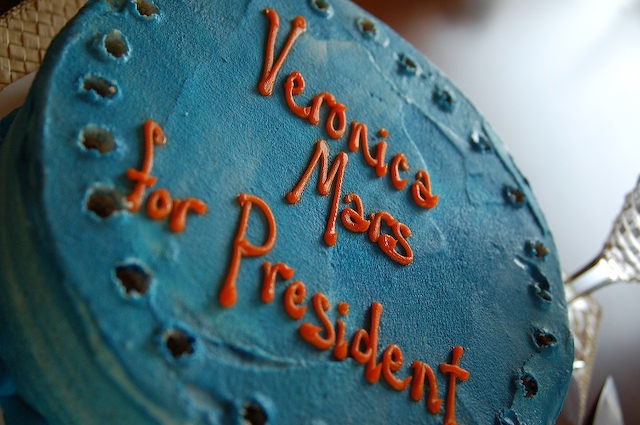 Sweet! Then Bj gave me a wad of bills (in addition to the dishwasher and microwave he got me for the house already) so we could go have a blast at the fair. The annual treat was as much fun as ever, if not more so for the inclusion of my brother. We saw bunnies: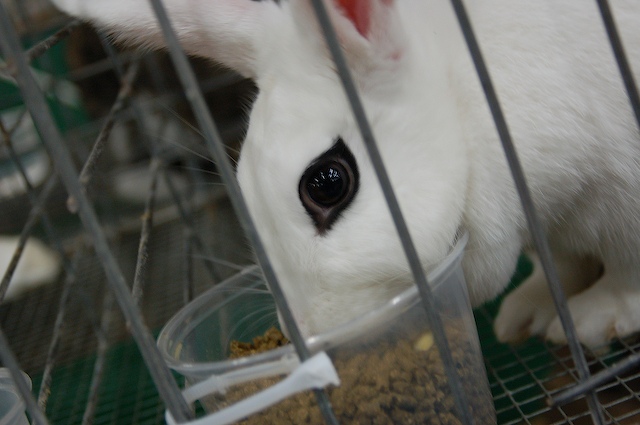 how cool are those eyes?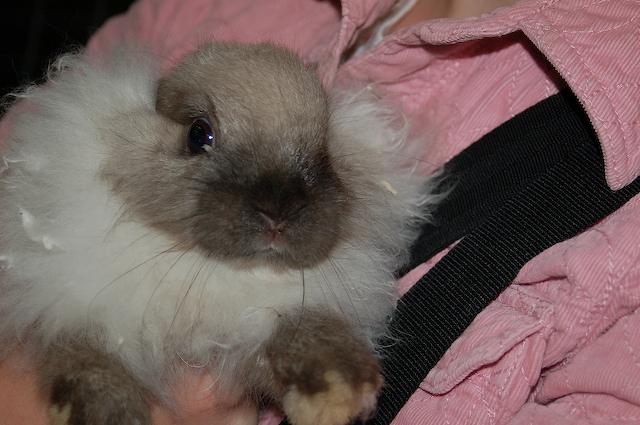 I think I might have to get me one of these in my new place, so fluffy! We ate gross fair food that seems good at the time: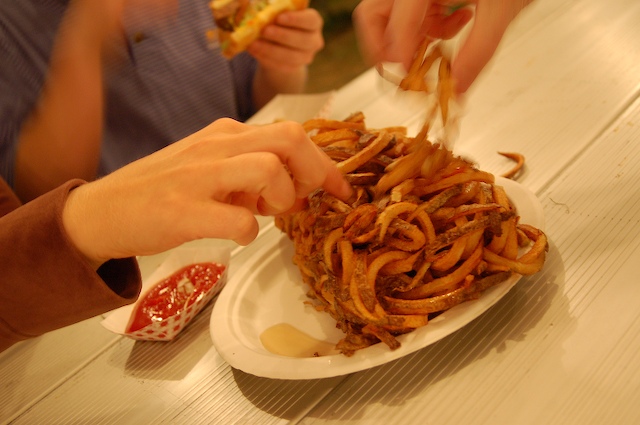 Rested our feet after going through the animal barns: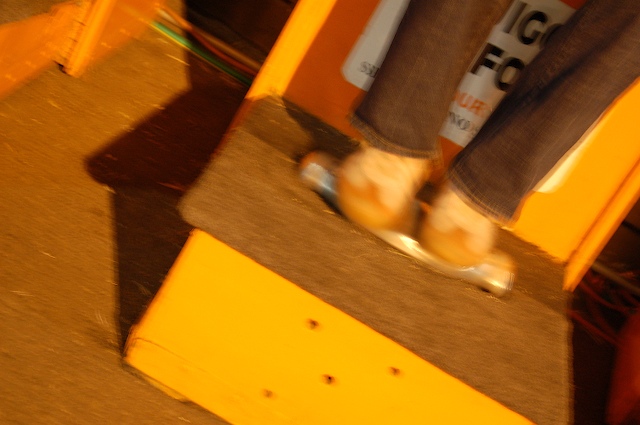 Took the annual portraits:



and went on the swings:


now that's what I call a good birthday, love you guys!