Well Ribbon Jar is totally up and running at the new place, and I love it. Everything on one level and all together. I didn't have to slow down orders at all, I just haven't had time to take pictures of it. I still have a bit of organizing to do, and of course I can barely stand to wait the two more recommend weeks to paint the rest of the floor green. Before I show you the new space, let's check the old space out: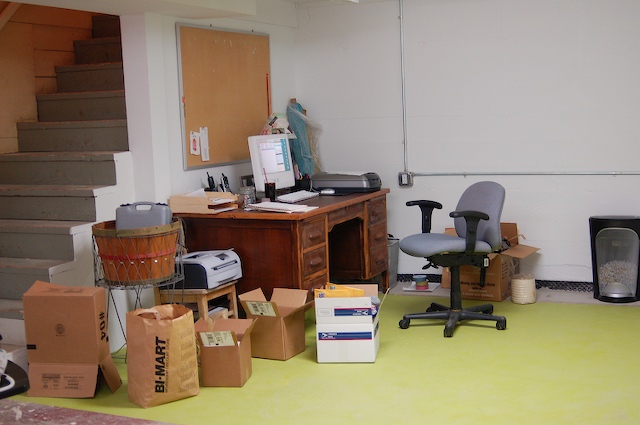 Again, a little more organizing is in order. Bj put up the bulletin board I scored from Sumco. I also got those chairs, rolly rolly. The big wall adjacent to this hold the real goods:


I'm still working on organizing the one cabinet because I took all the shelves they had at Sumco and it still wasn't enough. I want to find some kind of rack that I can set bins of lids on. If you know of any rack that can hold heavy bins that will fit in this space please let me know, it is: 25 tall (but can be lower and I'll put bins on top) 16.5 deep (can be less, but the closest I've found is like 12 and I want deeper than that) and 34 wide (but not really because see the right hand door doesn't quite open all the way due to pipes). Any ideas?