We got home from Hawaii and everyone wanted to come over right away. I saw them dart their eyes down to my left and hand and then slowly away. No I wasn't engaged, as everyone had expected. But that's not because Bj didn't ask me. And now that I've got a hold of most of my family and friends personally I thought I would blog about it. But first, I need to do a little back story.
Bj and I have been dating for over 5 years, in fact we've been dating for 61 months, and that's a hell of a long time for a girl to wait for a proposal. I don't talk much about this on the blog, because, like Kay said, it's almost like talking about Bj right in front of him. I had told Bj at the beginning of the year that I just couldn't wait any longer for my life to start. The direct result of that was buying my own house and not moving up to Portland. But of course I couldn't break up with Bj, I love him way too much and I knew we were meant to be together for ever. I considered proposing to him, but I hated the idea that he might be just around the corner with a proposal and I would ruin well laid plans. Also I did express a deep desire for a specific ring and I thought that the long wait was possibly due to him saving up for it. After all he had told me years ago that all he wanted was to have a job first, and he has been working at a great job for a year and half.
So Hawaii, I knew it was coming. I had hopes, but I have lost count of the times I really thought, like totally that it was going to happen and then nothing. We got to the end of trip and nothing had happened, I just figured it wasn't going to. We'd already walked sunny sandy beaches, gone to romantic dinners, and participated in a wonderful wedding. I was sure if that didn't bring it out of him nothing would. So…
It's Monday night and we spent the day para-sailing, and then driving about an hour to get to this awesome fabric store so I could stock up on Hawaiian print fabric. We ended the day at a cool dinner spot on the roof a building right off the beach. I had this crazy homemade smores thing for dessert. Now those of you who have not met me personally this next part will be hard to understand. I don't drink; okay, but when I have a boat load of sugar and am feeling very happy I get to this sort of crazy place. Everything is funny, I can't keep a straight face, and stumble around like a crazy. So that's what happened. I was laughing my butt off walking back to our car, and many of the gifts we got are a result and me going nuts in the Stupid Factory, laughing at everything. So we go back to the hotel and decide to watch Ghostbusters. I love Ghostbusters, and we bought it when we were in Kmart earlier picking up some cheap-o luggage for my fabric haul. I'm being all goofy and Bj loads up Ghostbusters while I change and then we go to watch it. He's telling me he loves me and everything, but I'm not really paying attention, I'm all, "hey that's great man, can we start this movie?" So he fumbles with something and drops the ring and then is like, "I want to spend the rest of my life with you." Or something, I wasn't really paying attention remember. I was shocked and the Ghostbusters theme just kept playing over the DVD menu. It wasn't the ring, and it definitely was the proposal I had expected. I was all, "what, WHAT? no, what? What are you doing?" "Asking you to marry me." "Here, like this? In our hotel room, in front of a movie?" I was extremely upset. I mean I have like five hundred good ideas for how a proposal should go, and this didn't even get close to ranking on the list. Eventually I said I would think about it. I thought it was a bad omen to start with a horrible proposal that I hadn't even been listening too, I mean I wasn't even looking at him when he did it.
We actually had a great last couple of days, but I still wouldn't put the ring on. I didn't know what I wanted. I thought maybe I wanted him to try again, and he did whip the ring out four more times, after we got home he even snook out to get flowers. But it just got funnier instead of more romantic. We talked about it, and talked about it. The other ring was out of his budget, and now that I'm wearing this one, I don't know why I didn't want it at first. I guess I like to consider myself extremely unique and I thought it was just a little too "normal" for me. Bj's response was that he was an idiot for not coming up with something better. So after much discussion I said yes Friday morning at like 1am. Then I went into super excited hyper mode. I'm so lucky to have Bj in my life, he's super awesome and though I've never dated anyone else, I can't imagine it any other way. In my opinion no one is as perfect for me as he is. So yeah! Let the planning begin. Because if you think I'm waiting a whole year to get married…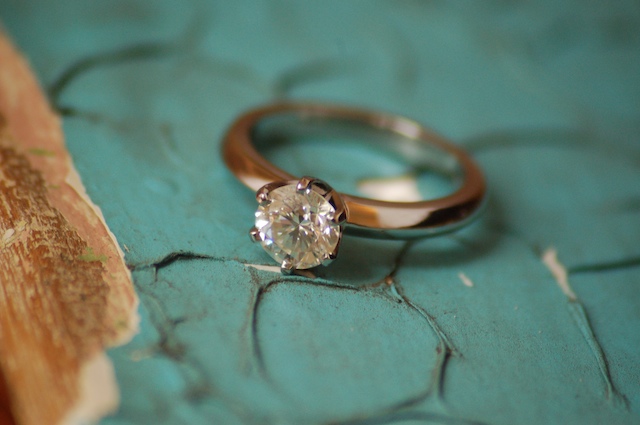 And before you ask, because I've already been asked, no I'm not moving! Are you freaking insane? I love this house almost as much as I love Bj!
I really wanted to tell the story how it happened, because, though I haven't heard another story like it, I'm sure it happens. I'd love to hear your proposal story, if you have one!