Dude this was one of the best vacations of my life. Okay nothing comes close to Bj and I's road tripping adventure of a few years ago, but this was just so relaxing at nice. We got to the island of O'ahu on Monday the 23rd. We were staying in Waikiki at the Marriott. It turns out our room was on the very top floor. I didn't know that in between the penthouses they throw in a couple of regular rooms, but they do, and the view is sick!



Check out my picture of the day from the night of our arrival for a cool night picture of the island side of the view. It was a little scary to go out on the balcony, I made Bj shake the banister to make sure it was sound. So the main reason for going to Hawaii was for my dear friend Carmen's wedding. Carmen and I were friends in high school, our freshman and sophomore years we were inseparable. Then Carmen went on a 9 month long exchange in Japan and I was sure I was going to die having her gone. I remember when my mom said to me the day she left. "You may have a lot of boyfriends, but there is nothing like your best girlfriends." So right mom. Anyway Carmen now lives in Alaska with her man Andrew, whom I had never met before, but after meeting him and his friends in Hawaii, I can see that he is worthy of Carmen. We got to hang out with a bunch of fun people. First for Carmen's bachlorette:



It was all girls, save Carmen's father who was our driver. His face while Carmen opened her gifts was priceless. We ate at Roy's and the food, dessert, and atmosphere was great. Check out the presentation: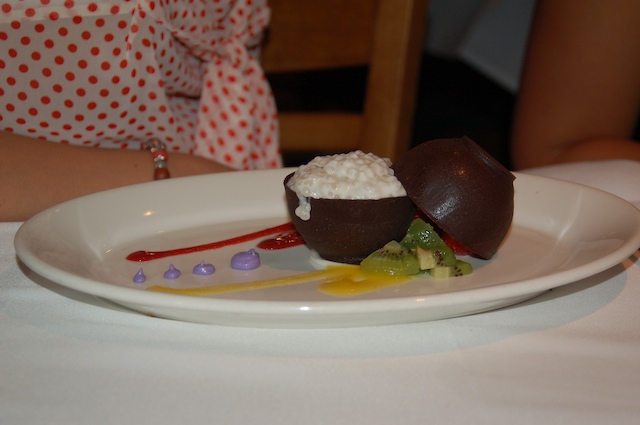 Before the rehearsal dinner the next day Bj and I went to the aquarium just down the street from our hotel: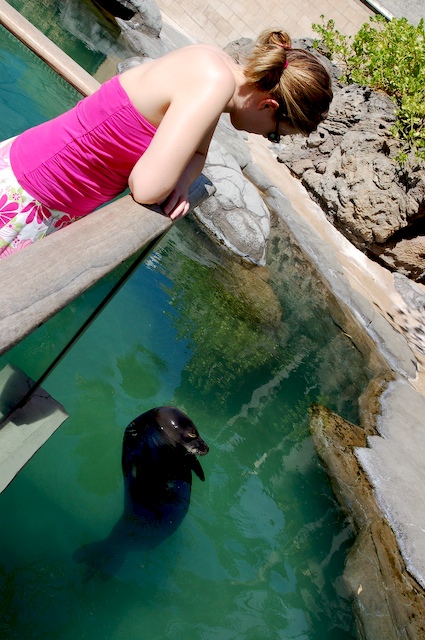 Look I finally got to wear my cute summer clothes because there's no renovation in Hawaii!! Of course the highlight of the trip was the wedding. We got up to the north shore early the day of the wedding so I could do the flowers and Bj could bob around in the ocean with Andrew's friends. I have never done wedding flowers before, but Carmen said I was the craftiest girl coming and could I please. Of course! Andrew's mom picked up some flowers at a local market for tres cheap, and we walked the beach to find greenery. I didn't do so bad if I do say so myself:



I love those grape like things Carmen's parent's found on their walk. There is so much wire in this bouquet, I was paranoid that the wind coming in from the ocean would rip it apart, but I hid it well. Here is a beauty shot of me with my bridesmaid's bouquet:



Hello sunset, just try and take a bad picture in this amazing light. I love the dresses Erin, the maid of honor, picked out for us. Hey they are on sale now at J Crew. They were just perfect and flowing. Carmen and I being as cute as possible:



Carmen got the three of us Tiffany's bracelets to match hers, and I doubt you'll ever see me with out it now, I love it so much. Oh hey, and I got my hair cut in Hawaii, love it. Didn't have time to do that all summer. Now, the cutest couple: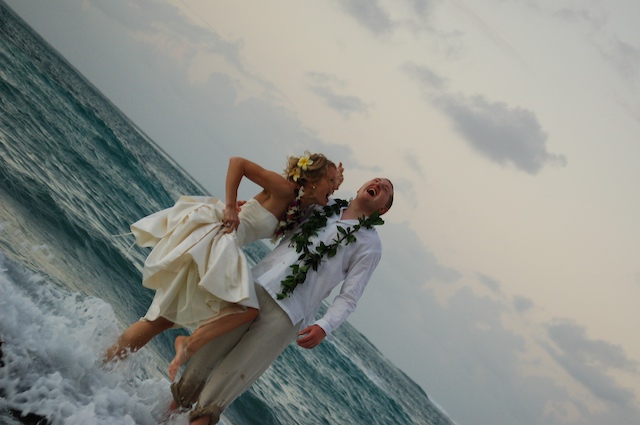 After the ceremony. Check out the back of this dress ladies:



The dress is BCBG, her favorite designer since forever. I was lacing up the back for her almost crying she looked so happy and beautiful. Erin did her hair and spent forever getting every curl perfect, it was wonderful. The whole wedding party thank you to my awesome boyfriend who thought to take this picture of us getting our pictures taken:



After the wedding we island hopped to Maui. So we go to check in to the Westin, get our leis and everything and the receptionist is all, "oh I'm sorry we don't have any reservation under that name." Commence freaking out. We're in this beautiful lobby with real flamingos for god's sake and we don't want to leave. She tells us that we are actually at the Villas down the road. So we go down the road, not expecting much and check into our room. It's a freaking timeshare place and we have not only a full sized kitchen, but huge bathroom, dining area, living room, and a bedroom with a heavenly bed. The room was bigger than Bj's apartment!!! We even had a balcony from with we could see the ocean. Our hotel pool had a water slide. We decided then and there to scrap most of plans for sightseeing around the island and rented snorkels. We snorkeled right in the bay at Ka'anapli, just paces from the hotel pool. We got burnt, we drank mixed drinks, went into town and ate the BEST PIZZA EVER. Bought funny gifts for our friends, a crap load of Hawaiian print fabric, and then a couple extra suitcases to hold it, but um, took like next to no pictures. Here is a few from that island: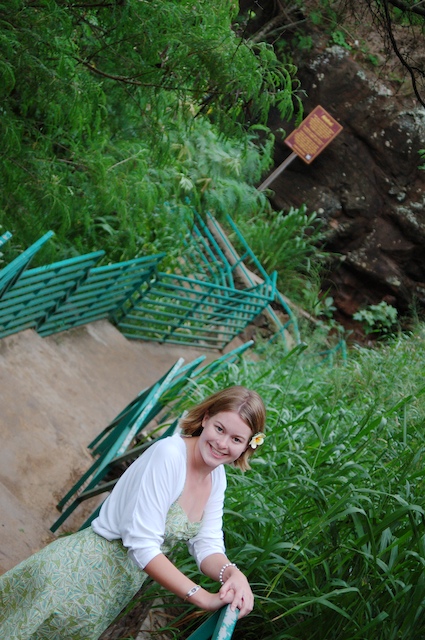 I love this dress my mom got me for the 2004 road trip, if I ever were it out I will scour the earth for another.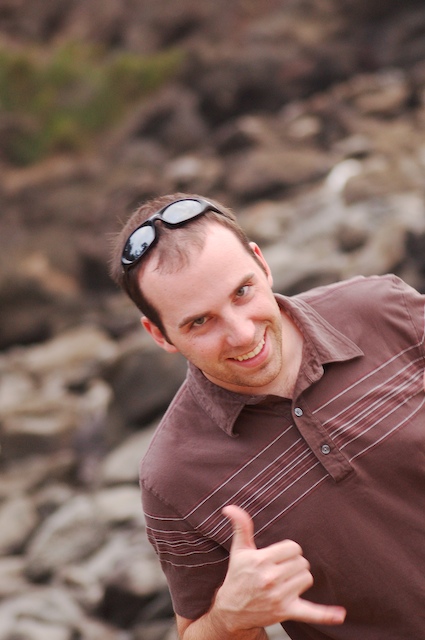 What a cutie. Hang loose! Or you know, I always see this as yellow, since that is the ASL sign. Anyway I'm going to post more pictures in my photo albums, check them out!