Leave it to some nice snowy weather to get me crafting. I worked last night on my living room curtains (they have been just pieces of fabric nailed up for over a month now) while waiting for Brent and Emilie to come home. They went with my dad and step mom to Cali for Thanksgiving, and Emilie is staying with me this next week until the rents come home (they are staying for the country music awards in Vegas I think?). It was a very long wait due to the very bad weather. See the thing about snow in the Valley is that, well, we don't really get it that often. When we want snow we just drive and hour up to the mountain and ski, sled, snow shoe, whatever. But when it hits here the problem is that it's usually really wet snow, and so it just turns the roads into big lanes of black ice. After Emilie came home at 1:30am I was praying they'd have a snow day. I got up and checked at 6, and it was a two hour delay. Then as we were getting ready for the day they canceled school completely. Sweet. It looked so pretty out this morning, every little twig covered in snow. Now it's melting, and Emilie's at her boyfriend's house helping put up their Christmas decorations. I still have one member of the family here with me:



Seriously, this dog is just too cute for his own good. And handy too, I never here the doorbell ring down in the Ribbon Jar, and Buddy gives me a quick little bark to let me know someone is there! In addition to the curtains, I'm putting up the few Christmas decorations I do have, my nativity (

I filled up the bowl below it with some bulbs Sciarrino and I got at the ghetto-ist of sales last summer. Plus my one dollar candle holders at another sale: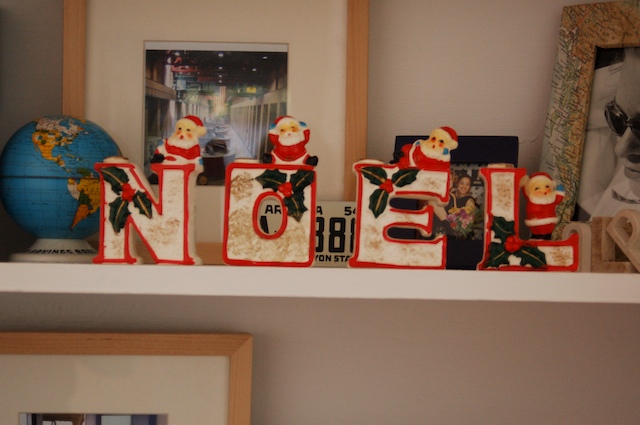 Don't you love that lounging Santa on the e? I do think vintage Christmas decorations are one of the hardest things to find, as they tend to be much loved, and also passed down generations, instead of sold. Also cheering up my place:



Flowers my mom brought for Thanksgiving. The only vase I own is holding kitchen utensils so my mom grabbed this canister to put them in. So darling sitting on the vintage high chair. While working today I'm running "quick" loads of laundry; fabric from the Hawaiian haul so I can start Christmas gifts, my tree skirt, pillows, I've got lots of plans for it. I'll be back to knitting tonight though, as Em and I will probably head back to my dad's for the rest of the week. I'm mean hey, it's got a stocked pantry, and cases of diet coke. Plus I haven't actually left my house for a few days, and I'm starting to feel like a hermit.