If it was a competition the wedding would be winning. I still have zero presents ready to go for Christmas, you read that right ZERO. Instead I have been working on wedding related stuff. The church we originally wanted fell through, so I've been busy looking into other ones, and have a bunch to check out tomorrow, so I have to head up to Portland again. Our save the dates are almost all done, I mailed out a huge batch yesterday:



People (who shall remain nameless) have questioned whether people will open them because they might be mistaken for junk mail. All I have to say about that is: I know where you sleep mom! The actual cards are designed by Sciarrino and are beautiful, but to save money I printed them all on my laser, and then Sciarrino and I cut all the pieces out. And there are a lot of pieces: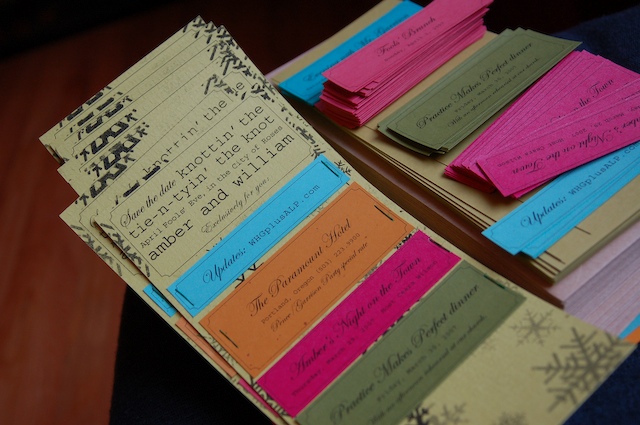 Not only that, but of course being me, I had to type the return address and our wedding website on the back of each envelope. Then I also typed addresses on a separate sheet (that I also had to cut) to stick in the envelope and show through the little window. And on top of all of that as soon as they went out I had to do something else: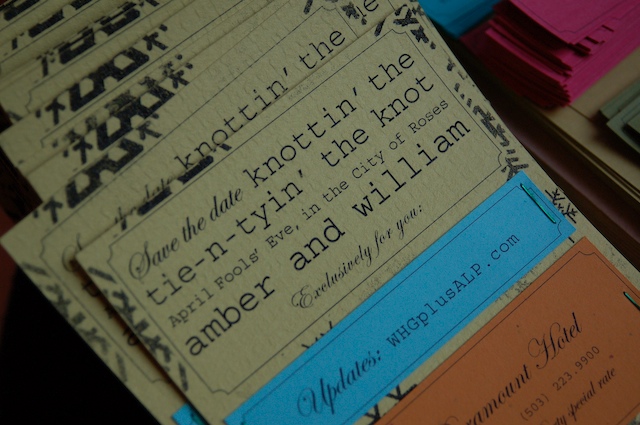 Note the updates ticket. So I had to design a quickie blog (it's here, though we haven't done much). I did make a header for the site:



Which Bj hasn't had time to put up. Which brings me to another problem. I have begun a transformation much like that of a caterpillar to a butterfly, only instead of a butterfly I'm turning into a nasty ass moth who is going to eat all your yarn (and maybe your sole). That's right I'm becoming bitchy bride Amber. I have been working non stop on this thing and it's starting to get to me. Bj said he didn't have time to do anything and I flipped, and I mean FLIPPED out on him. I freaking stayed up until 3:45 AM to work on these things, that's not exactly what I would call good quality free time. He still hasn't given me any addresses, but whatever dude, I am getting my side out because I'm stressing out. And yes he reads this blog, but honestly I think he only looks at the pictures, I guess we will see.