So I'm not one of those people who likes to do things like everyone is doing them right now. I know lots of people like to be unique, but I see it as kind of an extreme sport, and when it comes to my wedding, its the Olympics baby. So I've only been saving wedding magazines for 10 years, but with supplemental research material (movies, classic novels, stories, even music) I've come up with some must haves for our wedding. The thing is I've got this tight schedule, so I should just let some of that go right? HELL NO. Bring it ON. I'm going to use the invitations as an example here. They are being printed at two separate places because I want two types of printing. I am not writing the addresses on, they are going to be done with calligraphy. The calligrapher is also going to write out my address and I'm making that into a rubber stamp for the reply cards. But none of that is really that difficult, so I had to make it MORE difficult for myself by deciding that none of the stamps currently being issued by the post office suited my taste (don't get me wrong I love the Gee's Bend stamps, but I already used those for my save the date cards). So I decided to go vintage. This involved contacting stamp collecting societies, and a bunch of stamp shops in my area. Well today I finally hit the jack pot. I need a lot of stamps to make up the 52 cents for the outer envelope and 39 cents for the RSVP card. I put a big dent in that as you can see:



The best part? These suckers cost 95 cents to the dollar. That's right a dollar's worth of perfectly good (but older and cooler) postage costs 95 cents. I had budgeted for it to be more than face value. Sa-Weeeet. I still have a meeting with another collector in Portland Saturday and I should be able to get the rest. I was so giddy I had to stamp one envelope: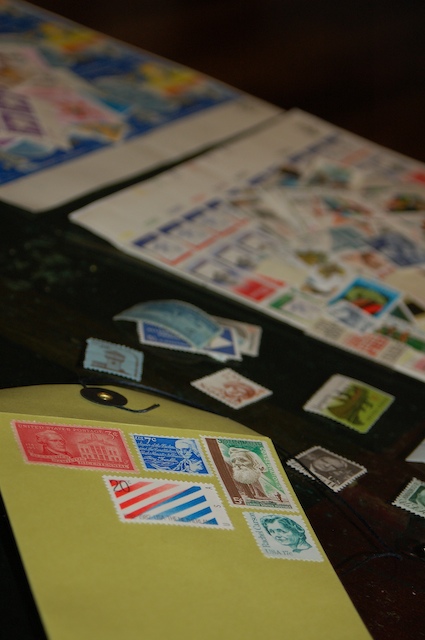 Making up these combos specifically for people is going to be way too much fun, and I can't wait!!!
I've also made meetings for cake people, flower people, and got a chunk of Violet's dress knitted last night. Dawn emailed me to ask how I do it all, Dawn my head feels like it's going to explode right now, but I'll go into details of the organizational strategy soon for you.