On Saturday a couple of my mom's girlfriends through me a shower at a local country club. It was extra fun because two of my bridesmaids got to hang out for the first time!



Me with my girls! It was fun to see all my mom's friends, and one of my very first friends from kindergarten: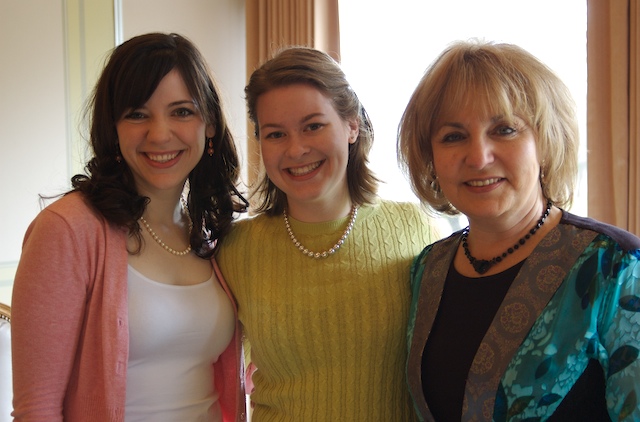 That's Sarah, we were two of only four girls in my first kindergarten class (let's hear it for the repeaters yo!). And so the four of us sat at a special little table. Cute, cute. The other host, Chris, is the mom of one of the other girls. And I can't remember who the fourth girl was. We had great conversation, an embarrassing game (trying to answer questions as Bj would, had no clue about most of them. His favorite actress is Kate Beckinsail, who is that?), and yummy food: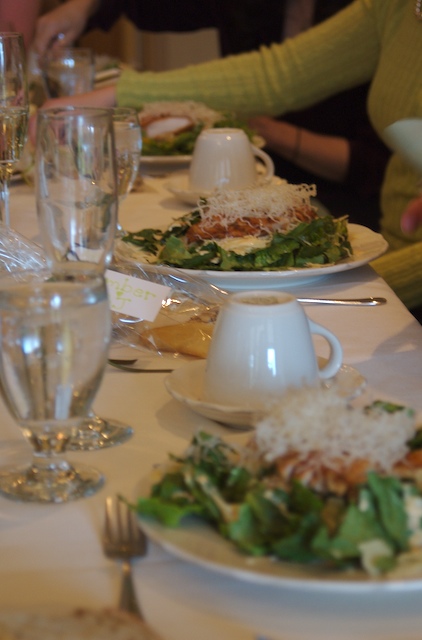 It's nice to have a photographer at these events, thanks Sciarrino! Later in the evening Sciarrino and I made a mess at my place and worked on buttons for the seating cards. We were having too much fun coming up with sayings, pictures, general nonsense for our friends. I'll make sure lots of pictures are taken at the reception! Sunday was the Bravo Bridal show, which only served to stress me out. It was held in the same place as my reception and the ballroom we are to celebrate in was not decorated to my taste which made me worry if I can make it look as posh as I wanted. Then we got our bid from a lighting contractor (I can't bring myself to turn on the strip lighting) and it was through the roof. I did a little retail therapy and felt better after picked out a rehearsal/rehearsal dinner outfit. I also found a top to that cute blue skirt I got at the rack a month ago. It also works for that longer white skirt. Bj met us at the mall, I hadn't seen him for a week! He got me a little pair of shoes with bows for the skirt, so now I have an outfit for the last shower. But of course I couldn't wait to wear it so Monday night I decided to debut the look for the Snow Patrol concert.
You heard that right! Snow Patrol! And it rocked. Sciarrino picked up my brother, her friend from work Laura, and me and we headed up to Portland to meet Matt, Bj, and Courtney. Before meeting up with the latter two though, the Salemites met up with Matt to see his workplace (an architecture firm, so yes, as cool as you'd think it'd be). Then we went out to dinner at the Doug Fir. Fun, funky place (and where Crafty Wonderland is held). Bj and I might try to get out there to see Youth Group at their lounge on the ninth. Anyway back to the concert. I wasn't that turned on by the two opening acts (Silver Sun Pick Ups and OK Go), so I busted out the knitting which peeved Bj a little, but hey, idle hands… While we were waiting for the main act Courtney asked me which song was my favorite. I told her the one with Martha Wainwright, so I wasn't holding my breath to hear it. Well after a bunch of great opening songs, the lead singer said he was going to try something different and asked if anyone in the audience could sing Martha's vocal. He chose a very excited girl from the back. She came up to the stage and they put the things in her ear and everything and got her a mic. She put her arm around him (good call woman, because he is hot). She did a pretty decent job. I was just happy they sang the song. Couldn't find a video of that, but here's another favorite "Open Your Eyes". Great night.
Yesterday was my night with Emilie and we had fun using some of my new kitchen gadgets. We had Panini (Matt assures me this is plural in Italian) with the grill I received on Saturday. Then we were making sorbet in the new ice cream maker (it's pink!) and it called for the ingredients to be mixed and chopped in a food processor, so you know, I had to open that too. Sue lent us the last disc of season 2 Veronica Mars since aliens must have come and abducted my copy, so we are finally starting on season 3. Then today I tidy up my place since a ribbon rep was coming over. Of course I and to clean up the drool from some of the new things I ordered. Yummy! Now off to update the wedding blog!