So do you remember that whole thing about how our original choice church double booked us? Well the church we ended up at was First Presbyterian downtown. This ended up working out beautifully as it was only blocks from our reception space and the pastor was wonderful. We did such minimal decoration because the whole place looks like it's carved from one block of wood. We only had two trees up front:



and of course the twirly sticks!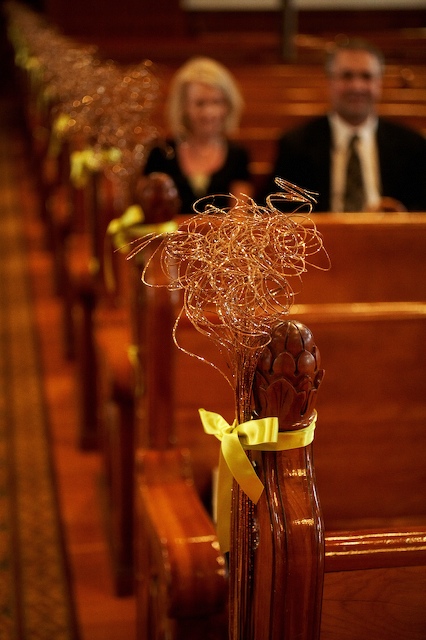 On the Sunday after the wedding these wouldn't fit in anyones car and it made me just about sick to have to throw them out. I did keep a few, but I hope someone at the hotel saved them or something. Anyway, so we got to the hotel about a little over an hour before the wedding. The church wedding consultant had wanted us to get their even before that, but I was all, "Um, I get bored really easily." Ya, there was no way I was sitting around longer than that. We did have a few things to do, like get dressed. The boys were in the little room right behind the alter:



Where they hung out and got dressed. If you walk straight back down the aisle you come do this cool double staircase: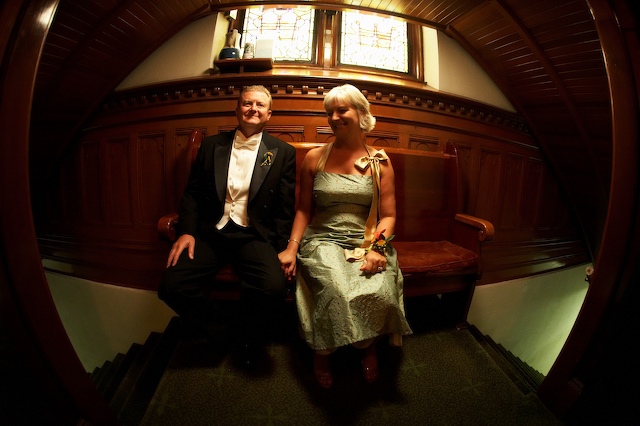 Great use of a fish eye lens Eric! the stairs that go up go to the balcony, and the stairs that go down go to the nursery where the bride's room is.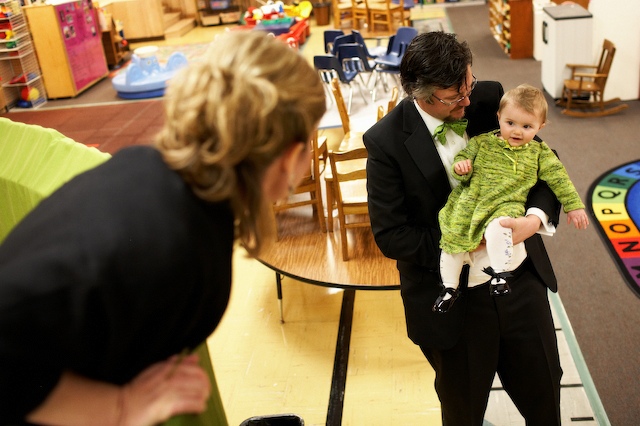 It was so fun having everyone down there. And of course Violet was the little star. Check out how cute in the dress I knit her: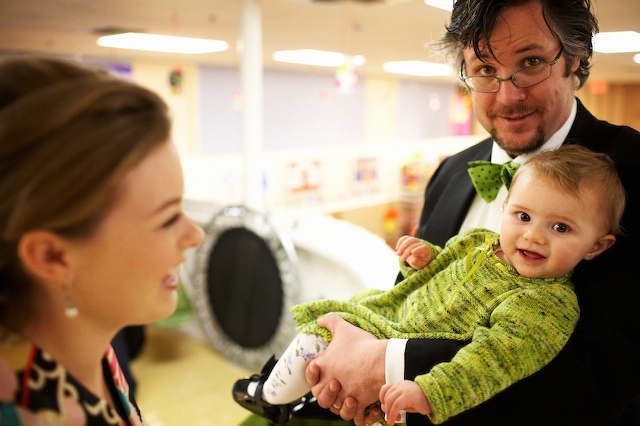 Awe. I just love the little munchkin. So during this time Sciarrino who hadn't been feeling all that great all day started to get pretty sick. So I don't have too many pictures of her because unfortunately she was us, "worshiping the porcelain god" you know. So if she's not as smiley as usual that's why!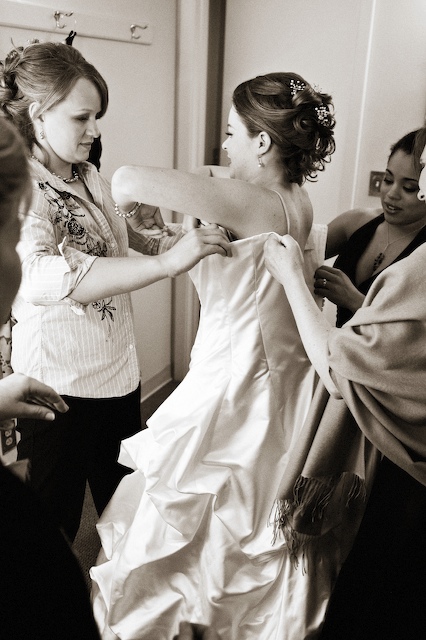 The girls all helped me get into my dress and pretty much from that moment on I was beyond excited. I could not calm down.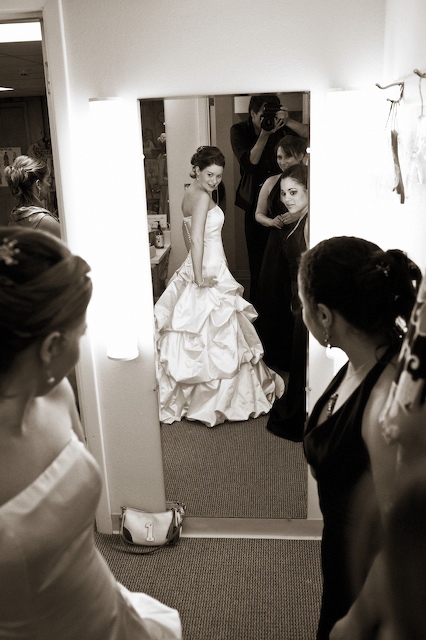 And I totally loved look at myself in this dress, which by the way is a Justina McCaffrey Haute Couture from her classics collection called Alexia II. I found my dress at Ania Collection in Portland. I was a bit freaked out to go dress shopping because reading the reviews of the dress shops is like reading a list of the worst customer service ever. But like most things I deferred to Emee (our coordinator) for help and she sent me there. See, isn't Emee the smartest ever? They were so sweet and nice every time we went in. They had the bridesmaid dresses ready to go early so I could take one to Ceara, they helped me find shoes, everything, and the best staff. I love them. Anyway then it was time to put on my veil and I'm like, whoa it's time to put on my veil?!?!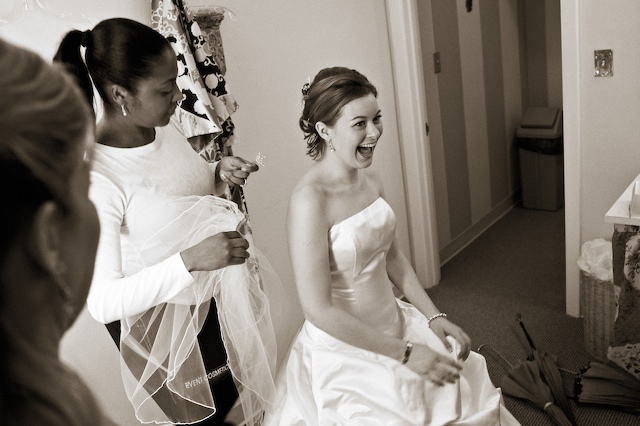 My mom made the veil after Andrea at the Bridal Loft cut all the tulle for us. It was so perfect.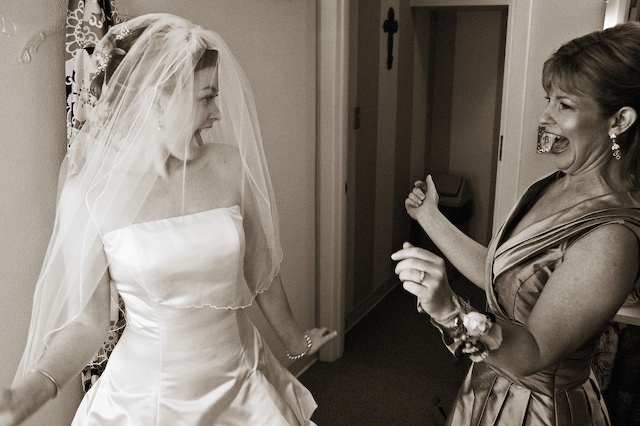 I love my mom.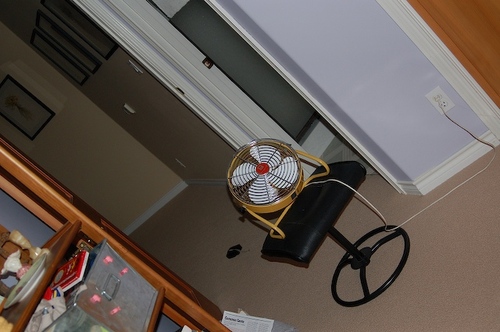 This is a nice pictorial of full on Amber excitement. I get super hyper excited a lot, but this took the cake. I was getting so squirmy to see Bj, I just could not wait. In fact when I was at the bottom of the stairs ready to walk up I could here him talking and I squeaked, "Hi Bj!" So what calms me down after getting my dress on?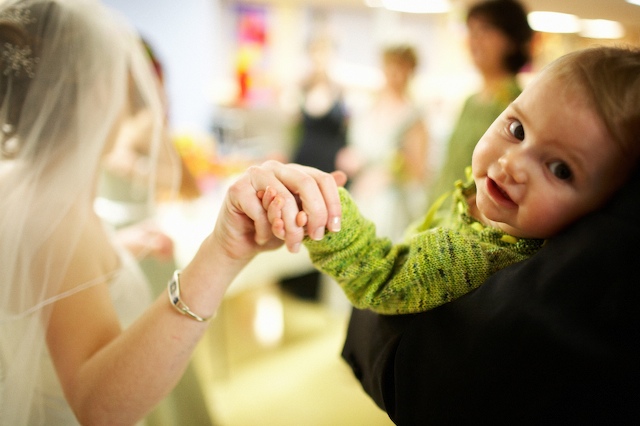 Baby hand holding 🙂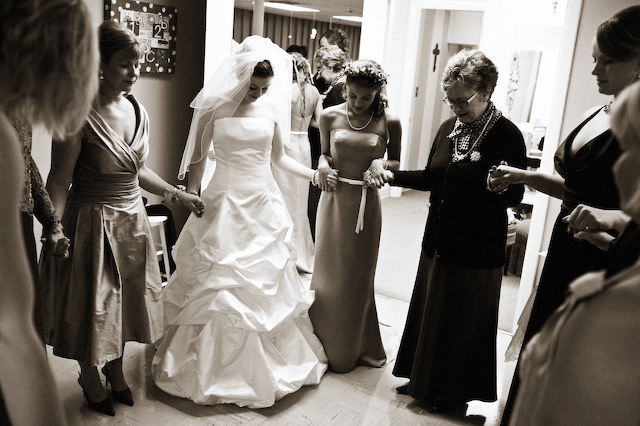 And a moment of prayer. Then it was time for the shoes.



I had all my girls write on the bottom and the one who wore off the most during dancing would have good luck. That was Ceara's message, right on the point of the toe. So then the girls all went upstairs to line up and I was alone with my make up genius, Catherine. Seriously she rocked! And of course Eric. So I was all, "Eric can I use your camera?"



The thing was freaking sick, sick ill I tell you, sigh.



As always. And then I was ready to walk down the aisle!
Oh and my shoes were by Mika Inatome. She came to Ania Collection for a trunk show and I got a pair of slingbacks that I could dye. I dyed these and a little handbag from Nordstroms this green color. I just took in a ribbon for them to match, seriously cool, huh?