I'm trying to wrap up like one hundred and one projects around here. Not sure what's spurring on this, my guess would be the weather. It's sunny hear, weird, right? No rain in the last few days (well of course there was some, but mostly sunny). I want to work on house stuff, sewing stuff, knitting projects, and especially organizing and cleaning. This brings me to the least used cupboard in the house: the one above the fridge. In it we have a crock pot, rice cooker, and thrifted pop corn bowl, a gravy boat, and our Brita filters. That's the shelf I can reach… on my tip toes… on a stool. The shelf above that is really a lost cause for me as it requires me climbing up on to the counter top (there's a reason Bj calls me monkey bones). Up there I have this:



My great grandma's rose chinz china. It's this kind: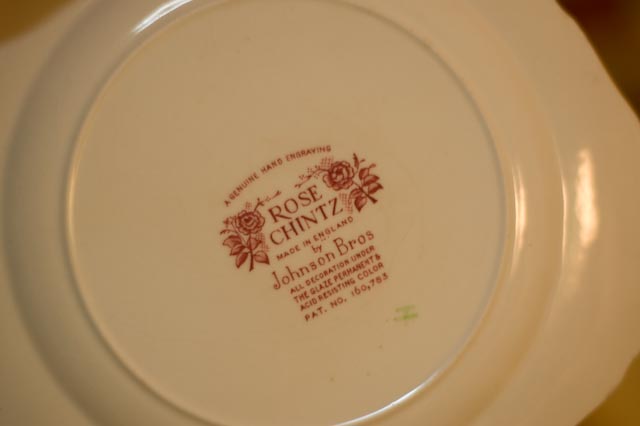 Not particularly rare, or expensive and oddly enough by the same manufacture as the dishes we use

I don't think you're supposed to eat on plates that are like that. Bj thinks we should use that tippy top shelf for something else, to which I look way up at his 6'3" head and reminded him that I'm a foot shorter, with shorter arms, my reach, not so good. But still he's determined to put things up there, and he did point out that I don't use these. I can't put them out anywhere else, because of the matchy thing: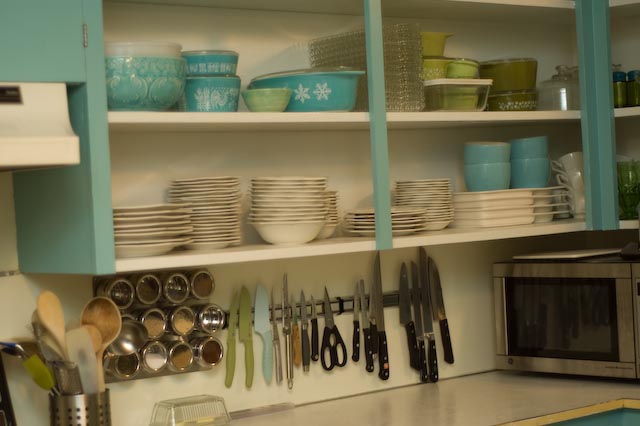 I love my kitchen. 🙂 So I told Bj I could sort through and pick like four sets so I can have enough to have a tea party with Violet some day (and how cute would that be?!?!?!) But he just grumbled, "box them up." What should I do? Ideas on what to do with the rest of them, if they are so chipped up I can't sell them. Help my blog friends.
And since I'm asking for your help, I have another question. My sewing machine has been a great friend to me these last six years (it was my 21st birthday present from my mom) and I think it's time for me to upgrade. My two main problems with my machine now: no dropping feed dogs, and no button holes (Or I haven't figured out how to do it yet). I stumbled on this new (to me) awesome blog: a stitch in dye. She mentioned she pieced and quilted this quilt (so beautiful) on her machine. So I asked, what machine?!?! Turns out it's a Bernina 1008, not that expensive on eBay (like $300-$400). It's a workhorse type machine with no digital stuff, but still does like 15 stitches. Does anyone have this machine? Love it, hate it? Have one like it?