Today was my exact two week mark on my diet. I'm happy to report that I've lost a total of 8 pounds, or about a pound a week. I'm not happy to report that this would have been more but when ever Aunt Flo comes to visit she makes me eat like a friggin banshee. What is that about? This is what goes on in my head days before my monthly; "eat, eat, eat, eat, eat, ohhh have some more." I don't get it. The other day I wolfed down two chocolate bunnies. People I don't even like chocolate bunnies. Grrr. And I'm beginning to think I might have to start supplementing the calorie counting with (gasp) working out. I know, I know. I don't want to do it, but something is happening with me. I don't believe those calorie calculators. The ones that tell you how much you can have to stay the same weight. When I fill in all my info (and of course mark my lifestyle as sedentary) it tells me I can have 1,600 a day to stay the same. They are such liars. I have a 1,500 day a couple times a week (1,200ish is what I shoot for) and I've gained back a pound. Well anyway enough about that, I did start taking fish oil tablets and the first few weeks I felt like they were a miracle pill, but I think my body's adjusted. Oh and also it's hard to eat right when your husband makes you a tuna melt… WITH A WHOLE CAN OF TUNA (who does that? I have never seen that done). I said, "damn hon, with the bread and everything this is going to have a ton of calories." He said, "oh and that's not counting all the butter I used." Oh but it was so good though. Mmmmm. So that's me checking in, 2 months down, 2 to go. Watch out for me in June, I'll be the one in the bikini (laying in my backyard where no one can see my incredible whiteness).
So now, let's talk about the gains. Oh, you know where I'm going with this, thrifty goodness baby! First of all I forgot to tell you that I went to an estate sale on Saturday before we started dying. It was across the street. There is no way I can not go to an estate sale across the street from anything (baby shower, lunch date, visiting a long lost relative, whatever). It was totally cleaned out because it was the second day. But the prices were good and everything under $35 was half off. So look what I got for five bucks:



Some of you might remember that I have one of these that looks very similar. But listen that was a crazy model. It had a slot for a 3.5" floppy disc, and way too many functions for me. I like simple. My friends I think I've finally found the perfect electronic typewriter: GX-6750. OH MY GOD looking up that link for you I see that they are not even an old model. They still make them, retail: $119.99 . Oh man getting deal like this makes me feel so awesome. Especially when they come with this: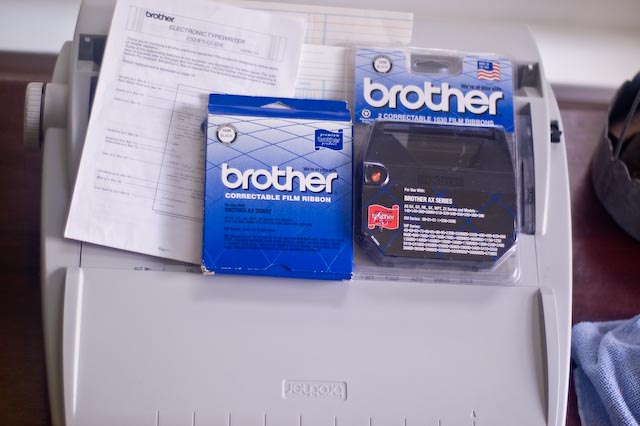 Come on, two refill cartridges and a corrective tape? They were practically giving this away. Well this and the two callanetics videos (circia 1986 and 1992 – it's a gentle workout!) I got, too bad VHS players have gone the way of the dinosaur. I wonder if Bj would like me to hook one up to his high tech system. Oh man I'm cracking myself up over here. I have got to scan in the covers of these videos, classic high cut leotards. LOLOLOL.
So that was my first sale of the season. But I'm not going to call it official, since it was an accident, and I had to borrow three bucks because I was unprepared. Anyway I'm going to look at the paper Thursday and see if there is any reason to get up early Friday.
Did you know it's spring break here in Oregon, or at least the valley. It's true we like to have vacations during our worst possible weather. Floods of 1996 anyone? My brother took a little boat down and was floating on the golf course. It was like one giant lake. Good times. Well Michele has her nephew and I told them about the Tulip Festival (

We can all handle the weather of course, but apparently the tulips can't and the only blooming were safe under tents. I bought some blooms, ate a sausage and headed to the goodwill nearby. Where I totally scored. I got lots of cool ledger paper. I think someone brought in stuff from a going out of business office supply store or something. Then I was picking around and saw this bag: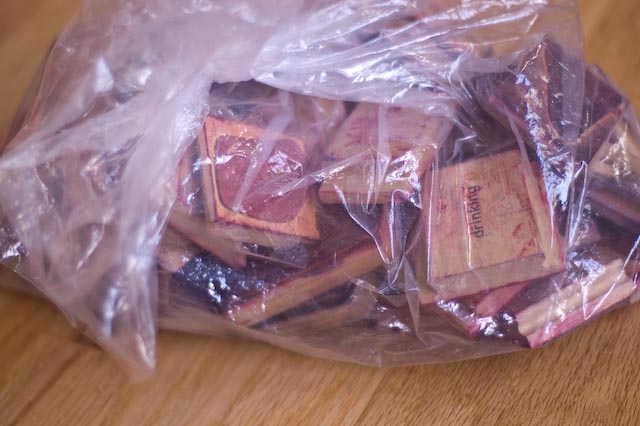 I never have good luck with getting used stamps (except off eBay) because they are usually just teddy bears. Nothing against teddy bears, but… I started pocking around the bag a little more. It was 9.99 (which is like a hundred bucks in Goodwill land) so I had to really look at it. And check out what I found, they are teacher's stamps!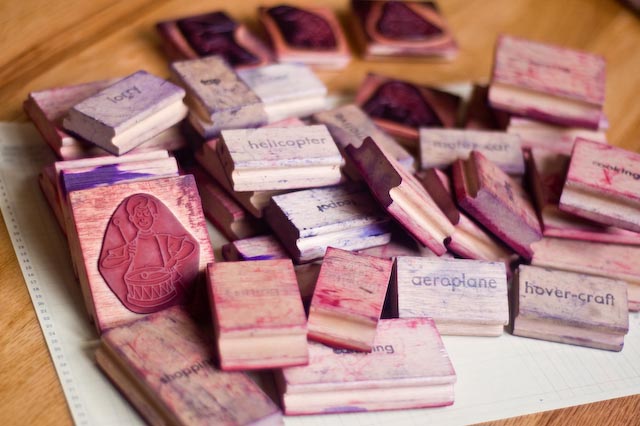 27 differnt actions, including my favorite: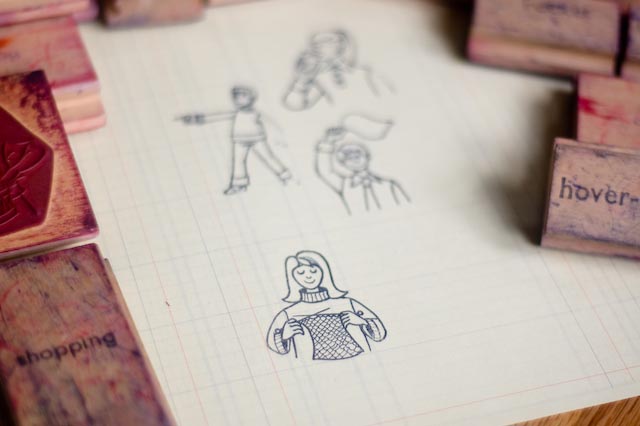 That's right, knitting. Also has random things like drumming, pushing, waving, pointing. I am in love with them. There were 10 modes of transport in there as well (including a hover-craft, LOL), and three random stamps: a teapot, kettle, and tap. Making me think that Goodwill split up a bigger set.
So this made me just about giddy, coupled with some other things which I'll explain below. Plus I'm still coming off the high of being on the juice (two diet cokes in one day yesterday, bad Amber, but I really get stuff done :). So I felt like today needed to be immortalized. I made a two page layout, "happy today" in like an hour, but I don't feel like the two pages have to be shown next to each other (read I can't seem to get a good picture of them like that). So page one:



The 11 things making me happy. KI Memories accents, new paper, fabric, random paper and flowers. I used my fountain pen so I'll type it out for you:
1.Someone left 1:13 worth of change in the meter at the library.
2. Pulling onto a busy street someone let me in.
3. Driving to the tulip fields, seeing Brett, Michele, and Violet. Eating sausage.
4.Awesome stamps: 27 actions, 10 modes of transport, 3 extras
5. this cool paper for 99 cents a pack
6.the $5 typewriter w/ extra ribbons & corrective tape!
7. 8 pounds lost in 2 months today.
8. Oregon weather – the rain, hail, and bursts of light.
9. new ribbon – getting lots done in Ribbon Jar land.
10. Finally found the song, "tears and Laughter" from Bones.
11. Being Alive.
Page two: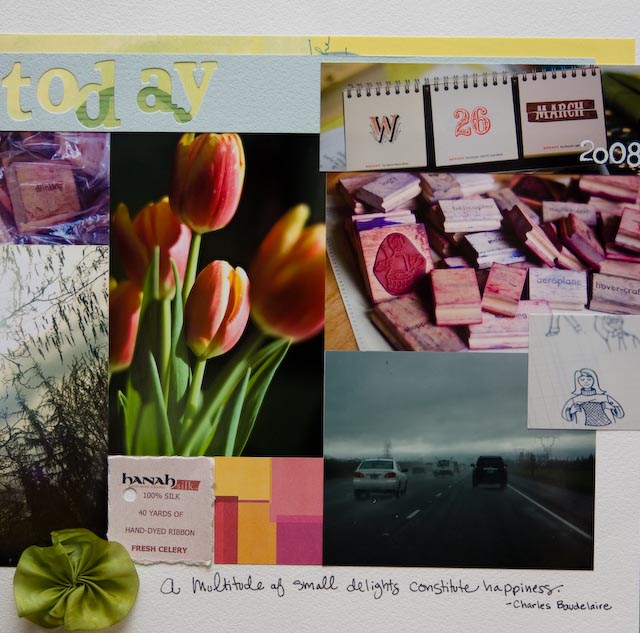 The today thing was an accident, I punched the letters out to close together with my quickutz, so I decided to use the negative image. The top right picture is a paper sample from Sciarrino, a perpetual calendar. All the pictures I took today, love my mini printer (old picturemate, 2005). Super quick flower with new silk. Expect to see a lot of these. I love making ribbon flowers like this! So there you have it. A good happy day. And I hope yours was even better.
p.s. yes, the layout is straight in real life. 🙂