I can't remember if I blogged about this before, but they had a great deal on these awesome Denyse Schmidt Quilt-It Kit before Christmas.


Before you get all mad that I'm just telling you about it now, I keep seeing them there, for five bucks (regularly $22.95)! I own the book that these come from, and this has a lot of my favorite projects from there (including that quilt with the triangles that I have had cut out for about two years – oops). You also get enough fabric to make the pillow on the front, and general sewing directions. It's so handy! I got a couple of these with the thought that I would bundle up a card and some fabric as a gift, haven't gotten to that yet.
What made me think of that was this: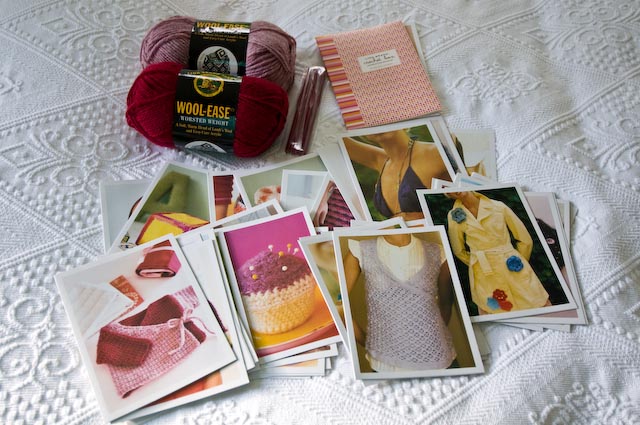 I picked up the Lion Brand Crochet Box at Border's Tuesday. You get FIFTY cards (they open up like the others to show directions), two skeins of wool-ease (not my favorite, but good practice and enough to make that little baby kimono on the front left card), a how to crochet booklet and crochet hooks. There seems to be one problem with this set. The fact that it's crochet. I have been meaning to pick up this skill to add borders and things to knitwear, but haven't ever taken the time to learn. So last night I sat down with my new kit to try my hand at it. Um, I can't crochet. I think I have to have someone show me in real life because learning this kind of thing out of a book? Close to impossible. I think I have regular chain stitching down, but I don't want to teach myself bad hook holding habits, and I'm pretty sure I will. But none the less, tons of cute patterns, and all of that was only eight bucks, I don't know what it was normally, I couldn't figure it out. So get crafty. I'm off to update my neglected Ravelry page.
Oh and the ants are either dead or hiding. Bj sprayed something around the house last night. I'm going to look into all those natural methods though, thanks for the advice. And no one came forward with a good ant trait, so I don't feel so bad.