Since I'm not done with the "yarn that will never end" I thought I'd share some lovely little things that I've gotten lately. My dad and brother might be more excited than anyone about the little one.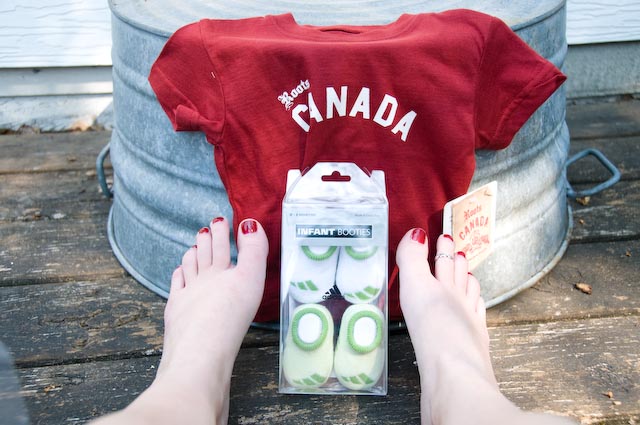 My dad got baby that little mini Roots shirt. I think the days of him coming back from vacation with things for me are over. He was so excited about this shirt, and yesterday he said, "um, it's not on the blog." hehehe, well it is now. My brother and his girlfriend got us these mini little socks. They are so ridiculously tiny, seriously. As if that wasn't enough I got a lovely package from Kay yesterday: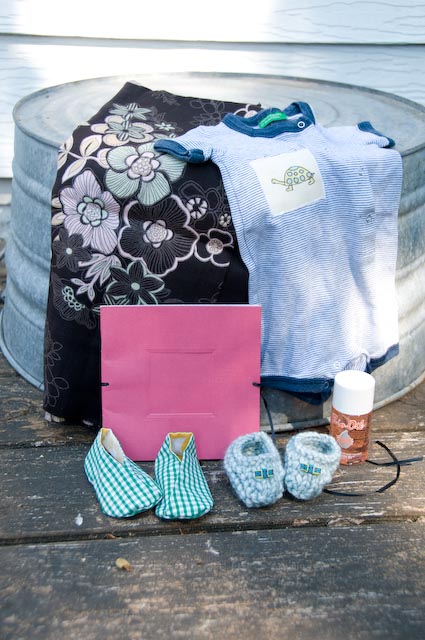 All these little sweet things. Including some oil for mama! I think I am going to line that fabric and make up a sling with it, it's pretty thick. The little onsie is so cute. I am going to need new words for this stuff, but cute just seems right. It almost looks like faded denim, lovely. And I love it when the snaps are off center. The little booties are so so cute too. I just can't believe the smallness sometimes. Oh and she threw in a little something extra: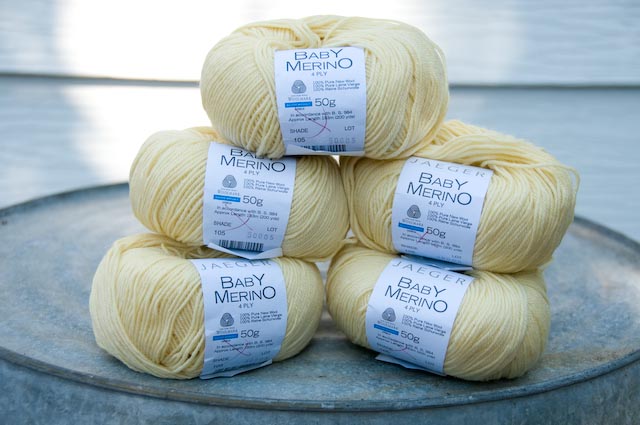 Oh my goodness five beautifully soft balls of Jaeger Baby Merino (Ravelry Link). Can you believe I haven't made baby anything in yellow? I think I might do a cabled jacket and little pants. I haven't done big cabled things before, but I think I'm up for the challenge, and this yarn definitely calls for something special. Thanks again Kay!
In other baby goodness news Emilie and I wen to Portland yesterday so I could finish registering at Little Urbanites. A few weeks ago Bj and I went there when we were doing our stroller searching (I don't know if I said already but Uppa Baby's Vista had everything we wanted – and fit in the car!). I loved going through little toys, lights, blankets, and especially the clothes. Though Emilie did try to tempt me by showing me every single cute thing they had for girls in the shop (including Chase n' Sky Hawaii, a line by a friend of mine, so beautiful). I kept saying, "no Em, we're going for gender neutral!" She might have muttered under her breath that she was going to get me a certain ruffled jumper no matter what. A girl after my own heart. One thing is for certain no child of mine will have a "daddy's little princess" or "mommy's troublemaker" shirt. I'm not so much a fan of that kind of thing. Organic jumpers? Miniature hoodies (and we already have a cute cute mini white one from Bj's mom)? Hand knit things? Yes please! I figure I can be a bit picky about the first child, as hopefully I'll be the most organized this go round.
And it looks like we will be able to do the second story. Check it out: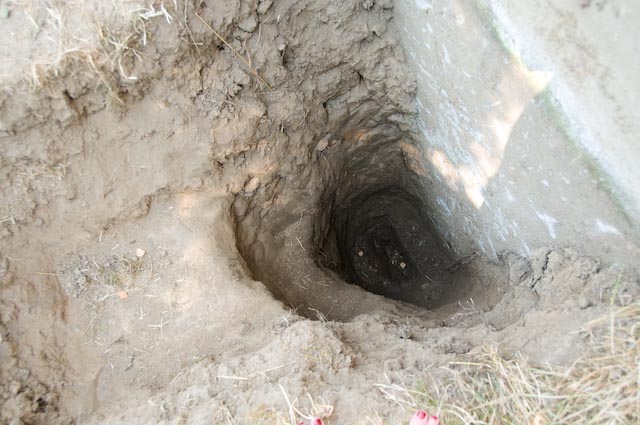 See that way down there? A footing, boo-ya as Bj would say. We may still be required by the city to jack hammer up around one of our pilings in the basement to check the footings there, but we are almost positive that they are there because we replaced the top part (remember?). So it's good news. I also have an architect friend coming over tomorrow, and he might be able to come up with something for the front porch (we're having trouble coming up with a roof line that won't cover the window at the top). Now off to finish that yarn!