Okay I said goodbye to the kiddos last night. Karsen made sure to give the baby (well my belly) a big hug goodbye and kept talking to it, "goooooodbye baby. I love you." Awe so cute. Last time with those little munchkins, and a good thing, while so fun they did wear me out! Thursday was my brothers birthday and we had a crazy fun day. After I picked them up from day camp we went for a long walk to the park.



They each picked up sticks. Sticks are apparently the best toys ever. Of course I did quickly figure out that if they are going to take sticks in the car they have to be where your feet go. Karsen had one in her hand for a five minute car ride and I had horrible flashes of her poking herself in the eye. We walked all the way through the park to get to the other side where there is a playground for younger children: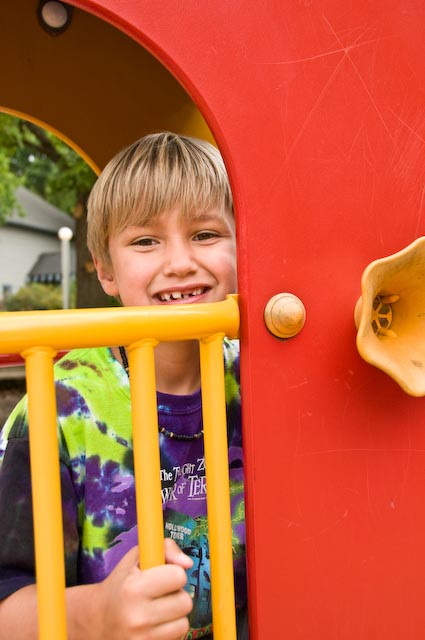 Hogan has such a great spirit. Bj said to me yesterday day, "that Hogan is one fantastic kid." And I couldn't agree more. I think I need to go give their parents gold stars for doing such a great job. Even when we go to things like this a little more geared to those Karsen's age, he never complains and always wants to help his sister. It just makes you melt. We headed back towards my house: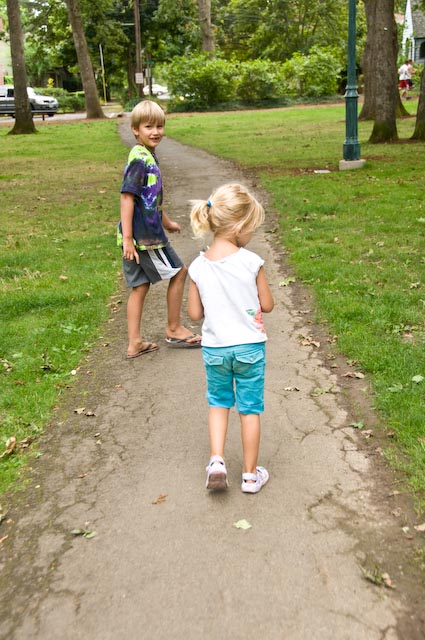 But the closest we got was five blocks from my house. Sissy had already tripped twice, she was getting tired I think and wasn't picking up her feet. I was holding her hand so both times I kept her up by yanking on her arm. And then Hogan tripped because he kept kicking off his flip flops while walking so I called for back up and Bj drove over to get us. It was Burger King for dinner (I know, I know) because I knew I was already going to get the kitchen messy for my next project. It was Brent's 26th birthday and we wanted to do some special things, like draw cards: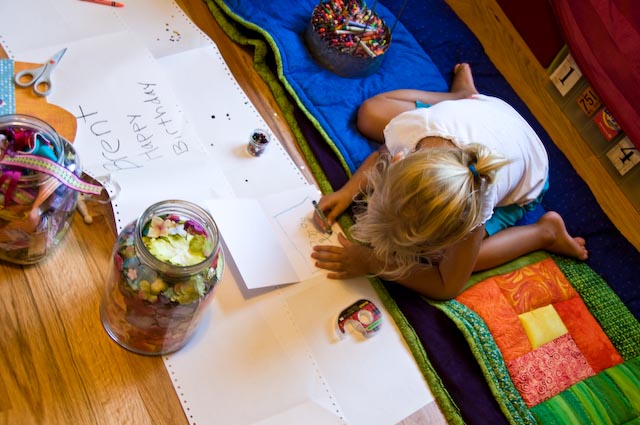 They were so cute, full of crayons and ribbon and tape, they love tape. And then we made cupcakes: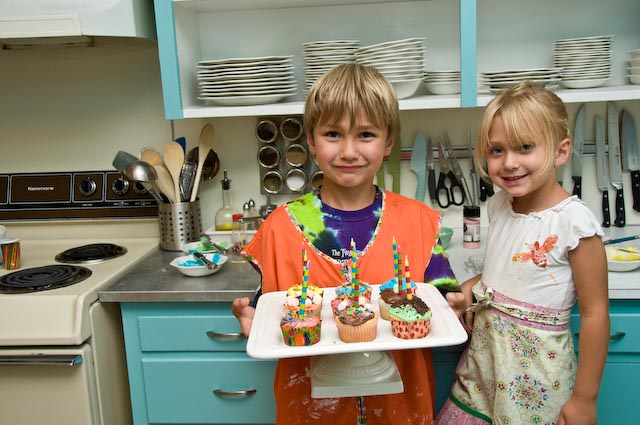 They were so funny doing this, sissy put like five colors on the top of each cupcake, and THEN added sprinkles and marshmallows. Brent loved them though: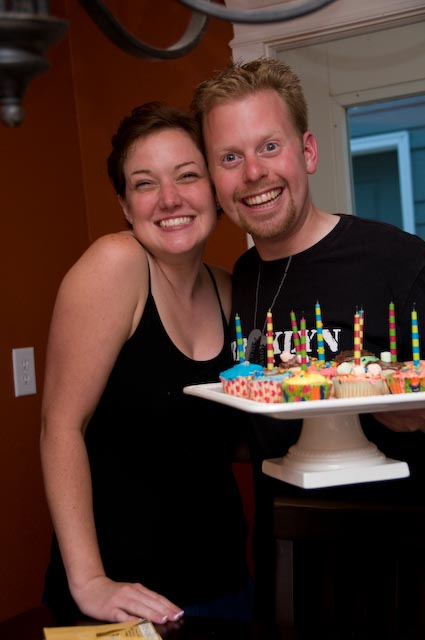 I have to tell you what his girlfriend did for his birthday. She made up all these cute cards (scrapbook style) with clues for a scavenger hunt around town. Like one of the things led him to starbucks where he ordered a drink (which was then paid for), and when he got the drink he got the next card. Isn't that clever?
Friday was a little more mellow as we got up and it was actually sunny! We have had a dreary week, usually I love that, but it did limit the amount of time the kids could run around. So we played outside, had lunch outside, and then they came over while I worked. Karsen actually fell asleep (she's not on an every day nap schedule now), so I had some alone time with Hogan and I finally gave in to his repeated requested to let him knit. He blew me away with his patience.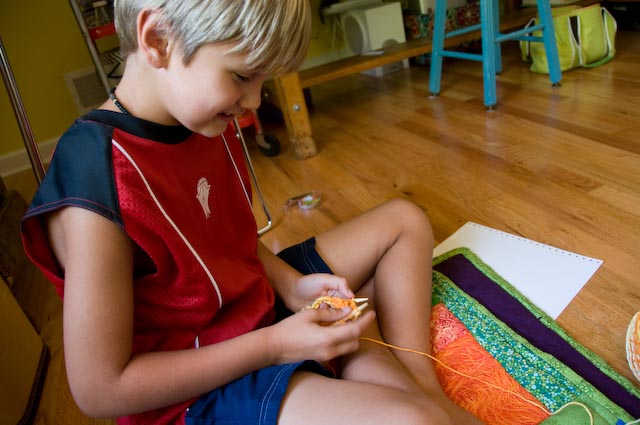 If you are going to teach a little kid to knit can I just say variegated yarn and circular needles are a must. It keeps things interesting and he was much less likely to drop a stitch this way. I cast on, and then knit every other row for him to tighten things back up. But he was so quick, so even, and, get this, picked up his own dropped stitch, with out me telling him to! I'm seriously thinking he's the next knitting prodigy: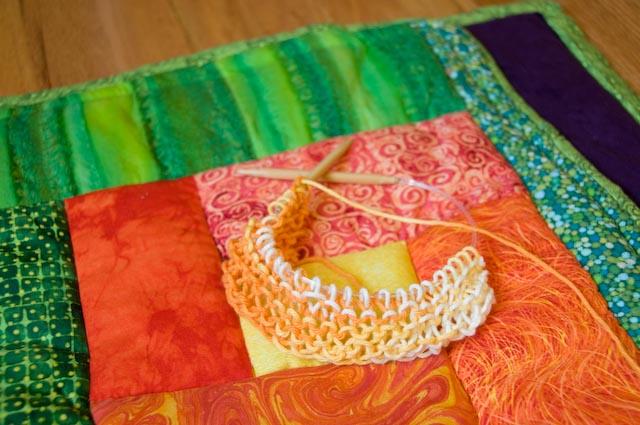 He didn't get much further because we went for a swim after, but I bound this off for him. He said he's going to use it as a scarf for one of his doggies. Then Bj fed them dinner while I had my prenatal yoga class (out of the four regulars three are due with in a week of me, and none are finding out the sex of the baby, cool!). Their parents came home and that was the week. I promised them they could come see the baby when it comes, which they are very excited about.
Today was going to be all about relaxing, and I am, but have been doing a bit more than the nothing I was attempting to accomplish. If you know me that's pretty much an impossibility anyway. I got up early because I had fallen asleep at 10:30 (I told you those kids wore me out!). I messed around a little with my wheel, then went to my first prenatal massage. The RN at my last Dr's appointment told me that would be the best thing to try and get rid of this absolutely terrible side pain I've been having. I think it's a pulled muscle but because I've never worked out hard enough to pull a muscle before I have no idea if that's really it. When I do nothing it feels fine, then when I sit (like in the car) for too long, or do a lot of stuff with my left side it hurts again something awful. The massage was HEAVEN. And I'm getting another in a week for my birthday and if it was my birthday every week I would get one that often, it was so nice. Added bonus, I was so relaxed that the baby was moving around a ton. I have been thinking I felt it for a bit, but it's a much stranger sensation than I ever thought, not like I would describe kicking at all. Today at the massage the baby was moving so much the masseuse felt it! (Hey Bj you should give me lots of massages, then maybe you'll feel the baby :). Coming home I felt too good to just sit around and do nothing (which was the plan), so I finished plying the yarn on my wheel, had a nice iChat with Ceara, and finally got to organizing that mess of jars I scored (I just have to wash lids now…. NOOOOOOOO). I also called my neighbor Tracy to set up a time to dye some wool and yarn in a few weeks. We've been wanting to do this, and I'm trying to meet some fiber related goals before I go crazy at the Oregon Flock and Fiber Festival at the end of September. Plus I had to do some laundry, and clean up (I came home and Bj had totally cleaned the kitchen and was vacuuming so I did feel a little guilty about my pile of stuff on the church pew). And now that I've made my side a little sore again I really am going to go back towards the nothing end of the scale (but with a little knitting and spinning thrown in).