Yesterday morning my brother called to tell me they had just been to an estate sale I should check out, full of sewing and crafty goodness. So Bj and I decided to take our walk early and go to it. Boy am I glad he called us, the house was a weird sort of time warp. It was right across the street from the big park (about a mile from our house) and looked like it hadn't been touched since 1972. It was very strange, and we were not the only ones who noticed. Yes a lot of times people have most of their things from a certain period if they are elderly, but this went beyond. One woman was pointing out to her friend that the canned three bean salad was from 1969 in the cupboard. Even the boxes of tissue were old and of the mint green variety. And unfortunately for me her fabric stash was nearly completely 100% polyesters. And there were a lot of them. But she wasn't just a hoarder, she used everything. She must have been tiny (judging by the pattern sizes), and quite proficient. It think almost all the jumpsuits were handmade. It was so interesting. I did get some great weird orange fabric to make monsters, and this:



A vintage boys pattern, a homemade jumper (love the button details), and some flannel fabric I've been looking for to make wipes out of. My favorite find was this: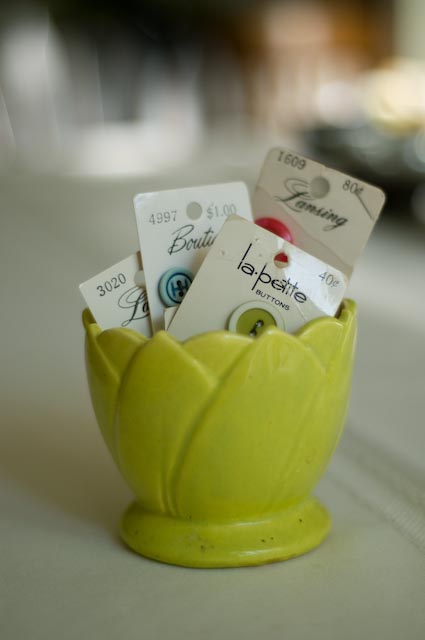 A little vase with buttons. I cleaned the vase after I took this picture and it's a very lovely shade of chartreuse.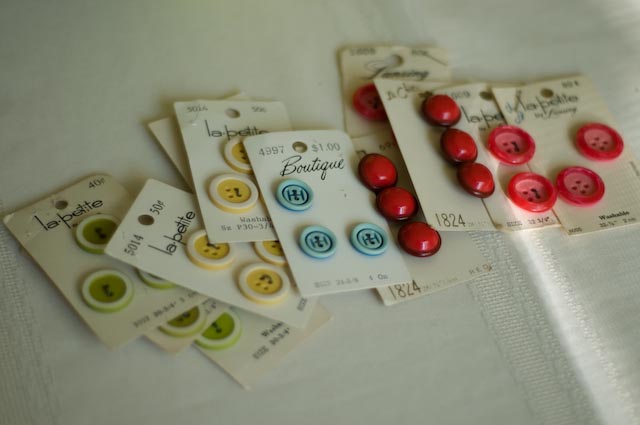 The buttons are fantastic. I started looking for ones that would work well with the yarn Kay gave me, but couldn't stop there. I also got some jars with neat lids and a vinyl tablecloth with that flocked backing. You may tell me that the odds of my water breaking in bed are slim but the thought of anything happening to our Tempurpedic (a wedding present from Bj's parents) sets my head spinning so come December I'm taking counter measures, JUST IN CASE.
I stayed true to my original plan to knit up some handspun I made a while ago instead of diving right into my new stuff. It's my old thick and thin: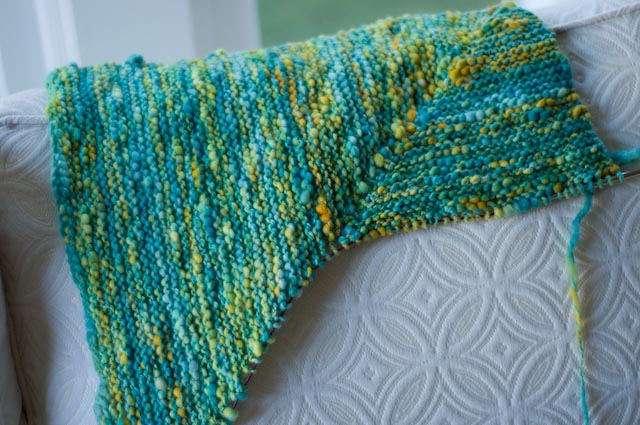 It's going to be a baby blanket (per Sciarrino's suggestion), but here's the thing I very much miscalculated (and I was actually calculating with a gauge swatch and everything) the amount of yarn I have left. Now it seems that I will only get halfway. Of course I'm still knitting on it, why stop now? I'll have to spin something up to go with it I think, but don't have any more of this fiber… well, I'll come up with something. I do love how the fabric is turning out: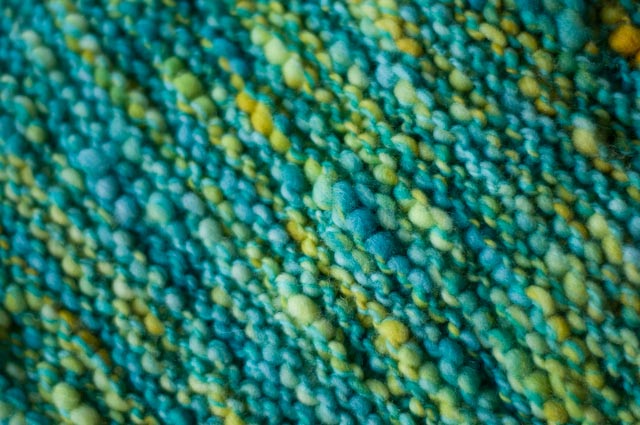 Hmm what else is going on besides me getting in a fight with Bj about paper towels (I blame hormones for the over reacting, but really how can you scrub something clean with a paper towel? They are for spills, and besides it's wasteful). Well my friend Matt came over on Friday and I told him we were having trouble coming up with a good idea for the front pouch. Matt just happens to be an architect, and drew up this in a few minutes:



(not the line drawing, that's something I did in Photoshop, but the orange). I love this idea and so does Bj. We were so perplexed with what to do with the weird angle of the one side of the roof and I think this will be a perfect solution, AND give us a bigger porch than we thought possible. So excited. I emailed the Cadman to see if he could do some specific drawings. What do you think?