Oh blog, I've been avoiding you. I love cheery little posts and things of that nature. It seems that things have been getting a wee bit out of control over here. Grandpa, remodel, even knitting = problems.
First up grandpa. He was recovering from his hip replacement fine for a few days, we knew he was super uncomfortable. When we visited one day I walked in just to have him say, "I hope you're satisfied, look what you've done to me." It broke my heart. His nurse said he's just really confused, because of the meds and everything. He didn't remember falling and he really thought that we had just put him in the hospital because we wanted to. It was terrible, especially after spending so many hours tending to him. Then at 3am we got a phone call telling us that he had to be moved to the ICU. He developed pneumonia, and was having trouble breathing, what were his last wishes they wanted to know? A tube down his throat? We knew grandpa wanted everything but couldn't remember specifics at three AM so we told them yes, put in a tube. The next morning when we got to the ICU it was terrible. Not grandpa, but the whole experience. You can't just go in there. There is a special waiting room where you pick up a phone and talk to the nurse who decides if you can come in based on level of trauma and stuff. In the middle of the floor was a couple curled up on one little camp sleeping mat. They let us back and grandpa was doing better. He didn't end up having to be tubed, he had to have a sort of forced air thing over his face instead, and by the time we got to see him it replaced by a nose tube. But his heart is having problems, and the pneumonia is creating radiating pain. I just feel so terrible for him. Of course I'm overly emotional in my pregnant state so I've been crying over everything. We got to visit him twice yesterday, both for the maximum two hour time slot. He seems to be doing alright, but still in the ICU. We're off soon to visit him again. Nothing stirs up feelings like this. I don't want him to be in pain, but I want him to be around to see the baby. And I want what he wants, which he can't really say right now, so it's up to Bj and I to determine that. Thank goodness when we moved him up here we did that whole big estate planning thing. If you are caring for an elderly person I really recommend this. We now have his pages of "if this then do this." copied and on file at the hospital.
So after that other disasters just seem like little problems really. But when you have one big thing looming over head, those things seem to build up. Our remodel hasn't started. Our permit has not been issued by the city yet because the guy doing our plans needs to make changes and he wouldn't call me back. I had to have my dad call him, which I hate doing because I want to do things myself, but I didn't know what else to do. Plus we have a few other issues. Like that pretty arch between the dining and living room? It got cut into yesterday to check out the header. It doesn't have a header. Or the nice big open basement? That's going to need a wall for load distribution from the peak of our new roof. All this = headache. Plus today's gloomy weather puts in perspective that we need to get started like yesterday. I'm still hopeful though it will be next week. And I love the guys we've got to do the actual work, that helps a lot.
And then at the bottom of the barrel this should just come across as kind of comical, it does to me know anyway (not so much a few days ago, amazing how time puts things in perspective). Here are my newly completed socks, hospital knitting. Perfect fitting!



Unfortunately those are Bj's feet. Here are the socks (which I did make for myself) on mine:



Made with exact specifications for my woman's size 8, fits my husband's size 12 feet wonderfully.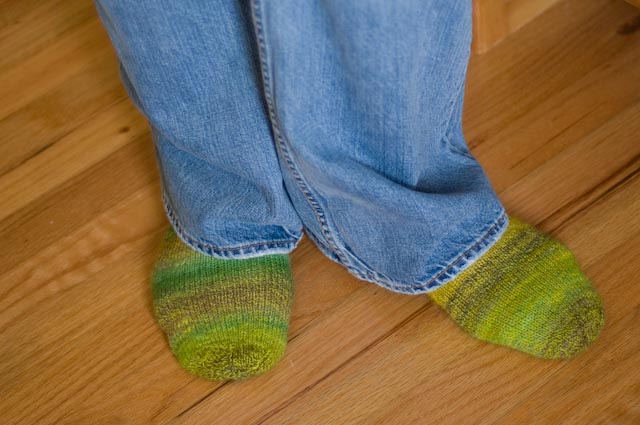 Universe… WHY?