This sums up my life right now pretty well: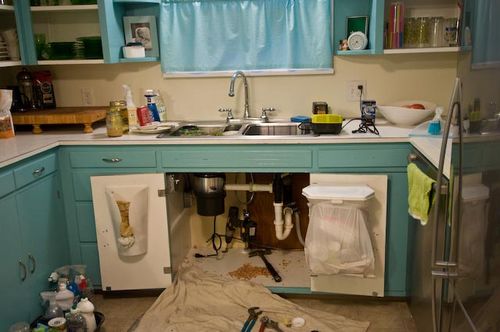 Remember how I said "It should be signed off on tomorrow so that we can finish sheet rocking," yesterday? Well it did get signed off on, but we couldn't sheet rock because we ran into a little problem. Turns out when you upgrade almost all your water pipes, and get blasting awesome pressure piped in from the street the loan 20 feet or so that didn't get replaced turns on you. Well at least that's what happened to us. I so so so did not want anything to be cut into on the Ribbon Jar side of my basement, but yesterday evening when they went to turn back on the water the kitchen was out of luck. Yucky rock type deposits were all that wanted to come out. The old pipes were clashing with the lovely new water from the new pipes. It was determined that those pipes had to be replaced also. Lucky for us (and the plumber) I am an insane picture taker (ever noticed?). So I dug through my files to find this picture: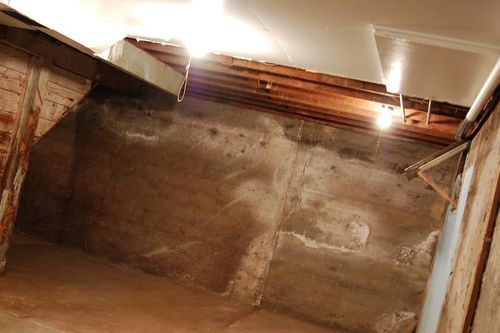 Besides being scary and showing what the basement looked like before (yucky walls, termite beams, holes in the ceiling!), it shows the positioning of the floor joists. Because I had this picture they were able to thread the flexible piping through without having to cut a huge chunk of the ceiling out. Obsessive picture taking saves the day again! Now the plumbing really is ready for cover (no, not totally done, we're getting a new water heater and the fixtures will have to be put on after tile and everything is done upstairs). So sheet rock hanging can begin again (in one section they have put up and pulled down twice). The water tastes freaking fantastic out of the tap. I don't know if it's the difference in pipes, or just knowing that we have ALL NEW PLUMBING in our house. Either way imagine me clinking a glass of cold water with yours and saying, "cheers to plumbing cover!"