Or as the local stations like to say: STORM WATCH ARCTIC FREEZE STORM 2008 or something like that. My cottage looks so cute!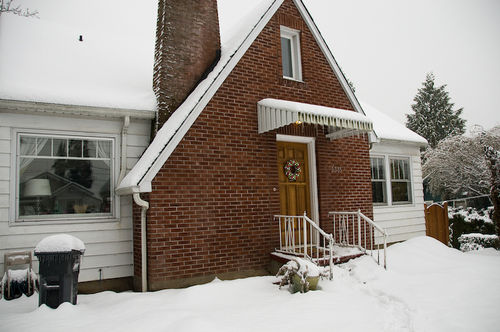 I mean icicles, we never get those! They even make the garbage can look cute. And snow does wonders to all manners of things you wish were not in your yard, like trailers of trash.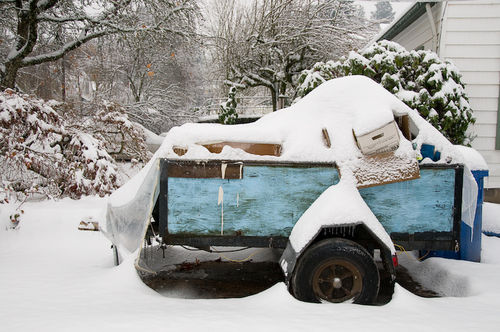 The bad news is the ice accumulation: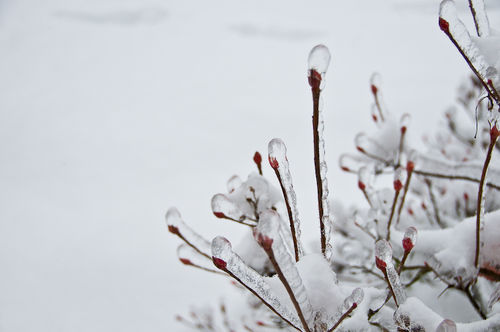 while pretty, this is a bad combination with tree branches. Bj and I are pretty sure we will loose our whole laurel hedge in the backyard. But that's nothing compared to some trees around here. My brother took us out last night in his big 4 wheel drive and we had to go all the way around the neighborhood to get out. The hill by our house the road was completely closed, and the other direction had a downed power line one way and a huge branch the other way. I know lots of cities get more than our foot or so of snow, but they have loads of plows and crew to take care of it. They can't even keep up on the interstates here, and one of them is closed for 50 miles. I mean it is CRAZY. Our city just put out a bulletin to stay in unless you must go out.
So this has slowed progress on my cottage a bit, but we now officially live upstairs, yeah! I took a ton of photos so instead of making this the longest blog post in history I'll just give you the link to my cottage set over on flickr. Here are some highlights:



The baby's room. It's a sort of grey/blue/periwinkle color that I think is pretty gender neutral. I'm just so freaking excited to have all the baby's stuff at our house. Everything you see here was given to us, we are so lucky! Of course I had to make it our own. My mom painted the changing table and cradle white, and I recovered the swing. It was hard to do, I had to totally dismantle it and then use the fabric that was on it (a cream and black print) as a sort of pattern. I'm pretty sure the 15 warning tags would say not to do this, but it sure does look cute!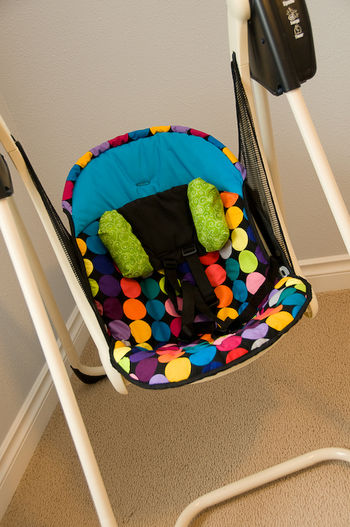 Oh but, if anyone does have a swing like this can you tell me where those little clear plastic tab things go? It's the only thing I can't figure out how to get back together (in this picture you can see one hanging out on the right where the seat and back come together). The baby's changing table is ready to go: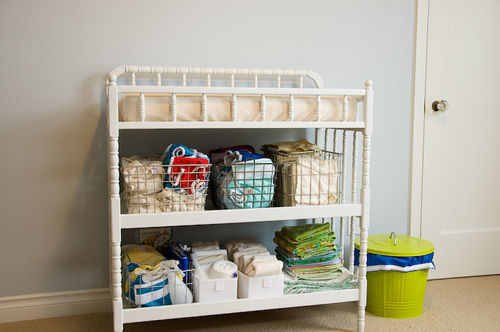 Bj and I like to just be in the baby's room and last night we were in here and Bj wanted me to go over the diaper situation. It was fun, we can't wait to have the little baby here (only we can so stay in there baby). Note the old door knobs, our whole upstairs has them to match the downstairs.
I also love our master suite. The bathroom is so awesome.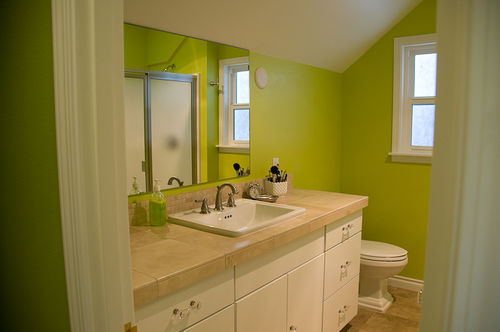 We don't have sconces yet for next to the mirror because of discontinued stuff, and not being able to find anything else, but we have something coming now, so hopefully we'll get those up soon. I have drawers, DRAWERS in my bathroom. This is the coolest thing, and they are mostly empty because I don't know what to do with all my stuff, I'm not used to all this space. I love our counter tops and tile floor, but I need to find some more bathmats, brrr! We get to try the shower tonight, as it just got caulked today. Another favorite section: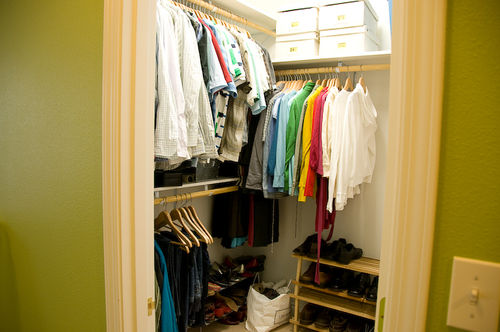 Somebody has a ton of clothes (not me), and told me that I had a lot of clothes. Well this was yesterday when I was all pissy and I got all upset because hello, I've been wearing the same two outfits for the past two weeks. So don't tell me I have to many clothes mister! Behind the door: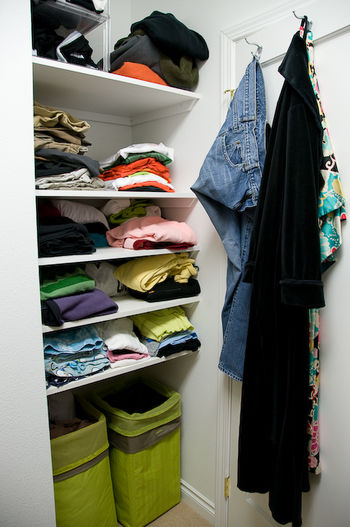 Bj does this thing where he'll wear jeans again and in the mean time just toss them somewhere, it drives me nuts! So I came up with this behind the door hook system. It will save my sanity, I'm sure of it. Two stories down I finished up this: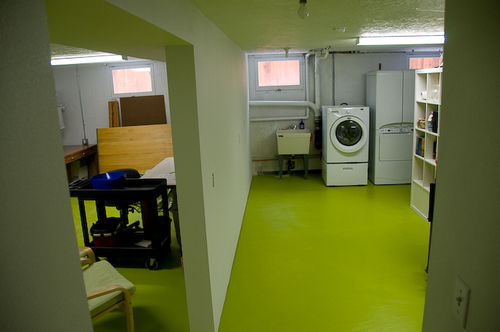 Mmm yummy green paint. I love it. I love it. And I love it some more. We're going to move the book case and things over tonight because they just have little touch up things to do. Oh and I have been knitting: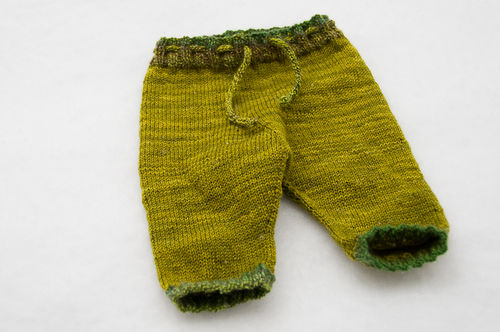 Little leggings! (Ravelry link). And yes, I am still pregnant.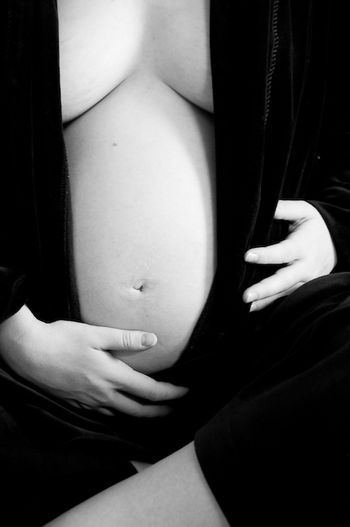 And lest you think I'm nesting, I'm pretty much always this busy, and I've just been "chomping at the bit" to get the go ahead to get things organized, so I've had most of these projects ready to go for weeks. Hopefully I'll continue to update you, but who knows with all these trees, the power could go out at anytime. Oh and more pictures on my flickr.