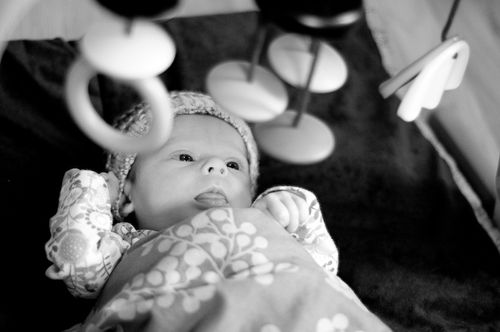 Okay I don't really know what worked. It was probably a combination of things, but yesterday went well and last night was great. It's funny because I tell people she doesn't sleep, then have visitors and she sleeps! Yeah for visitors, keep them coming (if nothing else they can hold Tuesday so I can eat :). After our friend Beachwood went on a walk with us to lunch I fed Tuesday and then her, Bj and I took an hour and half long nap, it was glorious. I think this may have worked because I put her on her stomach (advice many of you gave). The little nut can already roll over (I freaking know!!! She started this trick at 13 days old) from front to back and has amazing head control so I think the odds of her suffocating this way are low.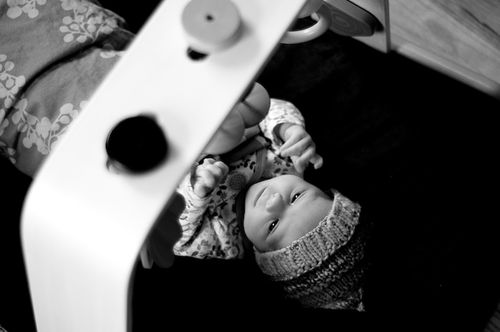 After that nap we played and nursed and bounced (OMG she is so addicted to the bouncer. I kinda feel bad that she's in it so much but she loves it). At 11ish I put her down to sleep on her belly and she totally slept… for hours. I didn't wake her at one to nurse, I just couldn't bring myself to do it, in fact I let her dictate when she wanted to nurse last night and the sleeping periods were much longer. I think she's still gaining weight though… she out grew her first outfit! This cute little onsie Kay made her, I went to snap it and I couldn't. So I have to make sure and take more picture of her in all the cute outfits: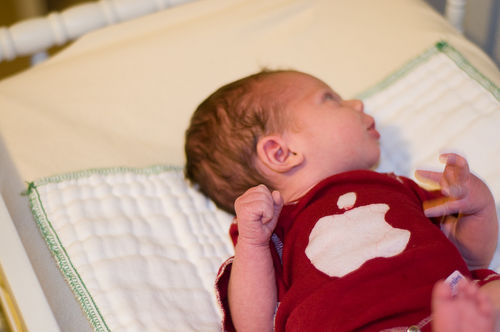 A onsie from Erin (see her cute hear onsies at her Etsy shop!)
I am learning so much with my little one. I've watched so many kids in my life, I lived for baby-sitting in high school (and after). I was constantly entertaining my little friends. I think one thing I'm realizing is that I can't feel terrible if I'm not dangling something in front of her every moment. It's okay to want her to sleep so I can blog and scrapbook and do a few things for myself. Of course she's the coolest little person so I want to be with her as much as possible. But hey I can always nurse and knit: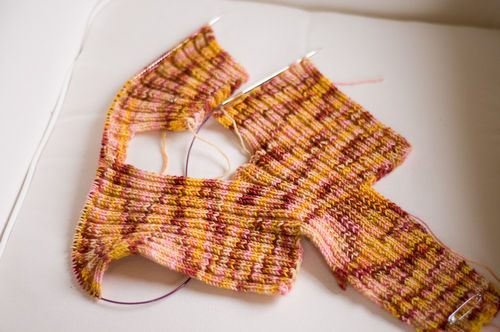 This mystery object is going to be awesome, just wait and see (ravelry link).
I am trusting my own instincts most of all, I think they are generally good ones. That's not to say I don't appreciate the advice, I just pick and choose what to take 🙂 Hopefully I won't look back in a few months and find these blog entries are all wonky because of my lack of sleep. I suppose they are different because of it, but that's okay. I know she can't sleep "through the night" anytime soon, and I don't want her to. I know she needs lots of milk to keep her getting big and strong, so that's what I'm going to keep giving her. There really is nothing like nursing my little baby in the middle of the night. Just me and her, I love it, sleeplessness and all!