Let's not talk about how this picture was taken at 2:30 a.m.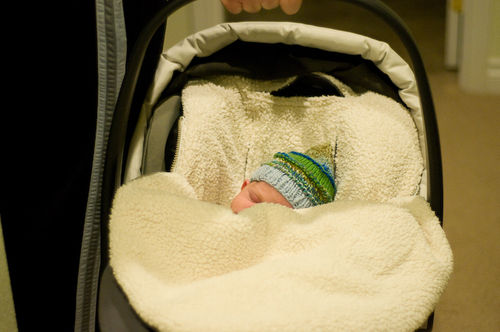 We had a letter to drop off at the post office so we thought we do it in the middle of the night… oh and she would not stop crying! I'd like to say this worked, but as soon as we laid her down she started peeping again. Luckily she did sleep around three and then slept until after ten (minus feedings, which are getting quicker and easier. And she goes down right after them no problem). So I think her days and nights are just messed up. I don't think it's anything else. I'm trying something new today. I downloaded this app. called Baby Tracker: Nursing and so far I love it. I'm nursing her every two hours no matter what (you're sleeping? WAKE UP!). So we'll see how that goes (note: I am not giving the Princess Sparkly Pants formula or pumping, we've decided we like nursing :). Oh that's right she's taking little naps today:



We realized in the car last night this morning that Tuesday majorly hearts Enya. I just happen to have a gigantic Enya playlist (major phase of my college life). So we're getting little naps here and there. Also daily walks have been re-instated… no matter how cold! Luckily she owns lots of knitware… I'm doing a layout about that right now: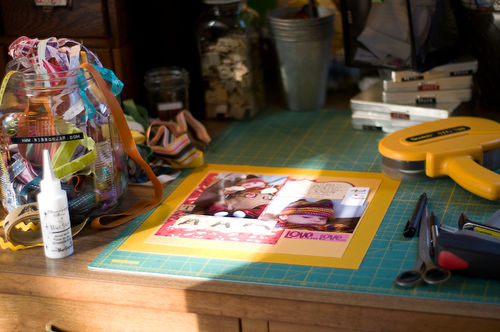 That's right I've been scrapbooking! I have my cute little muse and the wonderful super power many women posses called MULTITASKING, can you dig it? Here are two from last weekend when Papa was watching her: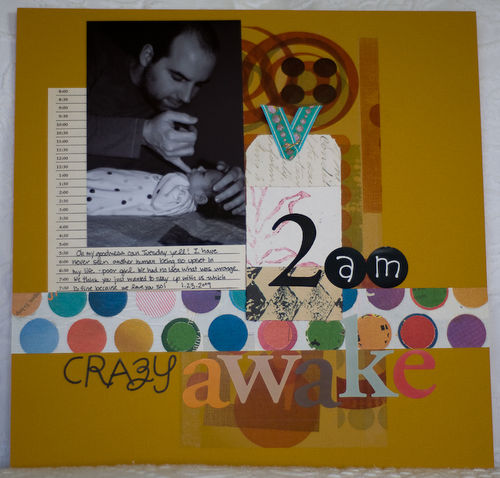 I'm loving this mustard colored paper… maybe because it's the first I can see on the little pull out Bj made me: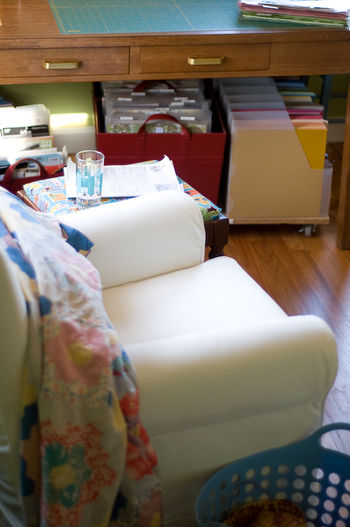 I'm going to put up more pictures of the craft den on my flickr page, with notes, so check it out later today. Here's another shot for now, Bj just moved over a few more things for me last night (the stamp shelf and hooks):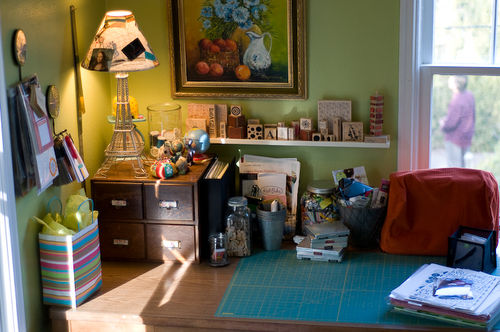 I'm actually really loving the space. It's nice to have my work space completely separate from my computer desk. The view kinda sucks, grr… I like nursing here, and there is enough floor space to play with the little lady. My favorite Tuesday layout so far: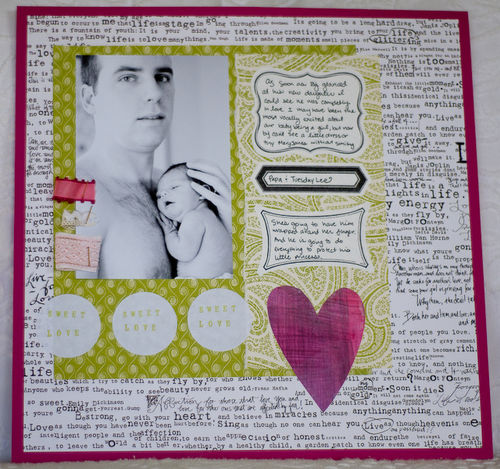 It goes without saying these are straight in real life right? Sciarrino do you recognize the stickers? She stamped them all the day of our wedding to make closures for our candy bar bags. I've found a bunch of random things like that going through all my stuff and moving it over. I'm also going through things I don't think I need any more, as soon as I get that together I'm going to do a giveaway Paula style.
Things I can't give away because I want to roll around in their soft goodness: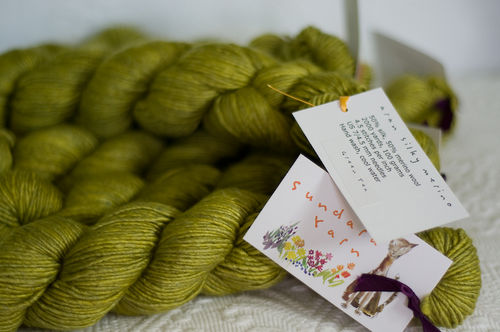 Sundara yarn… enough for a sweater (for me!). I am so tempted to get more of this silky goodness. OMG it is so soft! And my Hello Yarn club fiber came: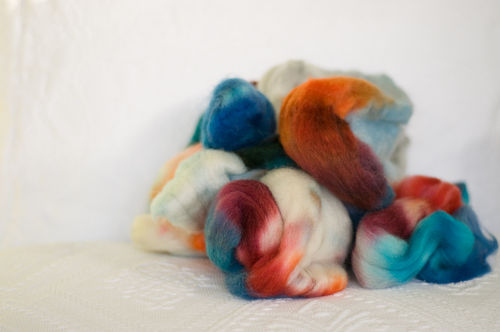 When am I going to spin again? I don't know but I'm pretty sure this is close enough to art to collect.
Tomorrow we're going to grandma and grandpa's for the superbowl. Word on the street is there is a vintage European pram for us to check out. Do I sense a photo op? Me thinks so! Hmm… what to dress her in, I might have to bring a couple options.