Yesterday Tuesday did so great. My little bird, Bj and I went to my mom's to watch the Superbowl eat snacks and watch commercials. Bill, his mom and my step brother Taylor were also there so I had to take advantage of baby holding. It got a couple laughs but I brought the little sweater to block, because when else am I going to get to do it?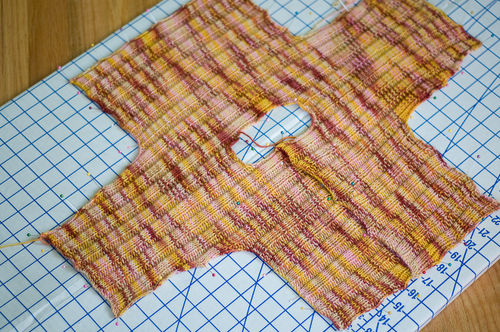 Hey she's going to be wearing her heart on her sleeve (look closely). Now a true Princess Sparkly Pants (Bj likes to call her this, among fifty other nicknames) must have a carriage: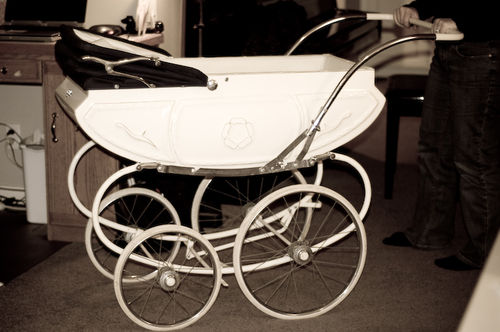 Our family friend gave it to us to borrow for my mom to have at her house so Tuesday has something to nap in. It's metal and so awesome! Watch out because I foresee a zillion pictures in this thing (ohhh must take it out to the garden, must knit dress for future photos… the possibilities!). For now we just plopped her in it: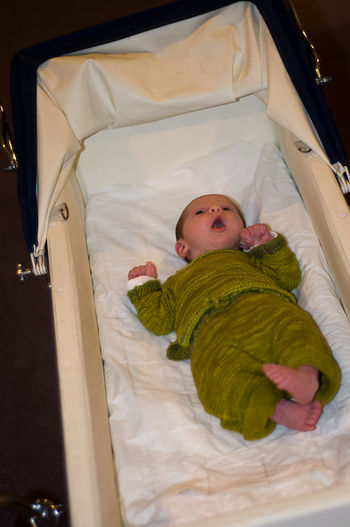 Ack the pants I knit her! Cuteness. All of that outfit is from one skein of Sundara Sock Yarn (more on sale tomorrow!) trimmed out with little bits of my handspun. I guess I didn't need to buy three skeins of pink sock yarn yesterday then… but I do have to start thinking ahead to when she is a bit bigger. And my mom has been doubling the strands of sock yarn with great (and quick) results, so I might have to try that too. Today she is equally cute in another handmade outfit: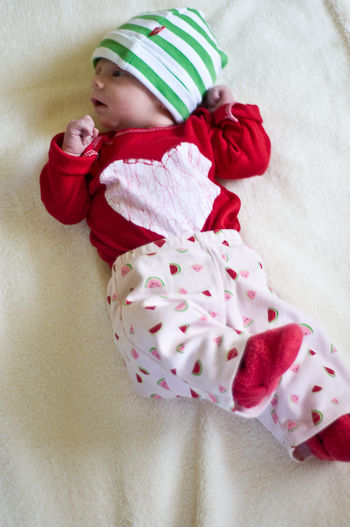 Another onsie from the Aaron and Erin Etsy store… and just wait because I haven't put her in the robot one yet!
(Bj just came in to check on us – sissy is sleeping in her bassinet – and I turned down the Enya for a second and she started to squirm, silly baby. Okay, okay I'll turn it back up! I better make sure I have every song so I can get a nice rotation going).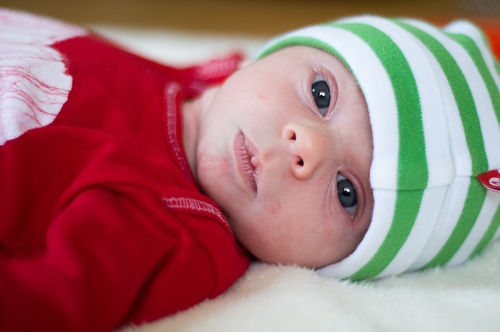 Her eyes are changing again! The book I have says they can continue to change for six months! I'm obsessed with them, she is seriously killing me with her cuteness. Also killing me with cuteness: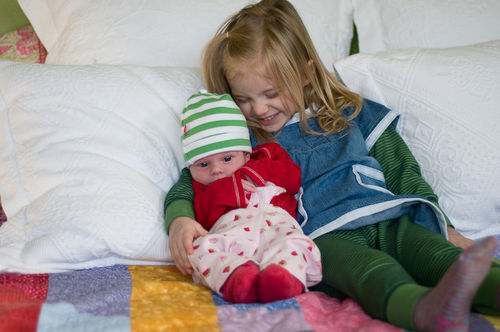 Michele and V came to visit me today. Now if there is anything as cute as my daughter, it's my god-daughter. She has such a wonderful spirit, and is so gentle and lovely towards Tuesday (and is only two and a half!). She loves Bj (or Gee Bah as she calls him), and when Bj saw these pictures he was all, awe! I think the crush is mutual 🙂
Now in these last moment of Tuesday's nap I should start some thank you notes, put the dishes in the dishwasher, or rotate the laundry… but I think I might seam this sweater and do a little yarn trading on Ravlery. Oh and I really need to cast on for something new. I need mindless knitting for nursing, but interesting enough that I don't fall asleep… ideas? I should probably knit from my stash, but then, that shouldn't be a problem 🙂