But if you say anything like, "oh you'll have the baby tonight," I'll be mean to you. I'm so annoyed with people checking in on me, like seriously annoyed. And I know they are just being kind, but um, if you know me well enough to call and check on me, chances are you'd know when I had the baby. Mini rant over. Major rant starting:
I get up this morning, begrudgingly, so I can be up and dressed (in one of my two outfits, it's the green sweatshirt and yoga pants today) for the construction workers. I'm in the shower for like two minutes when Bj comes in to tell me that they aren't coming today, Ahhhhhhhhhhhhh. I was so upset, I could have been in bed! Luckily wonder-husband called later to talk to the head guy and say, "um, this baby thing, it's not maybe going to happen, but it is happening, and soon, so ya, finish." Only much more eloquently I'm sure. Everyday that it drags on (and we're talking little things here, nothing major except the outside front porch) it becomes less a possibility that they'll be here with me and my newborn and more of a reality. A reality that I do not like thinking about. But a bunch of them are coming tomorrow and then maybe one day after that? Two if more if you count grouting, so that makes me happy. Also making me happy? More baby stuff!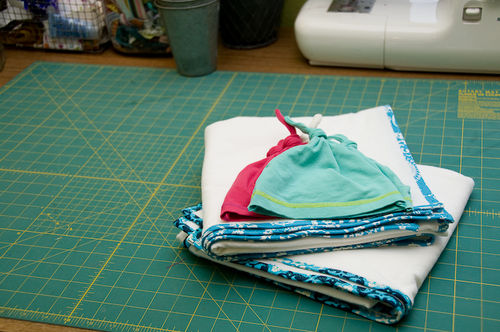 Caps are from the Mama to Mama pattern from old t-shirts (that I loved too much to throw out luckily, since they are the old short style). The blankets are from the Last Minute Patchwork and Quilted Gifts book. You're supposed to hand stitch the edging on, and I totally started to… but only got halfway on one, so I zig-zagged the over the top of that and around the rest. For a swaddling blanket I think this is a-okay. I did all of this in my new craft den. It's fairly organized now so I'll share: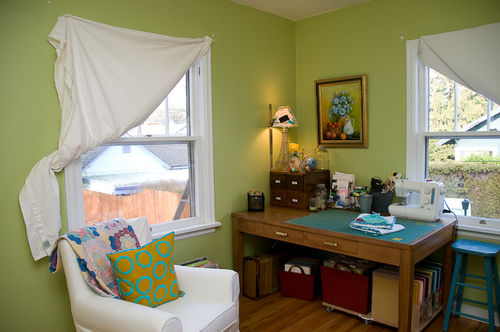 (and the other side) I have severe storage issues in here right now, due to lack of cupboards and drawers. Bj did make me that awesome pull out thing for my paper so I don't have to crawl around on the floor to try and get things. I also don't know exactly what I want to do with the curtains situation. Unfortunately because of weird neighbor situation I have to do something cafe curtain like I think. A lot of my things are still in the Ribbon Jar side of the basement, where I set up my drafting table for packing orders, it would not have fit in here. The other side of the basement is also making progress, in fact it looks downright awesome: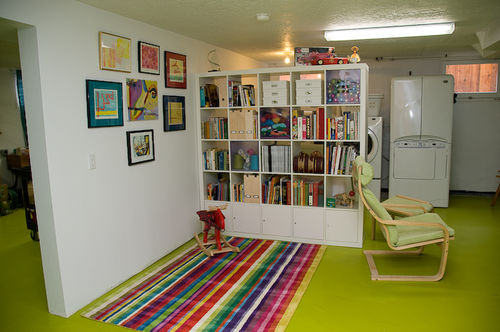 Awesome rug from Ikea (actually looking at this picture, there are a lot of things from Ikea). Bj put up a bunch of my art work, and we moved the big bookcase to separate the laundry area, which rocks. I always hated that being the very first thing you saw coming down the stairs, and my mom came up with this arrangement, much, much better. It's not so bad having this wall up separating the sides after all (you may recall we had to put it up for structural reasons, demolishing my earlier work to remove it). Bj worked hard all weekend mopping and cleaning to get his "man cave" (we're currently looking for better name options for the space) ready for gaming:



TV, chair, he's all set.
While at Ikea we also got things for the baby's room: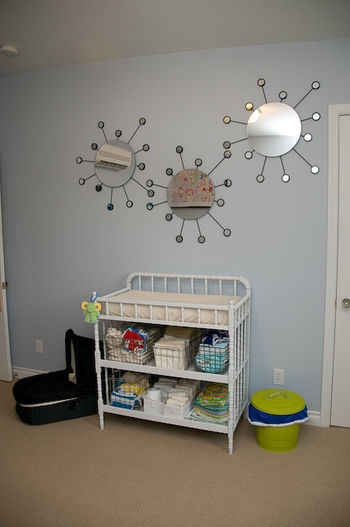 Awesome mirrors. I was going to do a bunch of random mirrors, with ribbon, but we saw these and had to have them. They fit the style of the room much better anyway. And we got this poster and frame: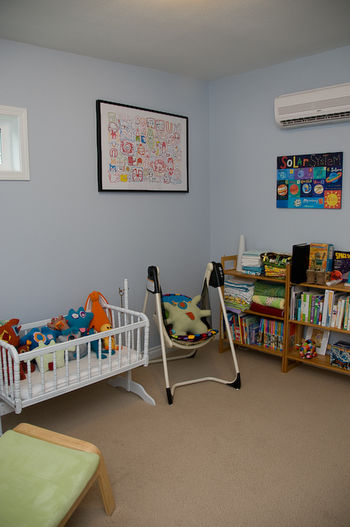 Bj loved it right away, but the thing that sold me was the randomness of it. It has a little saying at the bottom "stop coming to my house." Funny. Bj has taken to putting monsters everywhere. Here's an example. And here's another view of the room.
I got (freaking expensive petroleum based) foam and some cool fabric for the alcove: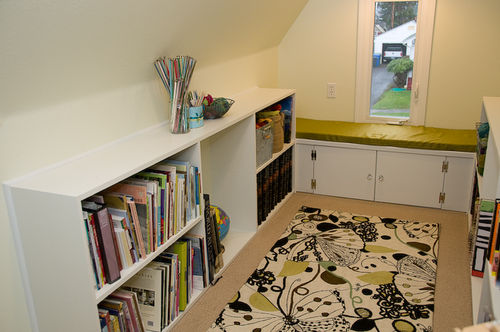 I really like the color.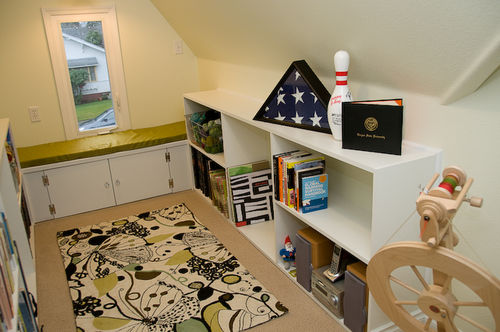 It's definitely missing some pillow action up there, but I did manage to squeeze in some fibery-goodness. Shh, don't tell Bj. It was looking so empty and sad with out yarn 🙁 Now what to do… knit up here or do the responsible thing and make a cover for my scrapbook paper so it doesn't get sun burnt. Hmm….
Oh I wanted to tell you this; remember those awesome onsies Erin made me? That she said she wouldn't sell and blah, blah, blah? Well turns out people can be very persuasive and she and her boyfriend, Aarron, set up a little etsy shop. They also have these cool mittens from sweaters. Check it out here!
And totally unrelated, but it got me rolling last night, to the point of tears… This American Life, episode #241 at about 33:51 into it. Even Bj was cracking up. And not funny, but beautiful, is the movie The Fall, why have I not heard of this, amazing.