Oh man we've had a rough couple of nights. Not last night, last night we did something different, otherwise I doubt I could even string words together to write a post (and I'm still recovering so this might not be the most eloquent thing either). No, the two nights before that, those were insane crazy! Luckily Bj and I have pretty happy personalities and instead of breaking down and crying with our darling girl we totally lost it and cracked up, I mean everything was funny those two nights after hours of a screaming Tuesday. Bj had me run and go get the camera to take a picture of this after we laughed about it for five minutes: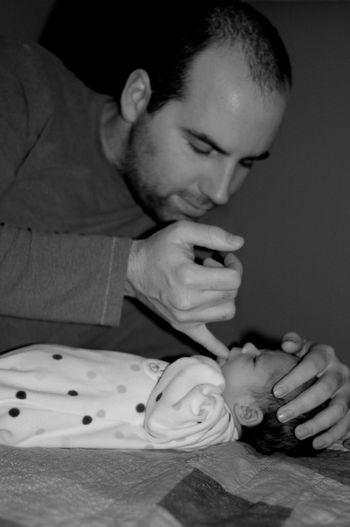 She had been grabbing his pinkie like it was a sucker she wanted held in her mouth (but stopped when I came up with the camera). Now it doesn't seem so funny, I can see how tired Bj is, his eyes drifting closed… Awe and she still looks so cute!
Our problem really started (this is all in hindsight of course) when we tried to put Miss Tuesday down to sleep at a time that we deemed "bedtime." First we tried I think 9 o'clock, but we take forever getting ready so by the time we wanted her to close her eyes and sleep it was ten. She started crying, and crying, and crying. It was 2 am by the time we could settle her down. The next night we determined that we had started too late, so after she nursed at 8 pm Bj started trying to put her to bed. I swear I've never seen a human being as upset as my little Tutu. She squawked and yelped and nothing we did worked, NOTHING. Of course we took her temperature, and checked her diaper a million times and rocked her and walked her and I nursed her then burped her, she wasn't having any of it. And it was 3:15 before she went to sleep (after a early morning call to Pamela with pleas for help). We gave her a couple drops of chamomile tea and I nursed her again, but it was hard to tell if that is what got her down or if she was just so exhausted by being upset that did it.
Yesterday we had a wedding to go to. We missed the wedding but made the reception. And we came home with a new plan of attack. If Tuesday didn't want to go to bed at eight, then she didn't have to. I mean we were not going to bed at eight, so fine with us if she stayed up (and was not screaming). We played with her and took her diaper off of her and let her air out her cute little bum in front of the heating vent. I nursed her from one side only so she got the richer hindmilk. And around eleven she drifted off to sleep. DONE. We actually high-fived each other. Of course I had to wake up to nurse her at night, but really who cares. It's the screaming I can't stand, my poor little bird I just feel so sorry for her when she cries. I think we'll try the same thing tonight. Of course I'm on my own for the middle of the night things starting tonight as Bj goes back to work tomorrow. Wish me luck!