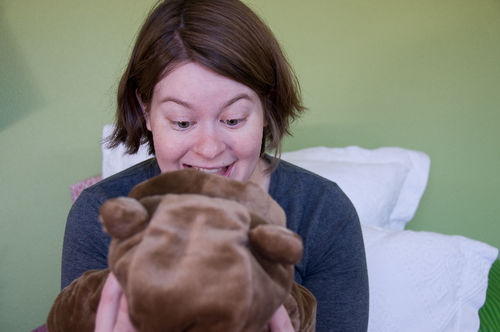 She is absolutely amazing—being a mother is everything I hoped for and more. I have so much to say about this first week with my lovely daughter (expect much more regular posts now that I have this out). But first I am very excited and proud to share our birth story. It's long and wordy and very sentimental, but I'm writing it as much for Tuesday Lee and her doting parents, as for everyone out there. So here it is—the birth of Tuesday Lee:
I have to start back in the spring when we became pregnant (after six months of trying—thanks fertility awareness method!). Through blogs and books I had become exposed to wonderful out-of-hospital birth experiences. Soule Mama was a blog that I really connected with, and I was amazed by her daughter's birth story. I'd also read about water birth and the gentle nature of midwifery care. All the "what to expect" books tell you to interview for a practitioner. I quickly found out no OB/GYN in our area did this—so I had to pick one blind (more like get assigned one by the clinic). And despite cramping so severely it woke me up at night, an initial office visit takes weeks to get. This didn't do a lot for my confidence in the hospital route. I started researching local midwifes and looked into alternatives to the birth center at the hospital, which I was hearing unfavorable things about: high C-section rates, induction happy docs, short trials of labor, and an unsupportive environment for drug free births. One of the midwifes I called got back to me the next day and I said, "My husband and I would love to meet with you." She was more than willing to be interviewed (a relief) and told me where her office was. "Wait," I said, "do you live on the other side of Tracy and Eric?" She did! Literally two houses down from ours, a midwife?! After meeting with Pamela Bj immediately told me to cancel the other interviews—we knew she was the one. All our fears about a home birth were put to rest. We learned that midwifes bring much of the "modern" equipment and all necessary emergency supplies to the birth. We learned that for Pamela a healthy baby is the goal (ours too!) and we would go to the hospital (2 miles away) if we needed to. Through her lending library we learned so much more. We watched videos, read, read, read and became educated about childbirth in America.
I kept that OB appointment, but on the advice of Pamela switched doctors. My new doctor was supportive of home births (on the down low) and with Pamela I felt like I couldn't have had better prenatal care. Our midwife appointments lasted an hour and every question was answered. I started prenatal yoga at about 14 weeks. Bj went with me to the first class—and was amazing! As labor approached I grew more confident with my choice. My super supportive husband helped, as did our Bradley classes. (Bradley isn't aimed at home birth, but rather natural birth—with Bj by my side—it's also called "husband coached childbirth.")
After the jump I have pictures of labor, nothing too risque, but my breasts are exposed, please don't continue if this offends you in any way.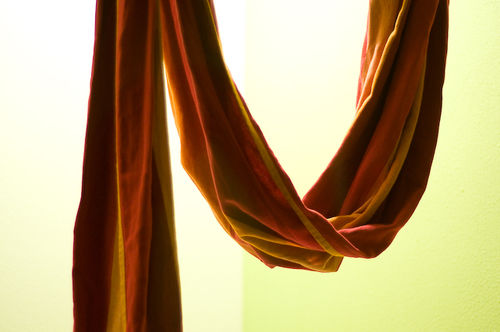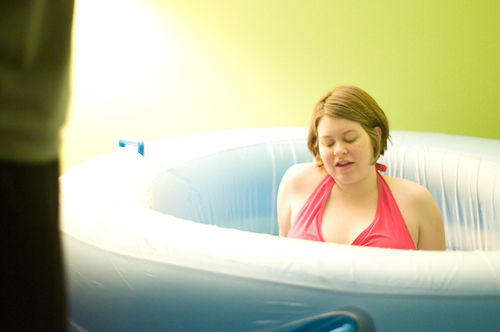 On Friday evening, at 41 weeks exactly, I was down to the last thing on my to do list: make a cover for the heating pad. I finished that with scraps from baby projects and crawled into bed at 1 am with dull cramps (so I used the heating pad). I woke up at 4 a.m. to heavier crampy/back things (ah… contractions). I put the heating pad on high and Bj got out his iPhone to use the app. he just downloaded "labor mate." The contractions (rushes) were 4-5 minutes apart. From our Bradley classes we knew we had to establish if it was real or false labor. At 4:45 I had a plate of spaghetti to try Step One: eating. Still they came. So I showered, calling out to Bj when they started and stopped. By this time we knew it was labor. I had a sort of labor "hammock" set up (a baby carrier wrap called a Hoppediz) and clung to it during these contractions while Bj rubbed my lower back. At six we called the midwife and Sciarrino (our back up labor person). Sciarrino arrived at 6:30 and Pamela soon after. Bj set up the birth tub in the nook of our new bedroom. I got in around 7:30 with great relief. The warm water (and lack of gravity) was so wonderful. In fact, I only got out twice after I got in. "How do women do this on land?" I thought. I continued to breath through contractions and focused on my husband who was so calm and wonderful. He took a rest around ten, so Sciarrino helped me for awhile. I had my long awaited Diet Coke (10 months! Pamela didn't recommend consuming fake sugar during pregnancy) and Bj came back over to me into transition.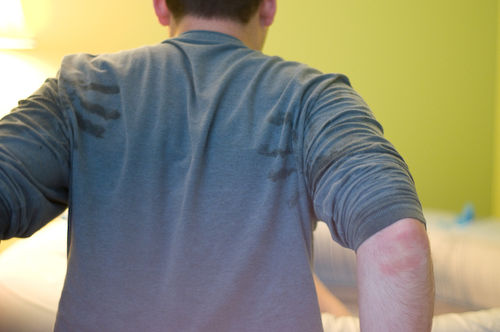 True to what I had read, this was the toughest part for me and low moans and flapping lips gave way to a few higher pitched yelps. I definitely remember saying I didn't like it. Bj knew it was transition from his Bradley training and encouraged me by telling me that I could do, was doing it, and the worst was almost over. He was right! I got a nice little break and soon after, and around eleven I felt "pushy." I was never "checked" so I didn't know how dilated I was. It seems weird to me now that anyone would need to be told they were "complete." It's not like I could help but push—the urge was overwhelming. For each of these contractions I had a few bursts of pushing. Whatever felt right—I let my body lead. I forgot to mention Pamela would regularly monitor the baby (yes, it can be done under water) while her assistant, Emily, took notes and prepped for the baby's arrival. But I didn't pay any attention to that, except to hear how Cliff (our nickname for the baby in utero) was doing.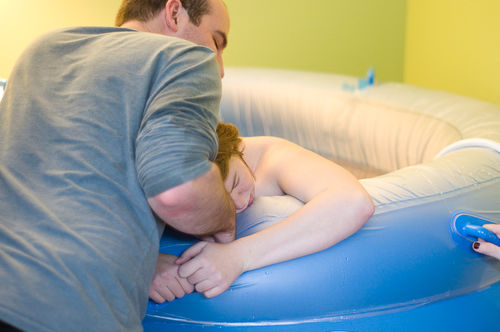 (during a contraction)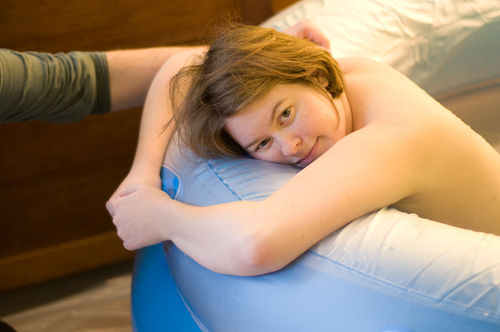 (between contractions)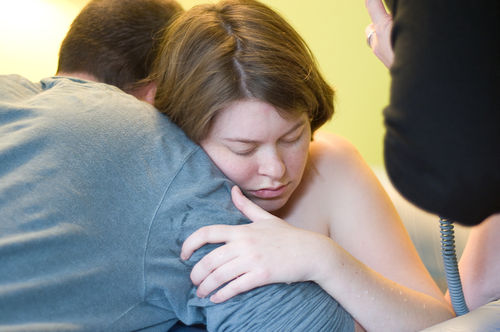 (pushing, while Pamela checks on baby)
Pushing was really interesting. It was painful, but a more empowering "I'm doing something" feeling. The contractions were much less severe than transition ones. I even breathed through one to take a break from pushing. When I reached down at one point I couldn't feel her head yet, just a weird bulge. This was my bag-of-waters that hadn't broken. Towards the end of pushing they broke with a pop. I thought it was loud so I asked if anyone heard it, of course they didn't :). The whole pushing time I was on my knees during the contractions, leaning on Bj (and clinging to him as you can see). In between I really felt good, and just floated around, chatted and rested. Pamela suggested I squat and a few pushes later I yelled, "ring of fire." Then her head was out and very quickly her body. I had just told everyone, "remember Bj gets to see if it's a boy or girl." He grabbed the baby at 1:04 p.m. (who was a bit tangled in the cord), but the second I saw it was a girl I snatched her up and yelled out, "IT"S A GIRL?!!!" Bj was trying to spin her around and get the cord out of the way, but I was too enamored to help. She was fine, it's a common misconception that the cord around the neck is life threatening, that's rarely the case, as the baby doesn't bungee jump out. So Pamela untangled her and I cuddled her to my chest (after checking her girl bits one more time). Looking at the pictures Sciarrino took (that I didn't even notice her taking, but so glad she did) in a matter a of a few minutes I wondered how Bj got back to the head of the tub to cuddle with his girls. Sciarrino said he practically leapt over the side of the birth tub. I love that. You can see how in love with her he is in the pictures. He was the first person to ever touch her, and it just amazes me.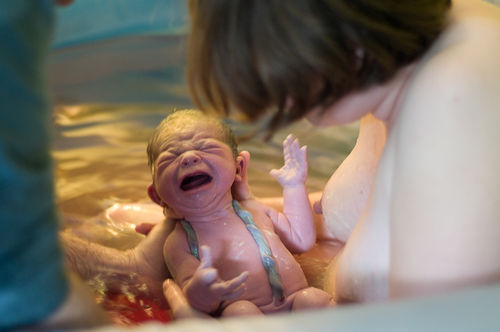 (her first breath)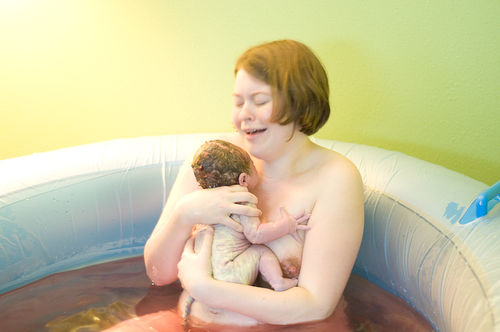 (a girl!)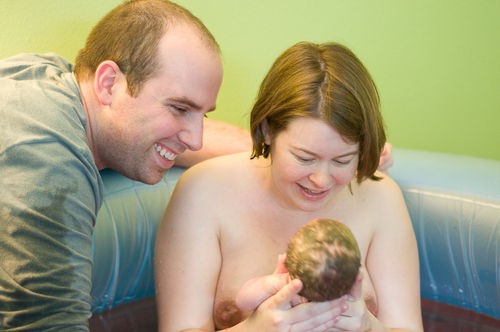 (ah Bj is smitten!)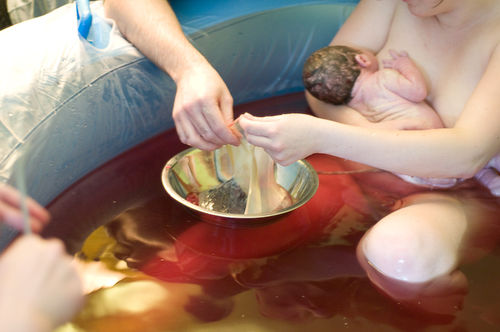 (the placenta and bag of waters. looks like lots of blood because it's diluted in the water. I put this picture in because I always wondered what this was like before I saw it and knew others would be curious)
After her birth I wanted to get the placenta out and it came easily with a couple of pushes after putting Tuesday to the breast. Pamela floated it in a bowl because I wanted all of the blood from the cord to go back to the little girl instead of cutting it right away. Plus I really wanted to inspect the placenta and see what she had snuggled up against all those months. It was very interesting, and so was the bag of water. I'm glad I looked at it. Pamela and her assistant helped me and the baby to the bed where Bj cut the cord (long, they trimmed it later). I snuggled with her and she pooped all over me, not that I cared (we had pads down and everything). They took Tuesday and did all of the newborn tests, Bj went over and comforted her. They weighed her, seven pounds four ounces, a perfect little bundle. They rubbed in the vernix to make her skin buttery soft. Then Emily helped me breast feed the first time. Tuesday stayed awake and alert for four hours after the birth, not crying just taking everything in. Bj put her first little cloth diaper on, but besides that I didn't dress her for awhile, just wanted to cuddle her to my skin with a blanket wrapped around us both.



(Bj cut the cord while I snuggled)



(being weighed)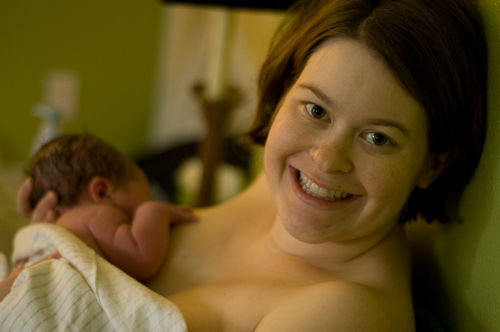 (the first latch)
Pamela and Emily stayed for a while to make sure everything was great with us and Sciarrino stayed and did laundry and cleaned things up, she was amazing throughout the whole thing. I had told her ahead of time that she might not even get to hold the baby for awhile and she didn't care at all, just helped with whatever we needed. Around three Bj started calling people. I didn't want anyone to know we were in labor so I didn't feel stressed to have her "in time." No one noticed because labor was only nine hours (but my mom said she knew I was in labor). Hearing Bj tell everyone the news was so great, he just sounded so proud. We cuddled the rest of the day away in pure baby bliss.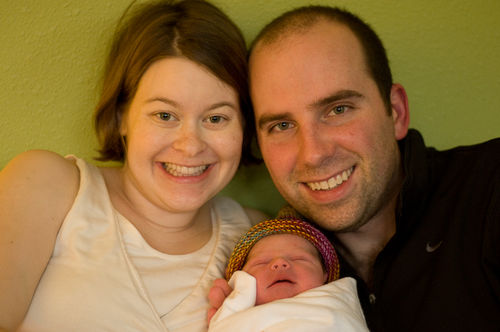 (our first family photo. thanks to Sciarrino for all the photos, we love them so!)
I can't say enough good things about my birth experience. I'm all for doing whatever works for you. We don't have any friends or relatives that have had home births, so we've definitely gone on our own path. I'd love to answer any questions, and will do so in the comments section. We do get a lot: "weren't you scared to have her at home?" After touring the hospital where the perky clerk told us to stop in the hall and look how close the C-section suite was, no I wasn't scared. I knew we'd have a better chance of giving our baby the best start this way. And no, we didn't do it to save money (the other commonly asked question). Home birth is legal in Oregon, and even covered by state insurance. Our insurance also covers it (midwifery care). I feel that Bj and I did as much research as anyone could do. We decided that our baby's birth was as important to research as a new car (statistically most people spend more time researching that than their birth choices). I feel so powerful having done this naturally. I feel so amazed at Tuesday, how alert she was from the beginning with no drugs in her system. How well she is breast feeding. Most of all I know that without the wonderful support it wouldn't have been possible. Bj never let me doubt I could do it. Sciarrino watched many videos with me, and also became educated so I had someone else to talk to about everything. My family, especially my mother (two natural, but hospital births), asked questions, but never told us we shouldn't do it.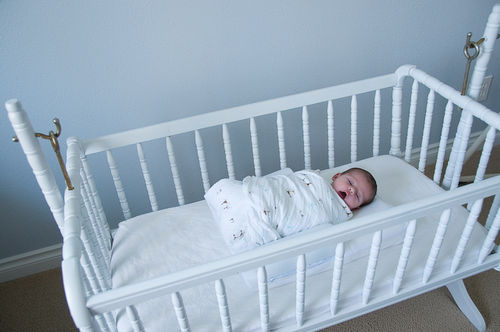 And we have the best little girl ever!