It was so wonderful out yesterday. Sunny, happy, beautiful weather. Erin came to visit us and kept an eye on the little miss while I had a cavity filled (I blame the coca cola during pregnancy). After getting some work done we headed outside to walk around. Everyone had the same idea, as we came back to the house my friend Donna came by with William and my neighbor across the street was taking the first walk with her newborn. Since both William and Tuesday were awake and relatively happy we took advantage: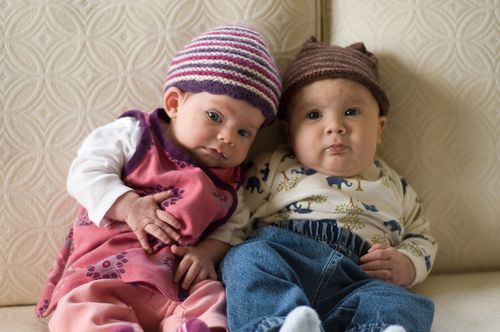 Donna says these are William's fat man pants, hehehe. He is two weeks older and so cute! Looks like I need to knit him a bigger hat! Tuesday always looks so surprised to be next to another a baby. Since Erin was here I not only got to eat two real meals (and really yummy she brought us potato chowder and enchiladas) I also got to take beauty shots of some new yarn I made:



I think this will be a cute little vest for Tuesday. I'm really liking spinning singles and leaving them that way instead of just plying my yarn.