Those have been the main crafty activities since Tuesday was born. Mostly because I can knit while I nurse her and I keep the wheel out. So combine those two things and you have hand knits… in handspun! My favorite combo. Remember those scrappies from Funky Carolina? Well I made yarn with them!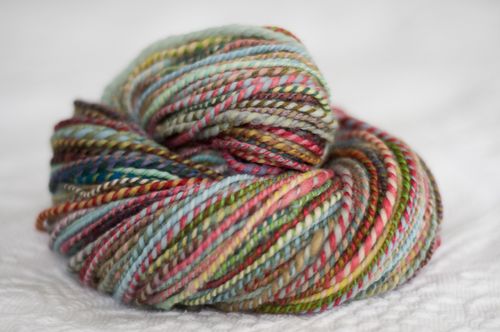 And I made a hat with that: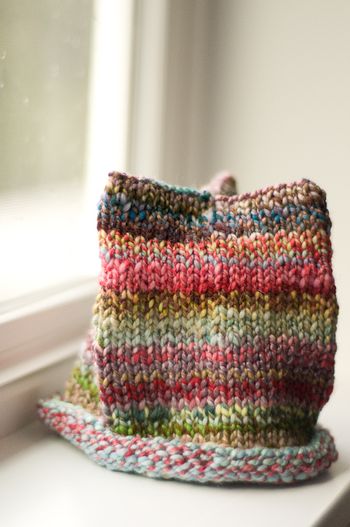 And then I put the hat on my baby:



And then took a million pictures of her: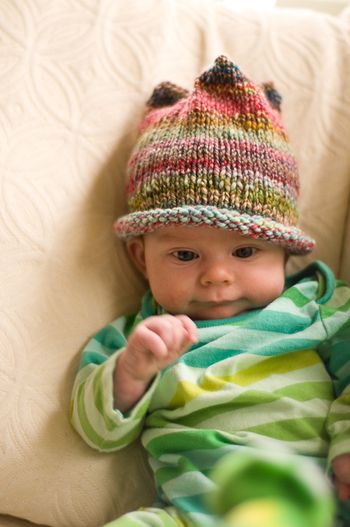 "Ohhh I'm looking at my frog toy."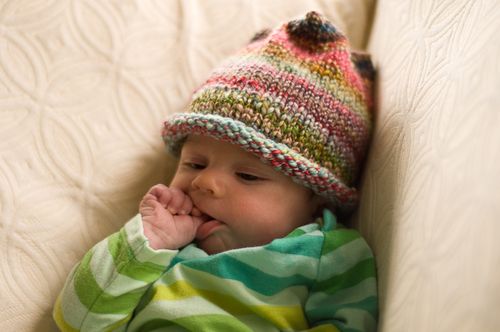 "I figured out that these things are my HANDS! And I can make them do what I want! Like go in my mouth."
Want more, check out my flickr. I went nuts. Okay wait one more for the blog: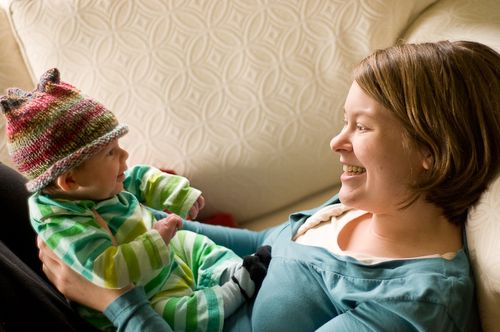 She's so tall she's going to grow out of this sleeper way before I want her to. I'm thinking of cutting the bottom half off and making a long sleeved tee for her out of it. That would be easy right? I have been sewing: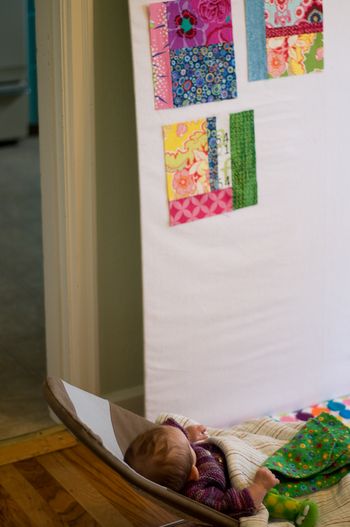 Tuesday checks out the progress on her bumper (see more here). She likes to wake up with her legs through the rails of her cradle, which freaks me out. And she gets like that completely swaddled. I guess she is crazy busy even in her sleep. Okay back to the spinning. I've finished a few other yarns since she's been born: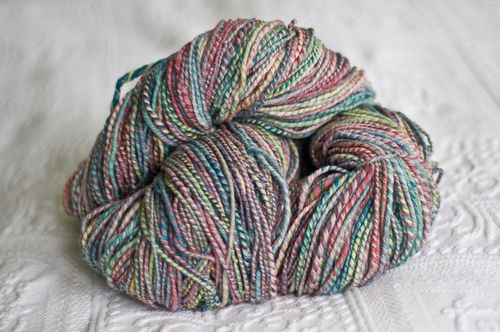 444 yards of a 3-ply. Hopefully enough for a jacket for Tuesday. I've spun two others also. I'm only wanting to knit with the handspun. Problem? Well it's not the best for new moms (these have all been handwash only yarns). I just stick all these knits in the bathtub until I have a batch to do, but I can't expect my friends to do the same thing. So I think I might have to see if I have more superwash fiber in my stash and get cooking on some of that. Of course I can always stick to my sock yarn. I've got a couple things on the needles. And three babies due soon. We'll see what I can whip up.