I started knitting up a baby surprise jacket for my neighbor across the street. She just had a baby boy, I'm so excited for another baby friend for Tutu. While I was trying to get Tuesday to model the jacket I realized if I wanted her to have one I had better start on it ASAP. Here is our new friend's:



(with vintage buttons from great grandma's box) And here is Tuesday's: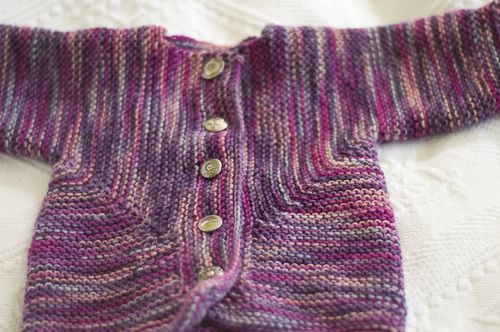 (with random buttons from the box because I didn't have enough to match) I love knitting these out of Socks that Rock Mediumweight. It takes maybe a little over 75% of a skein and they knit up so fast. I've never had pooling issues either, must be the stitch count. (Rav them: the Mossay one, the purple one). My new project had me rethinking my intelligence and led to this contraption: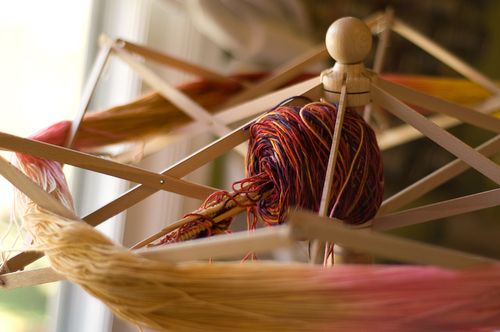 So I started this blanket and only had one of the skeins balled, just thought I'd do the other one later (hey Tuesday was screaming to be fed and I just had to grab some knitting). Well duh, you can't because the project twist around the swift. I was proud that I at least figured this part out, I was almost ready to rip out the whole thing (I had just started,  but casting on in the round is always the hardest part for me). Anyway the blanket is the best and MOST mindless knitting ever!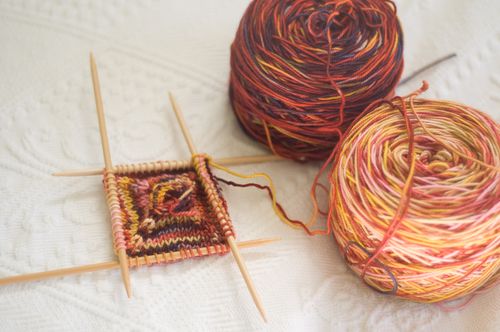 All you do is rotate the colors every two rows, the first of which you increase (knit into front and back) on each end of each needle (later before and after a stitch marker because I switched to circular needles – thanks Tracy and Mom). Before you think I'm some kind of genius I totally copied this idea from SpiderWomanKnits' project. She also suggests a garter stitch bind off, which I think I'll do in a coordinating semi-solid. I've cranked out quite a lot of this already (picture is a few days old).
But that's not all on the knitting front!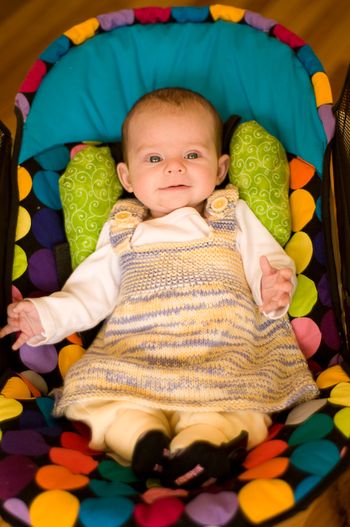 My mom made this jumper for Tuesday with sock yarn held double. It is so genius because she made the straps long and the buttons are secured about halfway down. As she grows I'll move the buttons and it can become more of a tunic. I bet she can wear this for at least a year. I have a ton of sock yarn so I'm thinking about making a whole rainbow of these I love it so much. I want to figure out how to tweak the pattern to knit in the round, anyone taken a dress to be knit in pieces and done that before? I imagine it's just a matter of putting some of the strap stitches on holders, right?
Okay so apparently the swap is a bit confusing. Basically you get something like this: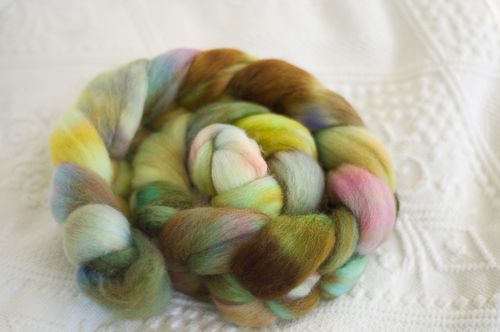 Mmm new Funky Carolina fiber. Send it in, and it will be split up along with all the other fiber we get. And you'll get something like this: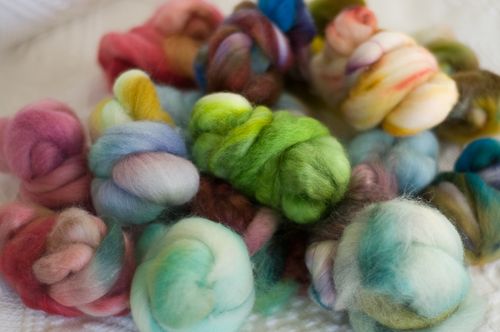 The first batch of the Funky Carolina Scrappies Club. I already spun these because I stayed up for three hours after Sparkly Pants went to sleep (so dangerous, but luckily besides an hour in the middle of the night when I thought maybe she wouldn't go back to sleep, she slept until nine). So if that sounds like fun to you here is the link to our Rav group.
Now I'm off to work on another project. Sciarrino TOTALLY READ MY MIND and called me right when I was going to call her and about the SAME THING and to that I say freaky! And awesome. So now I have the supplies for a bumper coming my direction and a sewing partner, SCORE!