Seam allowance that is. When I calculate quilt stuff or any kind of sewing thing it seems the math and I never really get along. A few weekends ago Sciarrino came over so we could have one of our good old craft days (yeah!) and I worked on a project you might remember me blogging about a while ago… if you read my blog in April 2006, oh the shame of my half finished project pile!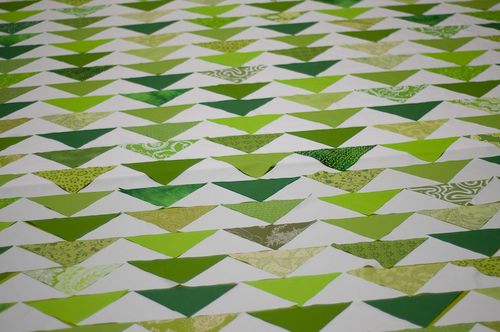 I laid out all of the triangles for placement (pattern is from Denyse Schmidt Quilts – Flock of Triangles). My little Sparkle Pants took her longest nap ever in the swing in an attempt to get me to focus on this project: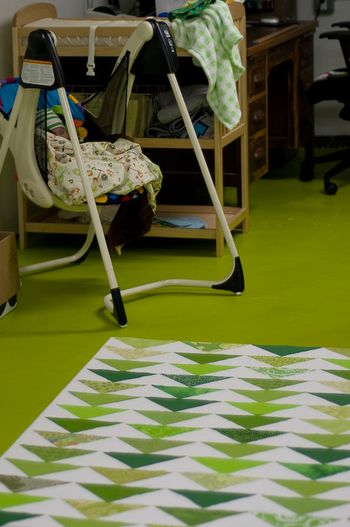 A valiant effort. I did get it all laid out and into neat little piles ready to be sewn by row.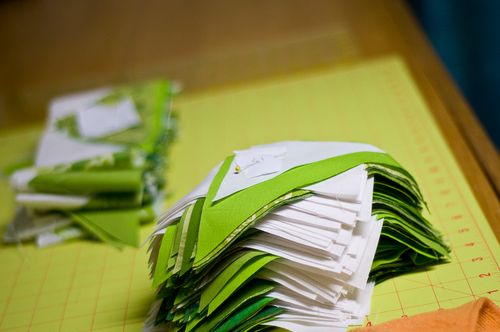 I figured I could tackle the rows like one a day or something (I have 24 I think). But I got stuck at how to even put two of them together. I have made a quilt with triangles before, but it was so long ago that I don't really remember the details. I finally figured it out (and in case any one has the same trouble on flickr I explained it in one, two, three pictures). As soon as I had one row together I knew I had a problem. The freaking thing wasn't long enough – UGH. Now, it's not like I didn't have enough fabric for this queen sized quilt (hopefully this will go on our bed). Oh no, when I ordered it I thought I would need like 11 yards for the front. I don't know how I got there (even though I found all of my notes on the matter), but I did double check that I had the right amount of triangles for the length and width I wanted when I picked this project back up. And it sure looked gigantic all laid out on my floor. But no. There is like NO WAY I'm laying this thing back out again, I mean Tuesday is pretty much done with naps, so it would be almost impossible. So I'm going to sew up the rows as they are, leaving off the very end half triangles. Then I'll lay those all out and add a triangle to one side or the other, and then put the half triangles on. And after all that I still will have to sew the rows together, which might end up quite tricky since I'm dealing with bias. Me thinks I will not be quilting this myself. 🙂
Is it any wonder then that I've decided to start a new sewing project?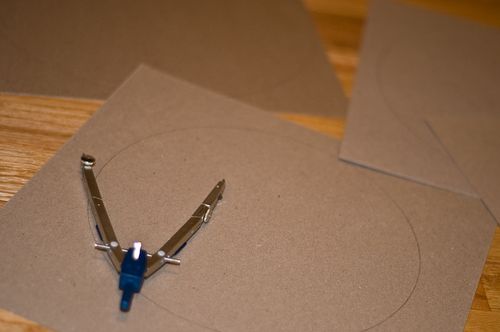 With circles (which I've never done) and a pattern I'm making up myself? It's sure to be a success. Hopefully I won't be blogging about it in 2012.