So I asked my mom what she wanted to do for her birthday today and she said, "walk downtown and have lunch." Whoa, two mega walks in a row. We did it though and it was really nice to get out since the weather is getting better everyday. I would have gone in the pouring rain though because my mom is just that awesome. Seriously.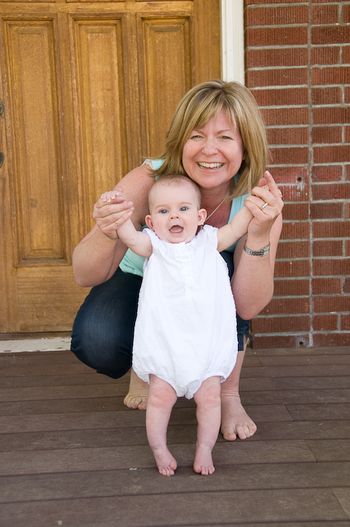 I took this photo of her the other day and I love it. I was saving it up for the birthday post and my mom's all, "ohhh you never post pictures of me and Tuesday on the blog," today. Mom I was saving them up! When I think about my mom one of the first things I think about is her youthfulness. I always wanted to be a young fun mom like her, but am actually six years older than my mom was when she had me. I am going to do everything I can to be as active and fun as she was (and still is). I have tons of great memories of the millions of activities she planned for us. Plus the things she sewwed us, the wonderful food she cooked, her beautiful yard. Yikes, I have a lot to live up to. Luckily my mom and I talk daily and she comes over all the time to help me. I would never be able to take a vacation if my mom wasn't more than willing to jump in and help with Ribbon Jar orders. I can't thank my mom enough for everything she does.
I love you mom!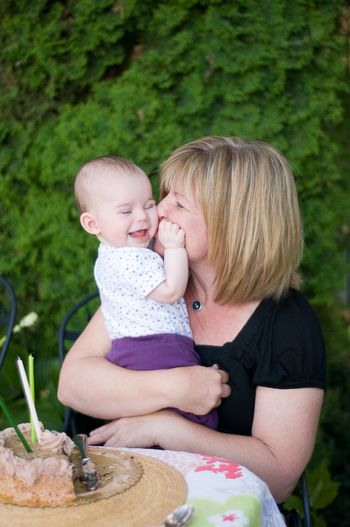 And so does Tuesday. I'm so glad you live nearby. And if you didn't keep telling me to give Tuesday rice cereal you might be the most perfect mother ever 🙂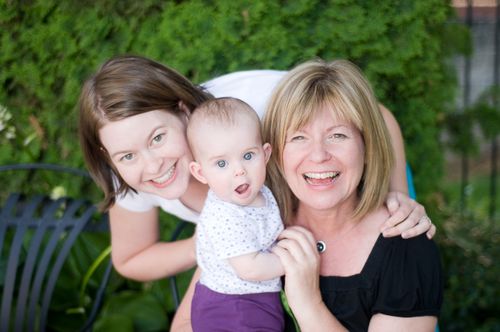 It's kind of ironic that I've never appriciated my mom more and yet been so horrible at getting gifts together (what mother's day?). We are going to have to plan some special days with the three of us to make up for the lacking in that department.
The last two pictures were from her dinner tonight. Mom, you should know we totally paid for keeping up Tuesday. But we didn't mind because we love you so much (and because I took a two hour nap with Tutu this afternoon)!