Bj didn't get the number thing so I thought I'd clarify. I'm trying to do a month's worth of posts (30) everyday. Maybe I'll get to fifty, who knows. I like not having to come up with a title.
Last night was rough again. And today didn't start out much better. It's bad when she wakes up in the morning crying, yikes. I had her in the baby hawk at one point trying to force a nap on her and we laid down on the couch together. Tuesday was crying and I started fake crying. Bj came out and said, "Tuesday why won't you nap?" I looked at her and said, "I don't know maybe she's not tired." Bj could not stop laughing, even though he wanted to because he is still so sore. It was funny and turned the corner for the day. I called up Donna, told her I had to have company and she came over to have lunch. Before she came over I stopped trying to get Tuesday to nap and she cheered up considerably. She helped keep and eye on me so I wouldn't eat some of the mini candy bars I bought at Costco.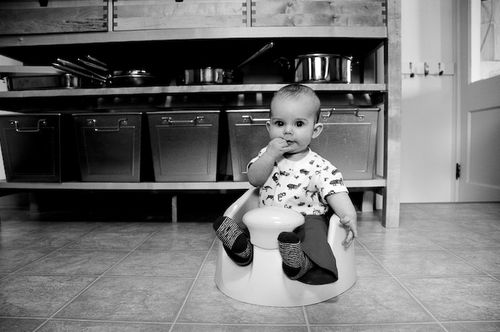 But she got bored of that (and tried to squirm out of the seat), so she got into her (thrifted) Johnny Jump Up.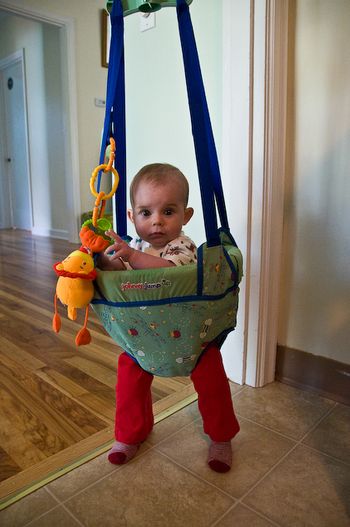 Oh no she wasn't tired, not at all: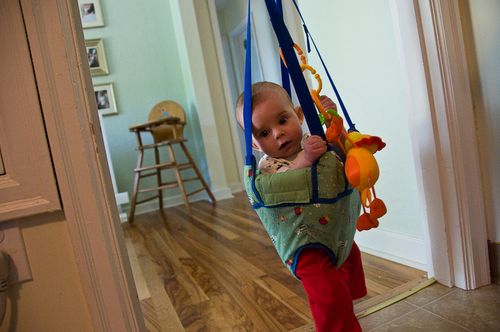 She tried to balance her head on that strap to rest it, silly girl. We have a different jumpy thing coming, that she can lean back in, but it's coming from Canada and sometimes Canada seems very far away in mail land (hmm… it has been weeks maybe I should check on it).
Donna and William came over, we ate and decided to go to this used baby stuff store nearby. I wore Tuesday so by the time we got there she was OUT. So was William, but the store was closed. So we decided to walk downtown. We ended up walking all over and for a long time; minus our stops 2.5 hours of walking. Tuesday took two naps, it was awesome. Walking was the only exercise I was doing really since having Tuesday but I've recently decided to up my game in order to get my cabinets sooner than later, I mean be awesome and fit.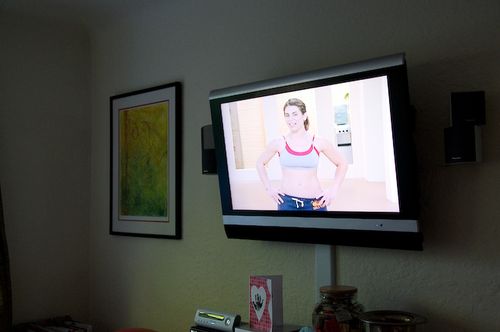 Jillian I don't know weather to love you or hate you! But even though I walked all those minutes I still did the 30 day shred (level one and I can't do the push ups yet). I'm on day four, and oh man oh man does she pack a good workout in 20 minutes. I feel extra motivated since finding out a friend of mine has been walking tons of miles in all weather and is now in awesome shape and even running (which sends a chill down my spine, I do not get along with running). I am going to try to say now that I LIKE working out and that I feel better after I do. Because I don't want Tuesday to hear me say working out sucks everyday. So far so good, as she seems to get a kick out of watching me do the exercises. She is very squealy about them.
When I had Tutu I was 159 pounds (according to my pregnancy journal, which was funny to go back and read. Last entry: "I just finished a cover for my heating pad, I'm being so productive!"). I lost a bunch at the beginning, but then I started gaining some more back because when I woke up and realized I had to start keeping track of calories again (the only way that's ever worked for me) I was still 145. Those numbers may not seem that high to you. But you know how people
say they are big boned? Well I'm like small boned or something so I
don't get a big starting number. I hit a big milestone yesterday: 10 pounds down!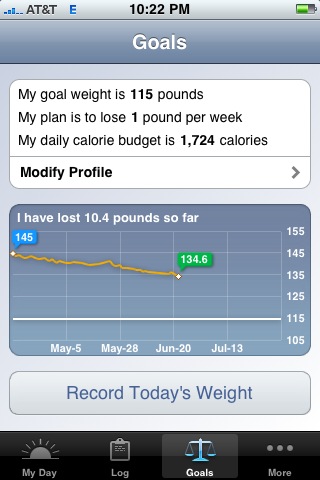 I am almost at my heaviest pre-pregnancy weight. Slow and steady since I don't want to mess up my milk supply or anything, but it's working, about a pound a week. The app is the free Lose It one on my iPhone, I highly recommend it.
The day ended much better than it began. Tuesday went to sleep at 7:50 and has only gotten up once since (to eat for half an hour). It's 11:37 and I'm headed to bed myself. Wish us luck!