Today was much more mellow than the last few, but some how it went by in a flash (so sorry I didn't call you Mary!). I had a dentist appointment and while the hygienist was very kind I could have just used that time to nap, since Tuesday didn't take one until well after four. My mom came to help me with work and tried to get Tutu to nap. But she wasn't having any of it. One of the sleep books I read (and they are all becoming jumbled in my brain right now) talked about a sleep window, and if you miss it basically you're screwed. I'm pretty sure that's what happened to us today.
But she did take one late, and then watched Bj and I shred (it might be getting a touch easier, just a touch). After dinner, which she spent in the Jump Up making the most amazing little sounds, we hung out in my craft den until it was wind down time.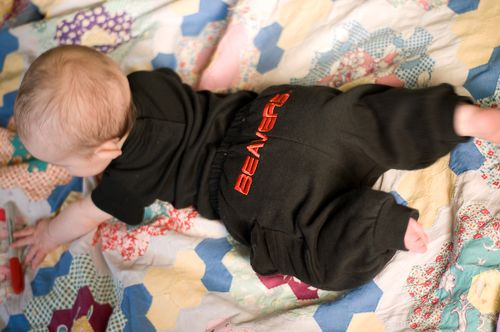 (outfit was a gift from our construction crew 🙂 While Tuesday played (yes with the sharpie, but I was watching her closely) I found myself day dreaming about new projects, even though I have many on the table… literally: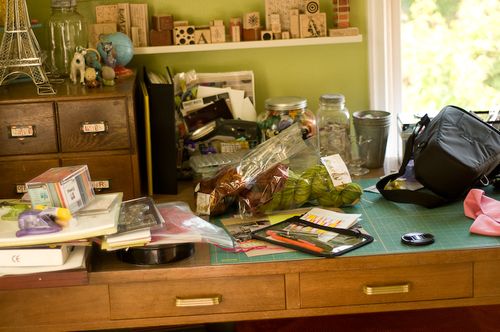 Do you ever do this? Find yourself getting inspiration but no time, or too many things already going? I need some good way to save up the inspiration for the days when I have time, but am lacking ideas. Some kind of journal maybe? Or something more organic and fun like a jar of ideas? Who has some good linkage for something like that? A common question (daily, from Bj); "So when is the bumper going to be done?" It's laid out and I'm loving it, but it comes down to time over and over. And I can knit a few rows on my sweater, but finish work and sewing take a little more brain power than I tend to have in the evening. So I gaze at a vintage quilt and daydream: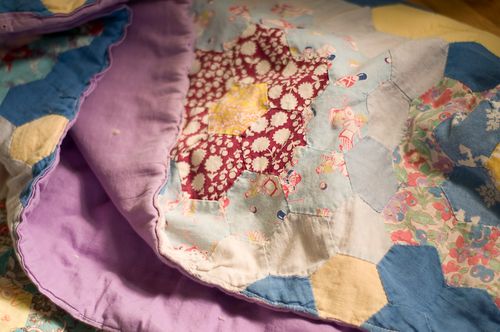 About little blocks of goodness.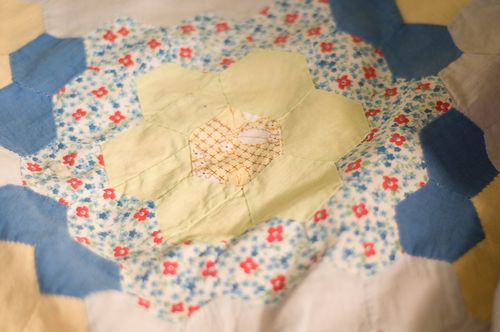 Faded color combos.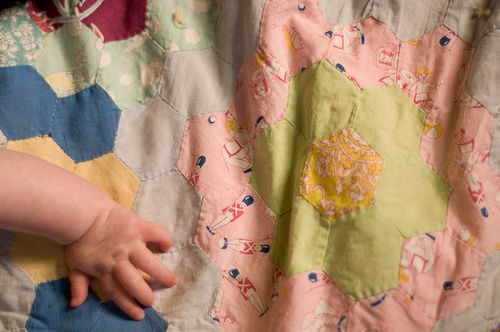 And more things for a little baby who really does seem to appreciate all the things I've made so far.
On a side note. I've been doing the daily blog thing for a week. Who knew I had so much to say? Now I wonder what I let slip by in those days I was too busy or tired. Because I certainly can't remember it all now!